SAP Business ONE
SAP BUSINESS ONE SDK
Business One in Action - Can a Default Price List be Defined in the Item Master Data? Business One in Action Support Area. SAP Business One is one of the most versatile SME packages available on the market today.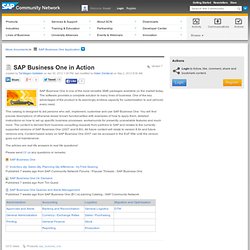 The software provides a complete solution to many lines of business. One of the key advantages of the product is its seemingly endless capacity for customisation to suit (almost) every need. This catalog is designed to aid persons who sell, implement, customise and use SAP Business One. Business One - SAP B1 SQL Tips and Tricks. SAP B1 SQL Tips and Tricks Introduction Page (Back to SAP B1 Business One Main Wiki Page - SAP Business One ) Thanks for dropping by the area which is created to provide you information about writing SQL, to give you some pointers with tips and tricks, and also executable read-only SQL which you can "copy and paste" directly into your SAP B1 system.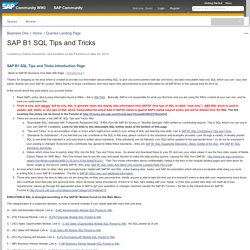 Community Network Forums: SAP Business one Manual / Documentation ... Hi there, SAP Business One To Go 2007 is a book includes business examples, annotated screenshots, and process diagrams, as well as tips, checklists, reminders, and definitions, and thus quickly prepares you to make the most out of the application for the benefit of your organization.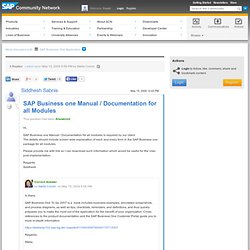 Cross-references to the product documentation and the SAP Business One Customer Portal guide you to more in-depth information. Regards, Business One - SAP Business One. Business One SAP Business One Skip to end of metadata.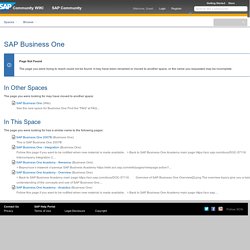 Global Data Types Catalog Explorer Tool. Business One (B1) eLearning Catalog - SAP Community Network. Business One - SAP Developer Network. A new version of the Query Migration Tool from Microsoft SQL Server to SAP HANA has been released.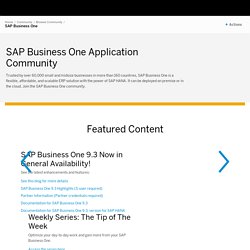 This version includes some new features and more possibilities for queries migration. Also a graphical interface has been added to directly enter the queries to migrate and see the results. Business One - FAQ_sdk. Feel free to contribute.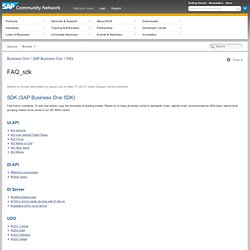 To add new entries copy the examples of existing entries. Please try to keep all entries sorted in alphabetic order.
---