San Francisco
Golden Gate National Recreation Area (U.S. National Park Service)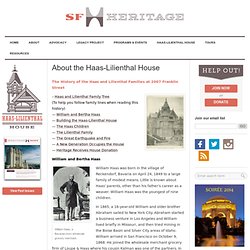 The History of the Haas and Lilienthal Families at 2007 Franklin Street – Haas and Lilienthal Family Tree (To help you follow family lines when reading this history) — William and Bertha Haas — Building the Haas-Lilienthal House — The Haas Children — The Lilienthal Family — The Great Earthquake and Fire — A New Generation Occupies the House — Heritage Receives House Donation
Haas Lilienthal Historic House Museum
The Mechanical Musuem
The San Francisco Arts Commission and the announce the installation of Windswept, a wind-driven kinetic façade by Charles Sowers. Consisting of over 500 freely rotating directional arrows, Windswept transforms a blank wall into a large-scale observational instrument that reveals the complex interactions between the wind and the environment. The artwork was funded by the Art Enrichment monies generated by the San Francisco Public Utilities Commission's capital projects. Come visit Riding the Rails, the Museum's scale model of a caboose.
Randall Museum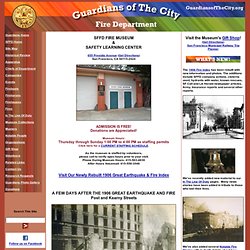 San Francisco Fire Department Museum ~ Home Page
The 1906 Fire index has been rebuilt with new information and photos. The additions include SFFD company actions, cisterns used, hydrants with water, known rescues, SF Call and LA Herald newspaper articles, Army, Insurance reports and several other reports. We've recently added new material to our In The Line Of Duty pages. Many news stories have been added in tribute to those who lost their lives. We've also added several Notable Fire Stories with in depth details about how these brave souls died.
All good things eventually come to an end. The Fong Family, the proud operators of The Wax Museum at Fisherman's Wharf for 50 years, would like to take this moment to thank all our friends, colleagues, neighbors and visitors who have made The Wax Museum at Fisherman's Wharf an international success for half of a century. It's been our pleasure entertaining over 12 million guests and being open for business 2,600 consecutive weeks, Rain or Shine. For more information on our History and Founders click here. The Wax Museum legacy continues in grand fashion!
Wax Museum At Fisherman's Wharf | Wax Museum At Fisherman's Wharf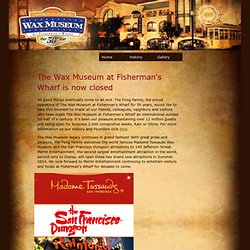 San Francisco National Maritime Park Association - Links
Fort Point National Historic Site
Alcatraz Tours - San Francisco Tours to Alcatraz Island and Beyond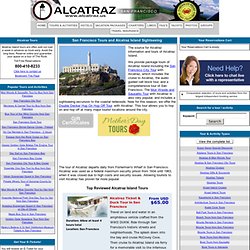 The source for Alcatraz information and tours of Alcatraz Island. We provide package tours of Alcatraz Island including the San Francisco City Tour with Alcatraz, which includes the cruise to Alcatraz, the audio guided cell block tour, and a comprehensive tour of San Francisco. The Muir Woods and Sausalito Tour with Alcatraz is also very popular, and includes a sightseeing excursion to the coastal redwoods.
San Francisco Zoo
San Francisco Cable Car Museum
Pier39
Exploratorium