San Francisco
Golden Gate National Recreation Area. Haas Lilienthal Historic House Museum. The History of the Haas and Lilienthal Families at 2007 Franklin Street – Haas and Lilienthal Family Tree (To help you follow family lines when reading this history) — William and Bertha Haas — Building the Haas-Lilienthal House — The Haas Children — The Lilienthal Family — The Great Earthquake and Fire — A New Generation Occupies the House — Heritage Receives House Donation.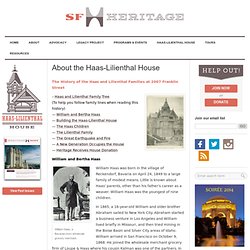 The Mechanical Musuem. Randall Museum. San Francisco Fire Department Museum ~ Home Page. The 1906 Fire index has been rebuilt with new information and photos.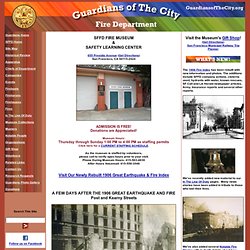 The additions include SFFD company actions, cisterns used, hydrants with water, known rescues, SF Call and LA Herald newspaper articles, Army, Insurance reports and several other reports. We've recently added new material to our In The Line Of Duty pages. Many news stories have been added in tribute to those who lost their lives. We've also added several Notable Fire Stories with in depth details about how these brave souls died. Wax Museum At Fisherman's Wharf | Wax Museum At Fisherman's Wharf. San Francisco National Maritime Park Association - Links. Fort Point National Historic Site. Alcatraz Tours - San Francisco Tours to Alcatraz Island and Beyond. San Francisco Zoo. San Francisco Cable Car Museum.
Pier39. Exploratorium.
---