Salesforce Admins
All things Salesforce Admin related. mattybme Oct 12
Social Clienteling -- Transform Your Retail Business By Knowing Your Customers Better
https://na1.salesforce.com/help/doc/en/salesforce_app_limits_cheatsheet.pdf
Recent Updates to the Winter '12 Release Notes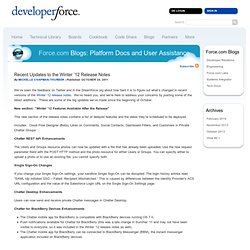 We've seen the feedback on Twitter and in the Dreamforce org about how hard it is to figure out what's changed in recent versions of the Winter '12 release notes. We've heard you, and we're here to address your concerns by posting some of the latest additions. These are some of the big updates we've made since the beginning of October.
Visual Workflow Webinar
Sales Cloud
Trunk Spotlight: Shoeboxed Lets You Send In All of Your Documents, Digitizes, and Saves Them to Evernote « Evernote Blogcast
Do you often find yourself surrounded by paperwork?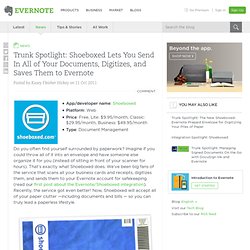 _winter12_release_notes
Live Webinar: Build data-rich web sites using Siteforce (Preview)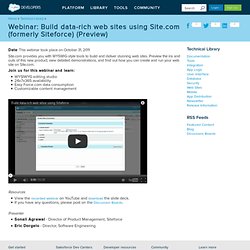 Date: This webinar took place on October 31, 2011 Site.com provides you with WYSWIG-style tools to build and deliver stunning web sites.