BoatBuying
Welcome to Australian Boat Brokers - View Listing. Boats for Sale - Yachts for Sale - Used & New Boats @ Yacht Hub. Searching for Yachts or Boats for Sale?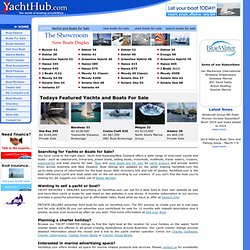 You have come to the right place: Yacht Hub Australia/New Zealand offers a wide range of new/used yachts and boats - such as catamarans, trimarans, power boats, sailing boats, monohulls, mulithulls, trailer sailers, cruisers, superyachts and boat shares for sale. New and used boats are for sale by yacht brokers and private sellers from across Australia and New Zealand. Boat listings are updated by the seller making YachtHub.com the up-to-date source of information for the boat buyer. With inventory info and lots of photos, YachtHub.com is the best referenced yacht and boat sales site on the net according to our viewers. Boats For Sale Directory by Boats-A-Million. Comparing Seaworthy Classic 30'-ish Yachts - Cruisers & Sailing. LOLing ...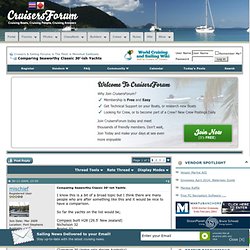 And which one has better gelcoat and uses less anti-foul ... Man: you have asked an endlessly open question and will get a handful of very biased replies ... ;-))) Seriously now, my EU take: Anything built in GB (oh divine contessa, frances, twister) will be pretty outside and ugly inside. For some strange reason, the Brits did not discover creature comforts until they started importing Bavarias. Used boats for sale Melbourne Victoria, New boats for sale Melbourne Victoria, Aussie Boat Sales. International Catamaran Discussion Forum • View forum - Forum Fr. Pour nos amis francophones.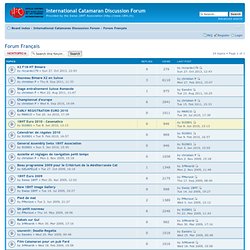 X2 F18-HT Bimare by riccardo179 » Sun 27. Oct 2013, 12:43 0 Replies 279 Views Last post by riccardo179 Sun 27. Oct 2013, 12:43 Nouveau Bimare X2 en Suisse by christian P » Thu 8.
---