Machu Picchu
Machu Picchu ( Spanish pronunciation: [ˈmatʃu ˈpiktʃu] , Quechua : Machu Picchu [ˈmɑtʃu ˈpixtʃu] , "Old Peak") is a 15th-century Inca site located 2,430 metres (7,970 ft) above sea level . [ 1 ] [ 2 ] Machu Picchu is located in the Cusco Region of Peru, South America . It is situated on a mountain ridge above the Urubamba Valley in Peru , which is 80 kilometres (50 mi) northwest of Cusco and through which the Urubamba River flows. Most archaeologists believe that Machu Picchu was built as an estate for the Inca emperor Pachacuti (1438–1472). Often referred to as the "City of the Incas", it is perhaps the most familiar icon of Inca civilization .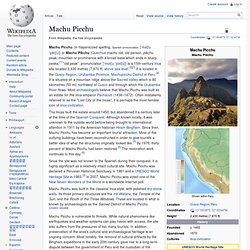 MACHU PICCHU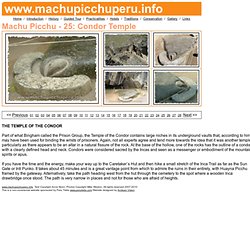 Machu Picchu Peru - a visual guide to the lost city of the Incas
Machu Picchu - 25: Condor Temple THE TEMPLE OF THE CONDOR Part of what Bingham called the Prison Group, the Temple of the Condor contains large niches in its underground vaults that, according to him, may have been used for binding the wrists of prisoners. Again, not all experts agree and tend more towards the idea that it was another temple, particularly as there appears to be an altar in a natural fissure of the rock.
Temple of the Condor, Machu Picchu
Shared Academics NITLE Shared Academics TM models a new approach to liberal education – made possible through strategic collaboration, driven by shared knowledge, and supported by emerging technologies. Campuses learn how inter-institutional academic exchange works by actively participating in it, building the knowledge and experience to re-architect liberal education.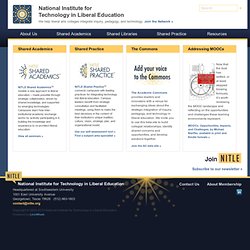 ruins , inca , interesting place , listed building / architectural heritage , historic ruins A unique temple in Machu Picchu is the Temple of the Condor. This is a small area in the Eastern Urban Sector. The condor is South America's largest bird and was sacred to the Incas.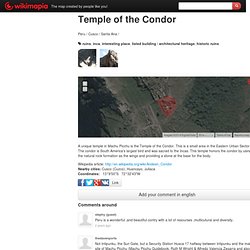 Temple of the Condor