Ruins
Stanton Drew stone circles - Wikipedia, the free encyclopedia - Waterfox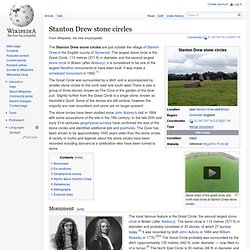 The Stanton Drew stone circles are at grid reference ST600633 just outside the village of Stanton Drew , Somerset . The largest stone circle is the Great Circle, 113 m in diameter and the second largest stone circle in Britain (after Avebury ); it is considered to be one of the largest and most impressive Neolithic monuments to have been built. The Great Circle probably consisted of 30 stones, of which 27 survive today, and was surrounded by the ditch (approximately 135m outer diameter — now filled in) of a henge . [ 1 ] The North East Circle is 30 m in diameter and probably consisted of 10 or more stones, of which 8 survive today. The South West Circle is 43 m in diameter, and has 12 stones surviving today. Standing Stone at Stanton Drew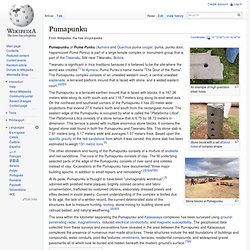 Pumapunku - Wikipedia, the free encyclopedia - Waterfox
Coordinates : An example of high-precision small holes Pumapunku also called "Puma Pumku" or "Puma Puncu", is part of a large temple complex or monument group that is part of the Tiwanaku Site near Tiwanaku, Bolivia . Tiwanaku is significant in Incan traditions because it is believed to be the site where the world was created. [ 1 ] In Aymara , Puma Punku's name means "The Door of the Puma".
archaeoastronomical sites 3
QASR AL FARID TOMB
QASR AL FARID TOMB
Piramide del Sol 072006.JPG - Wikipedia, the free encyclopedia
Sacrificial Blood | CreatorsDream.com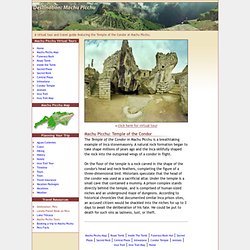 The Temple of the Condor in Machu Picchu is a breathtaking example of Inca stonemasonry. A natural rock formation began to take shape millions of years ago and the Inca skillfully shaped the rock into the outspread wings of a condor in flight. On the floor of the temple is a rock carved in the shape of the condor's head and neck feathers, completing the figure of a three-dimensional bird.
Inca Ruins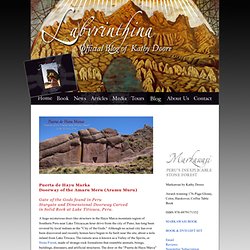 Gate of the Gods found in Peru Stargate and Dimensional Doorway Carved in Solid Rock at Lake Titicaca, Peru. A huge mysterious door-like structure in the Hayu Marca mountain region of Southern Peru near Lake Titicaca,an hour drive from the city of Puno, has long been revered by local indians as the "City of the Gods." Although no actual city has ever been discovered and recently homes have begun to be built near the site, about a mile inland from Lake Titicaca. The remote area is known as a Valley of the Spirits, or Stone Forest , made of strange rock formations that resemble animals, beings, buildings, dinosaurs, and artificial structures. The door or the "Puerta de Hayu Marca" (Gate of the Gods) has been, at some time in the distant past, carved out of a natural rock face and in all, measures exactly 23' in height and width, with a smaller alcove in the center at the base which measures in at just under 6' in height.
Puerta de Hayu Marka, Doorway of the Amaru Meru (Aramu Muru) Gate of the Gods, Lake Titicaca Markawasi Stone Forest