Icones 1
Très très belle collection d'icônes PNG : We ♥ Icons
WeLoveIcons.com (We ♥ Icons) propose une très belle collection d'icônes pour Mac, Windows ou au format PNG libres de droit pour une utilisation personnelle.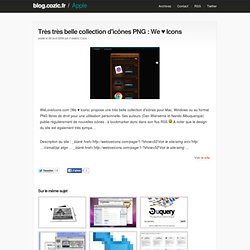 +20000 icônes gratuitesicon
| My Social Buttons
30 Amazingly Creative Social Bookmarks Icon Sets : Speckyboy - W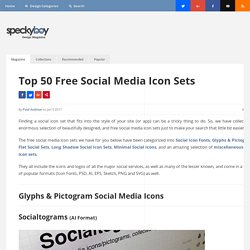 This article is a list of the best and most creative Social Bookmark Icon Sets for your web sites or blogs. If I have missed any, leave send me the link via the comments.
S'il y a bien un domaine dans lequel la créativité ne manque jamais, c'est bien celui des icônes . De nouveaux sets sont mis en ligne de manière quasi-quotidienne et les réussites sont nombreuses. Quelques semaines après vous avoir présenté 14 sources d'icônes , voici une nouvelle tournée d'actualité. Pour commencer, SpeckyBoy, habitué des listes de ressources intéressantes, nous livre une sélection de 30 sets consacrés aux réseaux sociaux et aux social bookmarks à ne pas manquer. Si une bonne partie est déjà connue, vous ferez probablement de belles découvertes.
Tournée d'icônes gratuites et libres de droit - Blog du mod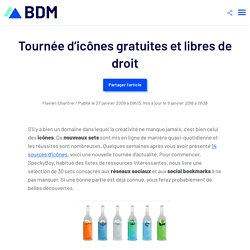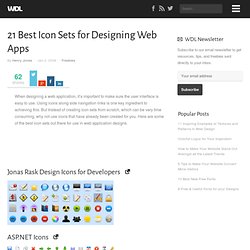 When designing a web application, it's important to make sure the user interface is easy to use. Using icons along side navigation links is one key ingredient to achieving this. But Instead of creating icon sets from scratch, which can be very time consuming, why not use icons that have already been created for you.
21 Best Icon Sets for Designing Web Apps | Web Design Ledger
Jean-Marie Gall.com » Blog Archive » Coquette part 3, un set de
Social Bookmarking Tool - Social Bookmarking Wordpress Script
Les icônes fourmillent sur Internet… Et leur signification est loin d'être évidente. A force de voir toujours les mêmes séries d'icônes parfaitement dessinées, on se dit qu'ils manquent un peu d'humanité et de personnalisation pour rendre ceux-ci un peu plus « sociaux »… Icônes réseaux sociaux faits main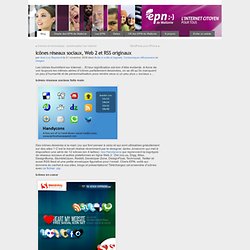 Centre de Ressources des Espaces Publics Numériques de Wallonie
Les meilleurs packs d'icônes Web 2.0 et Sociales gratuits | Web
Rédigé le 11 novembre 2008 par Stephane
Etonnantes icônes chiffonnées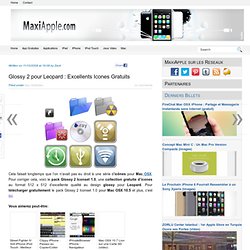 Written on 11/10/2008 at 16:08 by Zack
Glossy 2 pour Leopard : Excellents Icones Gratuits
200 icônes pour illustrer votre blog
Web Application Icons Set : Des icônes pour vos applications Web
Aquaticus.Social by ~jwloh on deviantART
Nous vous présentons souvent des icônes pour votre flux RSS , mais ce n'est pas le seul élément pour lequel vous pouvez avoir envie de mettre une icône . En effet, on peut très bien rechercher des flèches pour la navigation (page précédente, page suivante), une image avec un crayon pour illustrer votre partie « à propos « , etc.
Icônes gratuites pour votre Blog #3 : Le Journal du Blog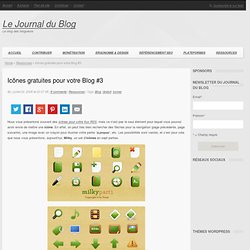 Icones 3D pour flux RSS
Function Web Design & Development [ Blog ] » Blog Archive »
Icones RSS rafraîchissantes…| Webmaster - Ressources et outils g
Iconos RSS para tu feed en Blog Personal de InKiLiNo | Wordpress
Iconos RSS para tus feeds en Blog Personal de InKiLiNo | Wordpre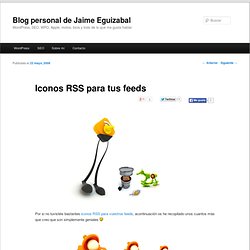 Por si no tuvistéis bastantes iconos RSS para vuestros feeds , acontinuación os he recopilado unos cuantos más que creo que son simplemente geniales
Все больше и больше блоггеров и веб-мастеров используют RSS синдикацию для конвертирования посетителей в постоянных читателей. Если еще остались неучи кто не знаком с данной современной и незаменимой технологией, то настало самое время с ней ознакомится!
Free of charge RSS Feed Icons « ² Malevi4a
Pack de 1900 icones PNG Gratuites + 40 PSD d'icones - Jarod
IconLook
Web 2 Icons | Fast Icon - Free stock icons.
Details: 23 free icons of social networking in iPhone style. Author: Fast Icon Download PNG Files Related posts:
Ressources: Icônes pour vos Flux RSS : Le Journal du Blog
Des milliers d'icônes | PNG | logos
Par Korben
Plus de 17000 icones en téléchargement gratuit | Korben's B
Art et Design » Icones RSS
Free RSS Feed Icons, The Ultimate List
Icones RSS originaux !
FleXGraph » Icônes réseaux sociaux : Flickr, twitter, facebook,
51 Top RSS Button For Your Blog | Jobs, Career and Money
De bien jolies îcones pour votre flux RSS
3 moteurs de recherche d'icônes — Etan Online
Une ribambelle de petits icônes gratuits - Meax Le blog : Un mél
Vista
Fast Icon - Free stock icons.
Deziner Folio» Blog Archive » Top 50 Supercool Free Icon Sets
Oh les belles icônes gratuites à télécharger !
RSS: Best Design Practices And Icons | Developer's Toolbox,
Blog-Micro-Buttons 80px*15px || kosmar || Blog
35 styles d'icônes RSS pour personnaliser votre blog - Le b
The FontFeed » The Logos of Web 2.0
Les nouvelles icones Adobe. - E
Mac OS X icons (by date) - page 2