Royal rainbow!!
OFIE- Mochi ice cream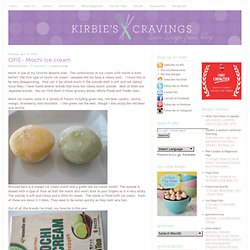 Thursday, April 16, 2009 Mochi is one of my favorite desserts ever. The combination of ice cream with mochi is even better! The first type of mochi ice cream I sampled did not have a chewy shell.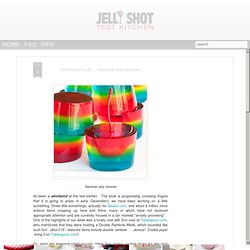 Rainbow Jelly Shooter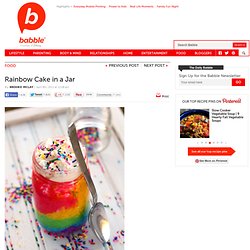 I've always had a penchant for sunshine in a jar. Doesn't the very phrase itself, "sunshine in a jar," roll off your tongue and fill your mouth with magic? While I've never yet found myself a sunshine in a jar, I think we may have just concocted it in our kitchen tonight.
Is it a macaron? A whoopie pie? What are you making over there? That's what we kept hearing when we were creating colorful Cupcake Poppers for the Betty 10 Holiday Trends project. We had way too much fun making these mini cupcake sandwiches- which was the whole point!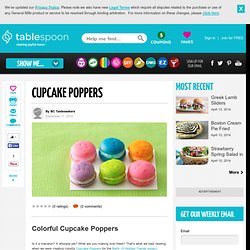 Tiny Cupcakes - Cupcake Poppers
Rainbow Fudge Recipe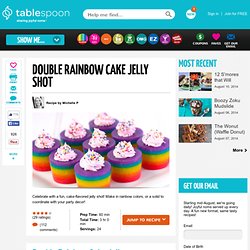 My own August birthday may have also come into play. Regardless of the impetus, visions of tiny jelly shot "cakes" have been dancing in my head for weeks, so clearly the Tablespoon.com gang couldn't avoid the Double Rainbow Cake Jelly Shot had they tried! (Luckily, they were all for it!) Although I'm usually a classic cocktail fan, there are times when a sweet, fun girly drink is just the ticket. As such, I've sustained a high level of excitement about cake-flavored vodka - the taste is unbelievably pastry-like - without adding a sticky, syrupy, gloopy texture.
Double Rainbow Cake Jelly Shot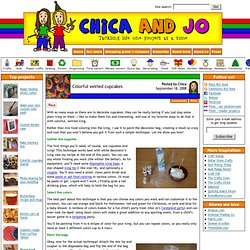 With as many ways as there are to decorate cupcakes, they can be really boring if you just slap some plain icing on them.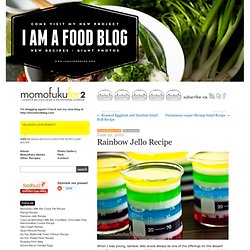 June 22, 2010
Rainbow Pinwheel Sugar Cookies Recipe
But if you're like me, you've gotten bored with the old "roll, cut, sprinkle" routine. Luckily, a little food coloring is all takes to step up your sugar cookie game. Step it waaaay up! The method for these Rainbow Pinwheel Cookies is so simple, and the process is made even easier when you start out with Better Crocker Sugar Cookie Mix.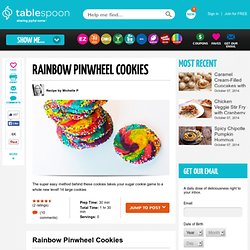 Rainbow Gelatin and Rainbow Jello
If you've been following Tablespoon, you know we're serious rainbow fans! Our bloggers have turned some ordinary edibles into extraordinary incredibles by adding rainbow colors. From bread and donuts to pancakes and cheesecake, food never looked so happy. Then, just when we thought our rainbow was fading, this article jiggled its way into our hearts from BuzzFeed.com, and we knew we had to give it a try. Rainbow Gelatin Orange Wedges -- bright translucent smiles of gelatin that catch sunlight like a prism -- are a total score!