Royal rainbow!!
OFIE- Mochi ice cream. Thursday, April 16, 2009 Mochi is one of my favorite desserts ever.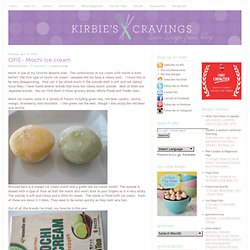 The combination of ice cream with mochi is even better! The first type of mochi ice cream I sampled did not have a chewy shell. Unfettered F-U-N . . . Rainbow Jelly Shooter! Rainbow Jelly Shooter Its been a whirlwind at the test kitchen.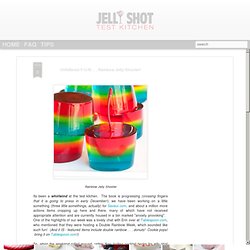 The book is progressing (crossing fingers that it is going to press in early December!) , we have been working on a little something (three little somethings, actually) for Saveur.com, and about a million more actions items cropping up here and there, many of which have not received appropriate attention and are currently housed in a bin marked "anxiety provoking". Rainbow Cake in a Jar. I've always had a penchant for sunshine in a jar.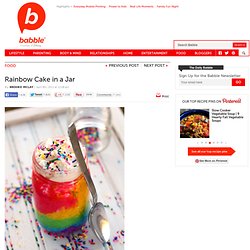 Doesn't the very phrase itself, "sunshine in a jar," roll off your tongue and fill your mouth with magic? While I've never yet found myself a sunshine in a jar, I think we may have just concocted it in our kitchen tonight. Tiny Cupcakes - Cupcake Poppers. Is it a macaron?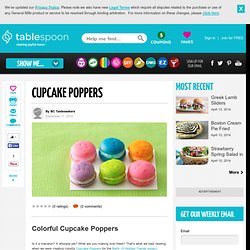 A whoopie pie? What are you making over there? That's what we kept hearing when we were creating colorful Cupcake Poppers for the Betty 10 Holiday Trends project. We had way too much fun making these mini cupcake sandwiches- which was the whole point! Rainbow Fudge Recipe. Double Rainbow Cake Jelly Shot. Colorful swirled cupcakes | Chica and Jo. With as many ways as there are to decorate cupcakes, they can be really boring if you just slap some plain icing on them.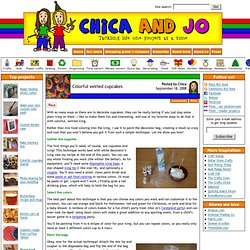 I like to make them fun and interesting, and one of my favorite ways to do that is with colorful, swirled icing. Rather than mix food coloring into the icing, I use it to paint the decorator bag, creating a result so crazy and cool that you won't believe you got it from such a simple technique. Let me show you how! Rainbow Jello Recipe.
June 22, 2010 When I was young, rainbow Jello would always be one of the offerings on the dessert table.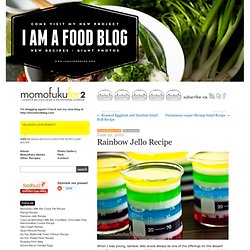 I used to peel the layers of Jello apart and eat them one by one, my favourite being cherry. I have a lot of fond memories of rainbow Jello, but like most things from my childhood, rainbow Jello slowly disappeared without much fanfare. I don't eat Jello much, but when I do, I prefer eating rainbows. Rainbow Pinwheel Sugar Cookies Recipe. Rainbow Gelatin and Rainbow Jello.
---