Rock, Pop
▶ Jos et sä soita by REGINA
Lady Antebellum - Need You Now (2010 Remix)
The Seeker by The Who
Porcupine Tree "Fear Of A Blank Planet" HD
Guerilla Radio - Rage Against The Machine
Eagle-Eye Cherry - Save Tonight
Lenny Kravitz - Fly Away
Massive Attack - Teardrop - 1080p
Michael Jackson - Dirty Diana [Official Music Video]
Shit Your Parents Smoked To Resurrected | JWar | 300 likes | 1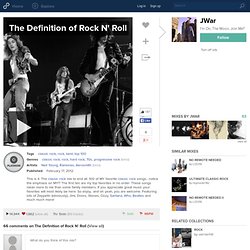 Drop files here to add tracks or artwork to your mix This is it. The classic rock mix to end all. 100 of MY favorite classic rock songs.. notice the emphasis on MY!?
The Definition of Rock N' Roll | JWar | 500+ likes | 3,100
Blondie - Heart Of Glass
Sun Is Shining by The Hookz on SoundCloud
Karate - Water
the hellacopters - by the grace of god
The Hellacopters - Carry Me Home
Motorhead - Ace of Spades (Lyrics HQ)
Uriah Heep - Magician's Birthday
The Guess Who- Shakin' All Over (hi qual)
The Smiths - There Is A Light That Never Goes Out
Dark End Of The Street
Men Without Hats - The Safety Dance HQ
The Smiths "How Soon Is Now?"
Moby - Extreme Ways
Rob Dougan - Clubbed to Death
Iggy Pop - Lust For Life
The Clash - Police & Thieves
Ramones, Baby I love you!
The Ramones - Blitzkrieg Bop (With Lyrics)
Buffalo Springfield - For What Its Worth (good sound quality!)
David Lynch - Pinky's Dream (feat. Karen O)
Jefferson Airplane -White Rabbit-
Florence + The Machine - What The Water Gave Me
Jefferson Airplane - Somebody to love
Jefferson Airplane - Lather
Jefferson Airplane - Volunteers (with Lyric)
Raw Material - Time and Illusion (1970)
Atomic Rooster - Break the Ice
Atomic Rooster - Breaktrough (1971)
The Beatles - Help
THE BEATLES- HERE COMES THE SUN
Beatles - Twist & Shout (live in 65)
The Beatles-A Day In The Life (2009 Remaster)
The Beatles - I'm Only Sleeping
The Beatles - Taxman
The Beatles - She said She said