Rock Band: The Rolling Stones
The Rolling Stones. The band continued to make successful records through the 1970s and selling many albums with Some Girls (1978) and Tattoo You (1981) being their two most sold albums worldwide.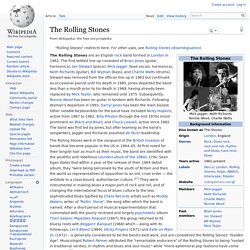 In the 1980s a feud between Jagger and Richards about band's musical direction almost caused the band to split but they managed to patch their relationship and had a big comeback with Steel Wheels (1989) which was followed by a big stadium and arena tour. The band's tradition of supporting albums with big stadium tours continued through the 1990s and 2000s. The band made four at the time highest-grossing concert tours (Voodoo Lounge Tour (1994-1995), Bridges to Babylon Tour (1997-1999), Licks Tour (2002-2003) and A Bigger Bang Tour (2005-2007)). The Rolling Stones - Sympathy For The Devil.
Can't you hear me knocking- rolling stones. The rolling stones-You can't always get what you want. The rolling stones-start me up. Satisfaction-Rolling Stones. Rolling Stones - Paint it Black LYRICS.
---