Robots
Here are some details on building tiny robots and circuits. This instructable will also cover some basic tips and techniques that are useful in building robots of any size. For me, one of the great challenges in electronics is to see just how small a robot I can make. The beautiful thing about electronics is that the components just keep getting smaller and cheaper and more efficient at an incredibly fast pace.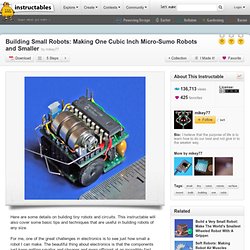 Building Small Robots: Making One Cubic Inch Micro-Sumo Robots and Smaller
Welcome to Surveyor Corporation
TB-007 (ThunderBird 7) Big Brother of TB-6 . ( Blogged ) TB-007 is able to Detect Metal (Coins, Rings, Gold, Electric Underground/Floor Cables and annoying Bottle Tops) Improved Traction Design - aimed to cross over Stones and Sand. I totally redesigned the Chassis of TB6 to make it more robust. 1st Video Shows it in Action. (-: towards the end are some Outakes :-)
TB-007 Metal Detector | Let's Make Robots!
How to Build a Robot Tutorial - Society of Robots
Rumble Robot Arduino Hack - Build your own roving robot
Want to build your own Rumblebot? Great! Let's get started. First, find a Rumble Robot on eBay, a thrift store or a yard sale.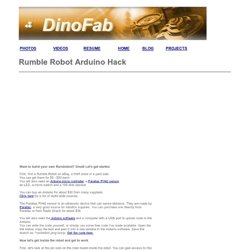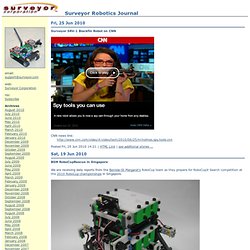 Robotics Journal
Surveyor SRV-1 Blackfin Robot on CNN CNN news link: http://www.cnn.com/video/#/video/tech/2010/06/25/nr.holmes.spy.tools.cnn Posted Fri, 25 Jun 2010 14:21 | HTML Link | see additional stories ... BSM RoboCupRescue in Singapore We are receiving daily reports from the Benilde-St Margaret's RoboCup team as they prepare for RoboCupJr Search competition at the 2010 RoboCup championships in Singapore. Benilde-St Margaret's Advanced Competitive Science (BSM ACS) team has been one of the SRV-1 Blackfin's most active developers, originating the SRV-RCM expansion board, helping in development of labview-srv console for LabVIEW and extending the definition of robot functions supported in SRV-1 picoC.
What Arduino can do Arduino can sense the environment by receiving input from a variety of sensors and can affect its surroundings by controlling lights, motors, and other actuators. The microcontroller on the board is programmed using the Arduino programming language (based on Wiring) and the Arduino development environment (based on Processing). Arduino projects can be stand-alone or they can communicate with software running on a computer (e.g. Flash, Processing, MaxMSP). The boards can be built by hand or purchased preassembled; the software can be downloaded for free.