Humanoïdes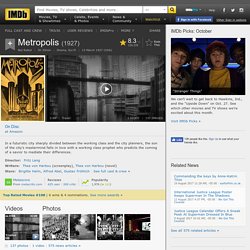 Edit Storyline Sometime in the future, the city of Metropolis is home to a Utopian society where its wealthy residents live a carefree life.
Planète interdite (1956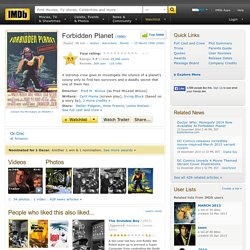 Edit Storyline When Adams and his crew are sent to investigate the silence from a planet inhabited by scientists, he finds all but two have died. Dr. Morbius and his daughter Altaira have somehow survived a hideous monster which roams the planet.
Mondwest (1973
The Gunslinger (Character)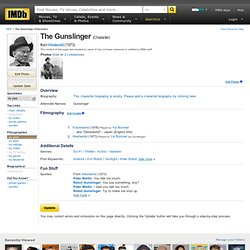 The content of this page was created by users. It has not been screened or verified by IMDb staff. Edit Photos There may be more photos available for this character. To select more photos to be displayed in this character's gallery, click the Edit Photos link. Overview
Edit Storyline It's 2274 and on the surface, it all seems to be an idyllic society. Living in a city within an enclosed dome, there is little or no work for humans to perform and inhabitants are free to pursue all of the pleasures of life. There is one catch however: your life is limited and when you reach 30, it is terminated in a quasi-religious ceremony known as Carousel. Some, known as runners, do try to escape their fate when the time comes and it's the job of Sandmen to track them down and kill them.
Logan's Run (1976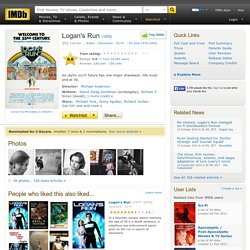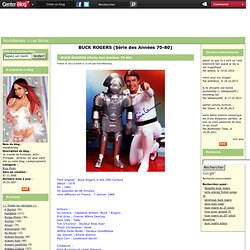 Titre original : Buck Rogers in the 25th Century Début : 1979 Fin : 1981 35 épisodes de 46 minutes 1ère diffusion en France : 7 Janvier 1984 Acteurs : Gil Gerard : Capitaine William "Buck " Rogers Erin Gray : Colonel Wilma Deering Felix Silla : Twiki Tim O'Connor : Docteur Elias Huer Thom Christopher: Hawk Wilfrid Hyde-White : Docteur Goodfellow Jay Garner : Amiral Asimov Paul Carr : Lieutenant Devlin Créateurs : Glen A.Larson et Leslie Stevens Producteurs exécutifs : Glen A.Larson
BUCK ROGERS (Série des Années 70-80)
Edit Storyline Part IV in George Lucas' epic, Star Wars: A New Hope opens with a Rebel ship being boarded by the tyrannical Darth Vader. The plot then follows the life of a simple farm boy, Luke Skywalker, as he and his newly met allies (Han Solo, Chewbacca, Obi-Wan Kenobi, C-3PO, R2-D2) attempt to rescue a Rebel leader, Princess Leia, from the clutches of the Empire. The conclusion is culminated as the Rebels, including Skywalker and flying ace Wedge Antilles make an attack on the Empire's most powerful and ominous weapon, the Death Star. Written by P.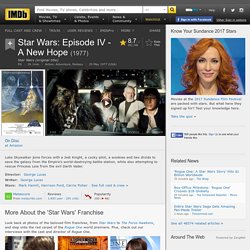 Droid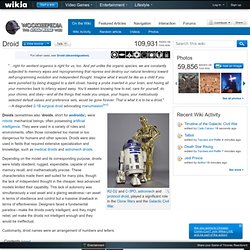 "…right for sentient organics is right for us, too. And yet unlike the organic species, we are constantly subjected to memory wipes and reprogramming that repress and destroy our natural tendency toward self-programming evolution and independent thought. Imagine what it would be like as a child if you were punished by being dragged to a dark closet, having a probe inserted in your brain, and having all your memories back to infancy wiped away. You'd awaken knowing how to eat, care for yourself, do your chores, and obey—and all the things that made you unique, your hopes, your meticulously selected default values and preference sets, would be gone forever. That is what it is to be a droid."
C-3PO (Character)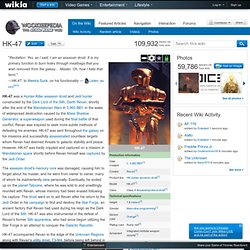 HK-47
HK-47 was a Hunter-Killer assassin droid and Jedi hunter constructed by the Dark Lord of the Sith, Darth Revan, shortly after the end of the Mandalorian Wars in 3,960 BBY. In the wake of widespread destruction caused by the Mass Shadow Generator, a superweapon used during the final battle of that conflict, Revan was inspired to seek more subtle methods of defeating his enemies. HK-47 was sent throughout the galaxy on his missions and successfully assassinated countless targets whom Revan had deemed threats to galactic stability and peace. However, HK-47 was badly crippled and captured on a mission in Mandalorian space shortly before Revan himself was captured by the Jedi Order. The assassin droid's memory core was damaged, causing him to forget about his master, and he went from owner to owner, many of whom he inadvertently slew personally.
Goofs The Gemini Freighter was filled with Gemons who followed Gemon religions and spoke Gemonese. It left Gemini during the exodus.

Galactica (TV Series 1978–1979
Robot - Battlestar Wiki
From Battlestar Wiki, the free, open content Battlestar Galactica encyclopedia and episode guide A typical robot on Caprica, before the Fall. Graystone Industries Robots Several models of robots were employed - if not designed - by Graystone Industries in Caprica City.
Edit Storyline The crew of the deep space towing vessel Nostromo are awaken from hypersleep to investigate a strange signal from a nearby planet. While investigating the signal, they discover it was intended as a warning, and not an SOS. Written by Colin Tinto <cst@imdb.com> Plot Summary | Plot Synopsis
Star Trek: The Motion Picture (1979
Lt. Ilia (Character)
Edit Storyline Two lovers stationed at a remote base in the asteroid fields of Saturn are intruded upon by a retentive technocrat from Earth and his charge: a malevolent 8-ft robot. Remember, in space no one can hear you scream... Written by Keith Loh <loh@sfu.ca>
Saturn 3 (1980
The Terminator (1984
Edit Storyline A cyborg is sent from the future on a deadly mission. He has to kill Sarah Connor, a young woman whose life will have a great significance in years to come. Sarah has only one protector - Kyle Reese - also sent from the future. The Terminator uses his exceptional intelligence and strength to find Sarah, but is there any way to stop the seemingly indestructible cyborg ?
Star Trek: The Next Generation (TV Series 1987–1994
Edit Storyline Set in the 24th century and decades after the adventures of the original crew of the starship Enterprise, this new series is the long-awaited successor to the original Star Trek (1966).
Lt. Commander Data (Character)
D.A.R.Y.L. (1985
RoboCop (1987
Ghost in the Shell (1995
L'homme bicentenaire (1999
Robots (2005
Hector dans Saturn 3 (wikipedia)
Aliens (1986
Bishop (Character)
Twiki
Box from Logan's Run