Robot blogs
Get flash to fully experience Pearltrees
Image: Cellbots In the first "Matrix" movie, there's a scene where Neo points to a helicopter on a rooftop and asks Trinity, "Can you fly that thing?"
It's been more than 2 years since we last reported on Massachusetts startup Harvest Automation .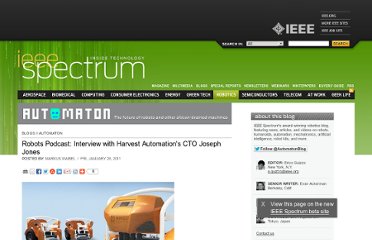 Updated May 20, 4:23 p.m.: Added National Instruments comments; 5:49 p.m.: Added Willow Garage comments; May 21, 11:21 a.m.: Added details on competing robotics software platforms; 1:50 p.m.
As part of the European project RoboEarth , I am currently one of about 30 people working towards building an Internet for robots: a worldwide, open-source platform that allows any robot with a network connection to generate, share, and reuse data. The project is set up to deliver a proof of concept to show two things: RoboEarth greatly speeds up robot learning and adaptation in complex tasks.