Nao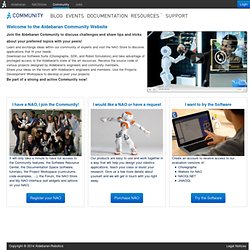 Home - NAO's users - Aldebaran Robotics
Join the Aldebaran Community to discuss challenges and share tips and tricks about your preferred topics with your peers! Learn and exchange ideas within our community of experts and visit the NAO Store to discover applications that fit your needs. Download our Software Suite (Choregraphe, SDK, and Robot Simulators) and take advantage of privileged access to the Aldebaran's state of the art resources. Receive the source code of various projects designed by Aldebaran's engineers and community members.
Naoforge.net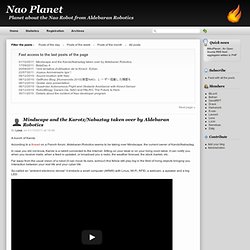 Last week-end Aldebaran organised a summit in Paris with ~15 of the beta-testers of Nao. It is the third time since the beta-test started about 1 year and a half ago. And during this event we talked a lot about the new shiny developer program, of course.
Nao Planet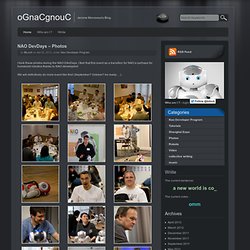 Since few month we started to design a wheeled robot base on the android OS. We are a group of robot's addicted, professional or not, and we share our off time doing robot as an hobby. 3D CAD Model We found many wheeled robot on the market, but nothing corresponding to our goals. So, we decide to design the one we want.
oGnaCgnouC