If a robot can do it, maybe I can too
Pregnant Robot Trains Students
The current generation of bicycle-riding robots (I'm talking about those crazy kids from Murata ) are extremely complicated, relying on giant gyroscopes and thick wheels to keep themselves upright even while stationary.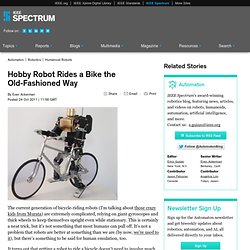 Hobby Robot Rides a Bike the Old-Fashioned Way
Robot Rides a Bike
Japan's Robot Supermodel Hits the Runway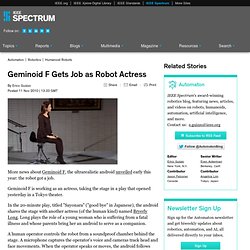 More news about Geminoid F , the ultrarealistic android unveiled early this year: the robot got a job. Geminoid F is working as an actress, taking the stage in a play that opened yesterday in a Tokyo theater. In the 20-minute play, titled "Sayonara" ("good bye" in Japanese), the android shares the stage with another actress (of the human kind) named Bryerly Long .
Robot Actress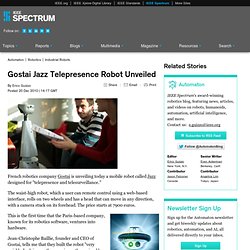 French robotics company Gostai is unveiling today a mobile robot called Jazz designed for "telepresence and telesurveillance." The waist-high robot, which a user can remote control using a web-based interface, rolls on two wheels and has a head that can move in any direction, with a camera stuck on its forehead. The price starts at 7900 euros.
Gostai Jazz Telepresence Robot Unveiled
Gostai Jazz presentation
Humanoid Robot Dance
Japanese roboticists recently showed off a female android singing and dancing along with a troupe of human performers. Video of the entertaining and surprisingly realistic demonstration received went viral on the Net. How did they do it?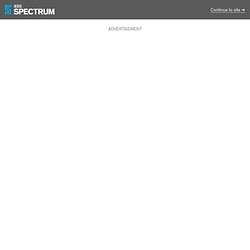 HRP-4C未夢_ダンスデモンストレーション
Humanoid Robot Justin Learning To Fix Satellites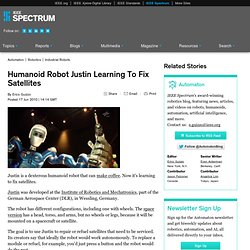 Justin is a dexterous humanoid robot that can make coffee . Now it's learning to fix satellites. Justin was developed at the Institute of Robotics and Mechatronics , part of the German Aerospace Center (DLR), in Wessling, Germany.
Humanoid Robot Learning To Fix Satellites
This is awsome i feel so proudd to be an american that has lived threw the time of this glorious event by tcanton Feb 8
In one giant leap for robotkind, NASA will send the world's first humanoid robot to space later this year.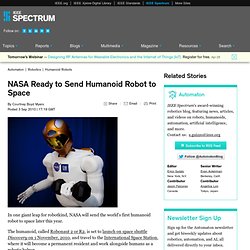 NASA Ready to Send Humanoid Robot to Space