CNC.Hardware
Numerical control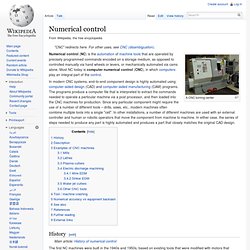 A CNC turning center Numerical control ( NC ) is the automation of machine tools that are operated by abstractly programmed commands encoded on a storage medium, as opposed to controlled manually via handwheels or levers, or mechanically automated via cams alone. The first NC machines were built in the 1940s and 1950s, based on existing tools that were modified with motors that moved the controls to follow points fed into the system on punched tape . These early servomechanisms were rapidly augmented with analog and digital computers, creating the modern computer numerical control ( CNC ) machine tools that have revolutionized the machining processes. In modern CNC systems, end-to-end component design is highly automated using computer-aided design (CAD) and computer-aided manufacturing (CAM) programs.
This document explains how to connect your Arduino board to the computer and upload your first sketch. 1 | Get an Arduino board and USB cable In this tutorial, we assume you're using an Arduino Uno , Arduino Duemilanove , Nano , or Diecimila . If you have another board, read the corresponding page in this getting started guide.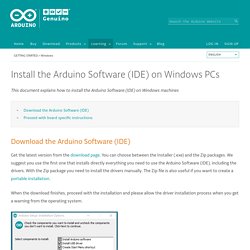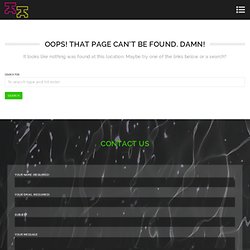 MakerBot CNC | One Sweet Cupcake
While recently exploring the world of CNC — MakerBot popped up during a search at gizmodo.com . After checking this out and getting excited that the DIY unit was just $750 — I had to have one. The MakerBot video shows the Cupcake in action.
Repenser l'internet des objets (3/3) : Industrialiser l'internet
Par Daniel Kaplan le 07/05/09 | 8 commentaires | 13,832 lectures | Impression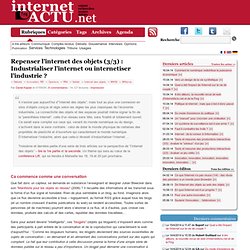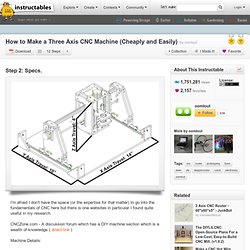 I'm afraid I don't have the space (or the expertise for that matter) to go into the fundamentals of CNC here but there is one websites in particular I found quite useful in my research. CNCZone.com - A discussion forum which has a DIY machine section which is a wealth of knowledge ( direct link ) Machine Details: Cutting Head: Dremel or Dremel Type Tool Axis Details:
Specs.
Home-Made DIY CNC Machine using Step Motors, Dremel, and EMC2
Tags: CNC , DIY , Machine , Motor Control , Robot , Robotics , Stepper Motor What is a CNC? The abbreviation CNC stands for computer numerical control, and refers specifically to a computer "controller" that reads G-code instructions and drives a machine tool, a powered mechanical device typically used to fabricate components by the selective removal of material. In simple words, a CNC is a machine which is controlled by a computer, and used to fabricate 3D objects.