Privacy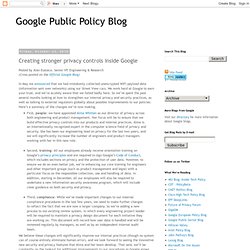 Creating stronger privacy controls inside Google
Posted by Alan Eustace, Senior VP, Engineering & Research (Cross-posted on the Official Google Blog ) In May we announced that we had mistakenly collected unencrypted WiFi payload data (information sent over networks) using our Street View cars. We work hard at Google to earn your trust, and we're acutely aware that we failed badly here. So we've spent the past several months looking at how to strengthen our internal privacy and security practices, as well as talking to external regulators globally about possible improvements to our policies. Here's a summary of the changes we're now making.
ACLU, EFF Contend Government Needs Probable Cause & Warrant to Track Cell Phones | ACLUTx.org – The American Civil Liberties Union of Texas
Organizations Seek to Defend Privacy Rights FOR IMMEDIATE RELEASEContact: Jose Medina, Media Coordinator, ACLU of Texas, (512) 478-7300 x 103; jmedina@aclutx.org AUSTIN – The American Civil Liberties Union (ACLU) and American Civil Liberties Union of Texas have joined the Electronic Frontier Foundation (EFF) in opposing federal government attempts to obtain cell phone users' historical location data from cell phone service providers without establishing probable cause and obtaining a warrant. In an amicus (friend of the court) brief filed Friday in U. S.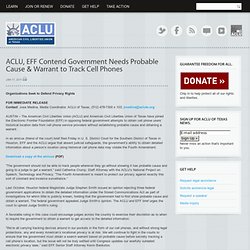 Privacy Win: Cellphone Search Without Warrant Declared Illegal -
Your Cellphone Is Subject to Warrantless Searches in California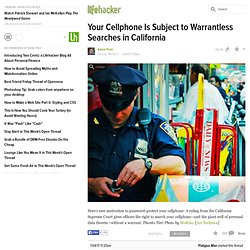 This falls under one of those areas in law enforcement know as "probable cause." If an officer has probable cause to believe that there is evidence on your phone, then at the time of the arrest they may be allowed to search it. Just the same as searching your person for drugs or weapons upon arrest. They shouldn't just be going through your phone for fun.
The real cost of free | Cory Doctorow | Technology
Last week, my fellow Guardian columnist Helienne Lindvall published a piece headlined The cost of free, in which she called it "ironic" that "advocates of free online content" (including me) "charge hefty fees to speak at events".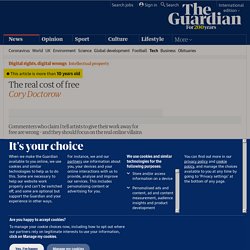 Found this really interesting - I am a bit of a technophobe, but found his argument against regulation of the web very compelling. I do not download for free but my sons do visit these sites and i am concerned about anyone being sanctioned or 'criminalised' for this practice as I agree people will always find a way to foil the system. allowing free acess to an artists work can lead to them making money - merchandise, going to the gig, buying a hard copy etc. today nothing is done in isolation, (cause and effect ). the proposed regulations Cory talks about are extremely worrying by 362038 Dec 21
The privacy industry: Scare and sell « BuzzMachine
At two privacy conferences—one in New York, the other right now in Victoria, B.C.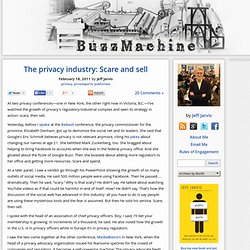 Would You Trust the Government to Control Your Online Identity?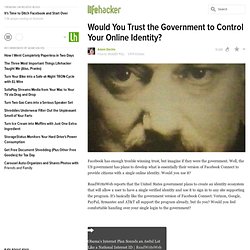 i vote yes. Yes because this is exactly what we talked about in the Gawker incident. Yes, because I believe people are looking at this wrong. I've read many of these arguments and I do not yet find a the problem with them.