Rick Santorum
What's so bad about Rick Santorum? : explainlikeimfive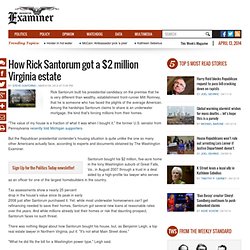 Rick Santorum built his presidential candidacy on the premise that he is very different than wealthy, establishment front-runner Mitt Romney, that he is someone who has faced the plights of the average American.
How Rick Santorum got a $2 million Virginia estate
Santorum Says Equality 'Doesn't Come from Islam' But From 'God of Abraham, Isaac and Jacob'
Jan 20, 2012 8:18pm BOILING SPRINGS, SC—At his last town hall before South Carolinians vote, Rick Santorum was discussing the concepts of freedom and equality that the nation was founded on and said the concept of equality "doesn't come from Islam" or "Eastern religions." Instead "it comes from "the God of Abraham, Isaac and Jacob." "I get a kick out of folks who call for equality now, the people on the left, 'Well, equality, we want equality.'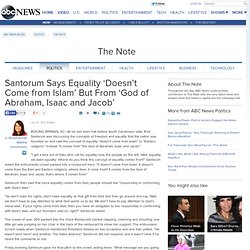 Rick Santorum's Anti-Abortion Politics Would Have Killed His Own Wife [Roe V World]
Posted at 12:00 PM ET, 02/15/2012 Feb 15, 2012 05:00 PM EST TheWashingtonPost
Santorum: Birth control 'harmful to women' - Right Turn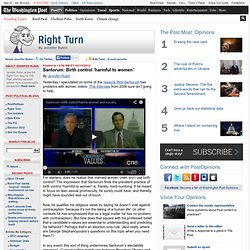 DRUDGE: SANTORUM'S SATAN WARNING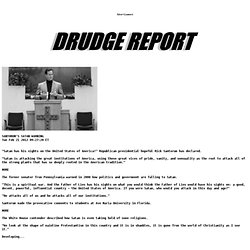 Advertisement SANTORUM'S SATAN WARNING Tue Feb 21 2012 09:27:20 ET "Satan has his sights on the United States of America!" Republican presidential hopeful Rick Santorum has declared. "Satan is attacking the great institutions of America, using those great vices of pride, vanity, and sensuality as the root to attack all of the strong plants that has so deeply rooted in the American tradition." The former senator from Pennsylvania warned in 2008 how politics and government are falling to Satan.
Michael Savage: Santorum is right about Satan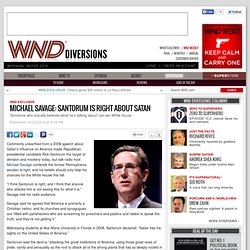 Text smaller Text bigger Comments unearthed from a 2008 speech about Satan's influence on America made Republican presidential candidate Rick Santorum the target of derision and mockery today, but talk-radio host Michael Savage contends the former Pennsylvania senator is right, and his beliefs should only help his chances for the White House this fall. "I think Santorum is right, and I think that anyone who attacks him is not seeing this for what it is," Savage told his radio audience. Savage said he agrees that America is primarily a Christian nation, and its churches and synagogues are "filled with parishioners who are screaming for preachers and pastors and rabbis to speak the truth, and they're not getting it." Addressing students at Ave Maria University in Florida in 2008, Santorum declared: "Satan has his sights on the United States of America."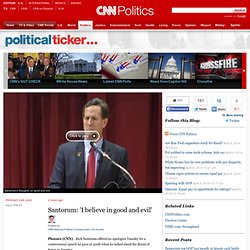 TRENDING: Santorum: 'I believe in good and evil'
Phoenix (CNN) - Rick Santorum offered no apologies Tuesday for a controversial speech he gave in 2008 when he talked about the threat of Satan in America. "I'm a person of faith. I believe in good and evil," Santorum said in response to questions from CNN. CNN LIVE: Tune in Wednesday at 8 p.m. ET for the last presidential debate before Super Tuesday, the CNN/Arizona Republican Party Debate hosted by John King. Follow it on Twitter at #CNNDebate and on Facebook at CNN Politics.
PHOENIX – Former Pennsylvania senator Rick Santorum on Tuesday criticized a report about a 2008 speech in which he said "Satan has set his sights on the United States of America," calling the report a "a joke" and adding that he believes in "good and evil." "You know, I'm a person of faith. I believe in good and evil," he told reporters following a rally here. "I think if somehow or another because you're a person of faith you believe in good and evil is a disqualifier for president we're going to have a very small pool of candidates who can run for president." In a 2008 speech to students at Ave Maria University in Florida, which was posted on The Drudge Report on Tuesday, Santorum said Satan was "attacking the great institutions of America." Ave Maria was created by Tom Monaghan, the founder of Domino's Pizza and an ardent Catholic and abortion opponent.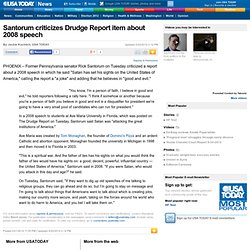 Santorum criticizes Drudge Report item about 2008 speech
By Toby Harnden UPDATED: 10:44 GMT, 22 February 2012 Rick Santorum has sought to deflect controversy over a 2008 speech in which he said that "Satan has set his sights on the United States" by drawing a parallel with Ronald Reagan branding the Soviet Union an "evil empire". Speaking at a rally in Phoenix, Arizona, the former US Senator for Pennsylvania told an anecdote about Lech Walesa and stating that "yes there are there are forces of evil in the world".
Rick Santorum defends Satan warning by comparing himself to Ronald Reagan
Karen Santorum: Husband's surge 'is God's will'
The wife of presidential candidate Rick Santorum said Thursday that his rise in the polls is due to God working in mysterious ways. "I personally think this is God's will. I think He has us on a path, and I do think there's a lot more happening than what we're seeing," Karen Santorum told Glenn Beck as she and her husband sat for an interview on his Web-based show, GBTV.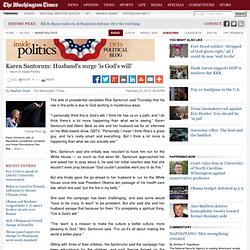 Palin: Media Getting "Wee-Weed Up" Over Santorum's Satan Remark
Posted on February 21, 2012 "They will attack any conservative who boldly proclaims their faith and talks about there is good in the world and there's evil in the world and that's what Rick Santorum was talking about. And this was a speech that he gave back in 2008 where he named evil as Satan. And for these lame-stream media characters to get all wee-weed up about that, first you have to ask yourself, 'Have they ever attended a Sunday school class even? Have they never heard of this terminology before?' And that's why they got so, you know, just whacked out about the speech," Sarah Palin told Sean Hannity on FOX News tonight.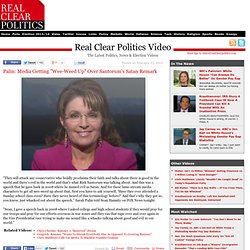 Christie: Santorum's Satan remarks are 'relevant'
By Catalina Camia, USA TODAY Updated 2012-02-22 11:14 AM New Jersey Gov. Chris Christie supports Mitt Romney for president. New Jersey Gov.
(CBS News) In her first network television interview, Karen Santorum offered a revealing look at her husband.
Santorum's private side, through wife's eyes
Santorum says Obama agenda not based on Bible
Santorum questions Obama's Christian values
Rick Santorum aide gaffe: Obama's 'radical Islamic policies' - Mackenzie Weinger
Rick Santorum's spokeswoman Alice Stewart said in a TV interview on Monday that Santorum was referring to President Barack Obama's "radical Islamic policies" when he said the president's agenda was driven by "phony theology" — but then quickly called up MSNBC after the segment aired to say she misspoke. "There is a type of theological secularism when it comes to the global warmists in this country. That's what he was referring to. He was referring to the president's policies in terms of the radical Islamic policies the president has," Stewart said on "Andrea Mitchell Reports." Continue Reading
God what an arse! I seriously hope that he doesnt become the next President and I have to say that with the undermining of abortion rights, Pipo,Sopa and the bullying of other countries to introduce strigent controls over their Internet I'm bloody glad I don't live in the US. I was listening to an interview with John Avlon,author of "Wing nuts, how the lunatic fringe is hijacking America"and it was so frightening! I currently live in Switzerland and their fair and thoughtful laws on assisted suicide should be held up as a beacon, it is legal to assist some people to commit suicide, if they are of sound mind and can obviously consent, if you wilfully incite someone to commit suicide then you are prosecuted. There hasn't been a free for all of people bumping each other off or mass murder of the elderly in order to free up hospital beds, or cut costs, it's carefully monitored.
Rick Santorum Pines for the Good Ol' Days of Unsafe Back Alley Abortions
Rick Santorum, Health Expert, Touts Made Up Link Between Breast Cancer and Abortions
Sweatervest militia extremist Rick Santorum has a message for America: Susan G. Komen for the Cure should not be providing any sort of support to Planned Parenthood, because abortion causes breast cancer. Good grief. Does he also think that eating orange M&M's will kick his tits up a cup size?
Savage Love by Dan Savage - Seattle Columns - Savage Love - Dan Savage
Santorum: Obama leading Christians to the 'guillotine'
Rick Santorum crashes back to earth - David Catanese
Social conservatives back Rick Santorum
Spreading Santorum
Cold War in our region - SentinelSource.com: Guest
Santorum's Turn - The Editors
MSNBC's Alex Wagner Mutters "Jesus" During Santorum Clip
For Santorum, new challenges follow his big wins
Is Rick Santorum too conservative to win in November?
» Santorum Owns the New Neocon Tea Party Alex Jones
Santorum is Strengthening Obama's Chances for Re-Election
Megadeth frontman backs Rick Santorum
Daily Kos To Make Mischief In Republican Primary
New Paul S.C. ad hits Santorum on 'betrayal'