US
EGYPT: Hundreds protest to denounce terrorist attack on Coptic Christians | Babylon & Beyond | Los Angeles Times. Hundreds of Egyptians took part in a demonstration Sunday morning to condemn the church explosion that took the lives of 21 Coptic Christians in the coastal city of Alexandria in the early hours of 2011.
In the suburb of Shubra, downtown Cairo, some 500 Muslim and Coptic activists, politicians and other civil society leaders led a protest to show solidarity with the Egyptian Coptic minority and to denounce Saturday's deady assault. Marchers shouted the slogans, "A Muslim and a Copt hand in hand to create a new dawn," and "Not a police state, not a religious state, we want Egypt to be a secular state," as they carried banners showing the crescent along with the cross, which has been a historical symbol of unity between Egyptian Muslims and Copts. Protesters were swiftly surrounded by police officers, who feared that clashes might erupt between the protesters and bitter Coptic inhabitants of the area.
IRAN: Opposition leader Mousavi supports Egypt, Arab uprisings, condemns Tehran hard-liners | Babylon & Beyond | Los Angeles Times. Iranian opposition leader Mir-Hossein Mousavi issued a strong statement of support Saturday for the Tunisian revolution that ousted longtime strongman Zine el Abidine ben Ali and the ongoing uprising against Egyptian ruler Hosni Mubarak, linking the ongoing struggles for freedom in the Arab world to popular revolt against President Mahmoud Ahmadinejad in 2009.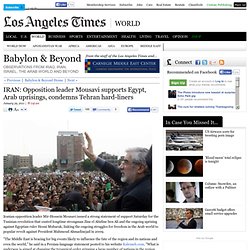 "The Middle East is bracing for big events likely to influence the fate of the region and its nations and even the world," he said in a Persian-language statement posted to his website Kalemeh.com. "What is underway is aimed at changing the tyrannical order gripping a large number of nations in the region and doubtlessly, whatever we are witnessing in the streets of Tunis, Sana, Cairo, Alexandria and Suez take their origins from the millions-strong protests in Tehran in June 2009.
" Egypt: U.S. quietly prepares for post-Hosni Mubarak era in Egypt - latimes.com. President Obama is briefed on the events in Egypt during a meeting with his… (Pete Souza / White House ) Reporting from Washington — A tight-lipped White House is taking an even-handed approach to the crisis in Egypt, suggesting that President Mubarak might be able to hold onto power if he allows competitive elections and restores individual freedoms.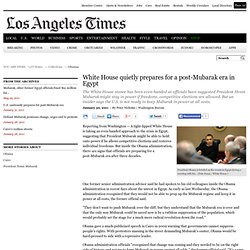 But inside the Obama administration, there are signs that officials are preparing for a post-Mubarak era after three decades. One former senior administration advisor said he had spoken to his old colleagues inside the Obama administration in recent days about the unrest in Egypt. As early as last Wednesday, the Obama administration recognized that they would not be able to prop up the Mubarak regime and keep it in power at all costs, the former official said. EGYPT: Missing Google executive Wael Ghonim named symbolic spokesman of opposition group | Babylon & Beyond | Los Angeles Times.
A 30-year-old Egyptian Google executive who disappeared after participating in opposition protests last week was named the symbolic spokesman for the April 6 youth opposition group Friday, CBS News reported.
Members of the group told CBS they hope naming Wael Ghonim as their spokesman will result in the executive's release. Ghonim, Google's head of marketing for the Middle East and North Africa, has been missing since last Thursday. He was last seen in central Cairo, and PC Magazine reported Friday that he is believed to be in the custody of the Egyptian government. A Google spokesperson told PCMag.com that the company had no new information Friday concerning Ghonim's whereabouts. Interview With Syrian President Bashar al-Assad. Egyptian Museum Looted: Egypt Looters Rip Heads Off 2 Mummies At Famed Cairo Museum. CAIRO — Would-be looters broke into Cairo's famed Egyptian Museum, ripping the heads off two mummies and damaging about 10 small artifacts before being caught and detained by army soldiers, Egypt's antiquities chief said Saturday.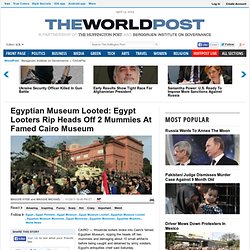 Zahi Hawass said the vandals did not manage to steal any of the museum's antiquities, and that the prized collection was now safe and under military guard. With mass anti-government protests still roiling the country and unleashing chaos on the streets, fears that looters could target other ancient treasures at sites across the country prompted the military to dispatch armored personnel carriers and troops to the Pyramids of Giza, the temple city of Luxor and other key archaeological monuments.
Hawass said now that the Egyptian Museum's collection is secure from thieves, the greatest threat to the collection inside is posed by the torched ruling party headquarters building next door. Firas Al-Atraqchi: Arab Earthquake: Egypt Is the Region's Turning Point. While media analysts debate whether social media is fueling revolt in the Middle East and North Africa or whether the US has helped keep regional dictatorships in power, one thing is very clear: The Arab masses are sick and tired of being sick and tired.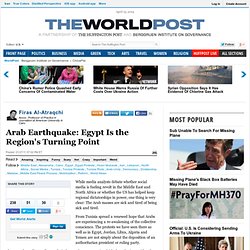 From Tunisia spread a renewed hope that Arabs are experiencing a re-awakening of the collective conscience. The protests we have seen there as well as in Egypt, Jordan, Libya, Algeria and Yemen are not simply about the deposition of an authoritarian president or ruling party. They are about dismantling archaic forms of governance in which the ruler is considered to be beyond reproach and economic policies are determined by his self-preserving business elite allies.
During World War I, Turkey was referred to as the sick man of Europe. Andrew McLaughlin: An Open Letter to Dr. Tarek Kamel, Minister of Communications and Information Technology of Egypt. Dear Tarek: The news anchors are reporting that Egypt's Cabinet has just submitted its resignation, and a new Prime Minister has been appointed.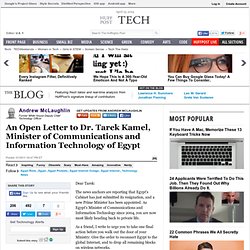 As Egypt's Minister of Communications and Information Technology since 2004, you are now most likely heading back to private life. As a friend, I write to urge you to take one final action before you walk out the door of your Ministry: Give the order to reconnect Egypt to the global Internet, and to drop all remaining blocks on wireless networks. Protesters Are Awesome: Egyptian Students Are Now Protecting the Libraries - Culture. On Friday we told you about about the Egyptian protesters who valiantly banded together to protect the Egyptian Museum's priceless antiquities collection from destruction (unfortunately, they were unable to protect them all).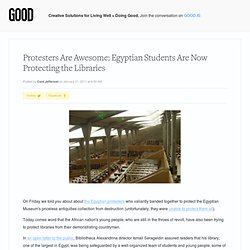 Today comes word that the African nation's young people, who are still in the throes of revolt, have also been trying to protect libraries from their demonstrating countrymen. In an open letter to the public, Bibliotheca Alexandrina director Ismail Serageldin assured readers that his library, one of the largest in Egypt, was being safeguarded by a well-organized team of students and young people, some of whom are even coordinating with the military to ensure that their protests for freedom don't also decimate the nation's valuable cultural icons: Live Updates from Egypt. Saudi Arabia Voices Support for Mubarak. Live From Egypt: The Rebellion Grows Stronger By Sharif Abdel Kouddous. Live From Egypt: The True Face of the Mubarak Regime by Sharif Abdel Kouddous. Why'd a Battle-Ready Mubarak Turn Egypt's Internet Back On? Tahrir Square protests earlier today; image credit: Al Jazeera English.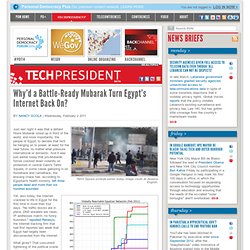 Just last night it was that a defiant Hosni Mubarak stood up in front of the world, and more importantly, the people of Egypt, to declare that he'd be hanging on to power, at least for the near future, no matter what pressure international or domestic. And it was just earlier today that pro-Mubarak forces cracked down violently on protestors in central Cairo's Tahrir Square, in some cases galloping in on horseback and camelback; the ensuing chaos has, according to Egyptian's health ministry, left three people dead and more than six hundred wounded. Chart showing Egyptian Internet networks now accessible from the outside world; source: Renesys.
Yet, also today, the Internet crackled to life in Egypt for the first time in more than four days. Egyptians on Turmoil, Cairo Clashes | WBUR and NPR - On Point with Tom Ashbrook. Violence and turmoil in Cairo as pro- and anti-government supporters clash.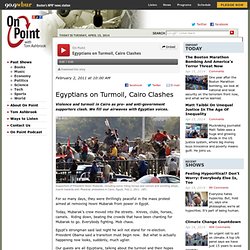 We fill our airwaves with Egyptian voices. Supporters of President Hosni Mubarak, including some riding horses and camels and wielding whips, march towards anti-Mubarak protesters in Cairo, Egypt, Feb.2, 2011. (AP) Meet the Two American Companies Helping Egypt Restrict Its People - Culture... Although snuffing out dissent and cutting citizens off from the world aren't actions generally associated with the American ideal, two U.S. companies are helping the Egyptian government do just that as populist protests continue shaking the African nation.
The tear gas and smoke grenade manufacturer Combined Systems, Inc. is based out of Jamestown, Pennsylvania. But its wares have been showing up all over the Middle East as of late. On January 20, a photographer with the Eurpean PressPhoto agency was killed when a CSI tear gas canister struck him in the head at a protest in Tunisia. Please nobody leave because the men from state security… | Alive in Egypt. Arabic: يا سيدي الفاضل، أنا كنت موجود في ميدان التحرير وخرجت من فترة، لسة واصل بيتي من حوالي نص ساعة. الناس الموجودة، الرجالة الموجودة في ميدان التحرير يا ريت محدش يخرج؛ لأن رجال أمن الدولة…/انقطع الاتصال Thanks to @diana_nassar. From Anderson Cooper to Christiane Amanpour: When Journalists Can't Bear Witness.
---