NYTimes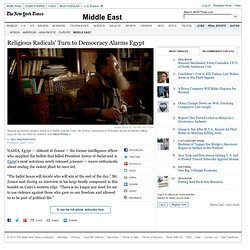 Egyptian Radicals' Turn to Democracy Alarms Some
"The ballot boxes will decide who will win at the end of the day," Mr. Zomor said during an interview in his large family compound in this hamlet on Cairo's western edge.
Facebook Officials Keep Quiet on Its Role in Revolts
The social media giant finds itself under countervailing pressures after the uprisings in the Middle East. While it has become one of the primary tools for activists to mobilize protests and share information, Facebook does not want to be seen as picking sides for fear that some countries — like Syria, where it just gained a foothold — would impose restrictions on its use or more closely monitor users, according to some company executives who spoke on the condition of anonymity because they were discussing internal business. And Facebook does not want to alter its firm policy requiring users to sign up with their real identities.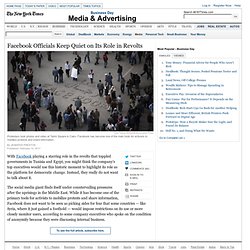 Tahrir Square: At the Center of Egypt's Revolution - Interactive Feature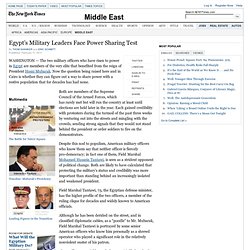 Both are members of the Supreme Council of the Armed Forces, which has rarely met but will run the country at least until elections are held later in the year. Each gained credibility with protesters during the turmoil of the past three weeks by venturing out into the streets and mingling with the crowds, sending strong signals that they would not stand behind the president or order soldiers to fire on the demonstrators.
Egypt's Military Leaders Face Test on Power Sharing
Shouts of "God is great" erupted from Tahrir Square at twilight as Mr. Mubarak's vice president and longtime intelligence chief, , announced that Mr. Mubarak had passed all authority to a council of military leaders.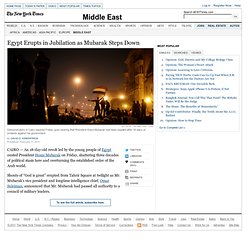 Egypt Erupts in Jubilation as Mubarak Steps Down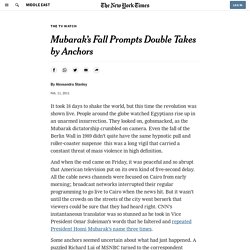 Mubarak's Fall Prompts Double Takes - The TV Watch
And when the end came on Friday, it was peaceful and so abrupt that American television put on its own kind of five-second delay.
Latest Updates on Day 14 of Egypt Protests
Facebook and YouTube Fuel the Egyptian Protests
Nasser Nasser/Associated Press Riot police surrounded supporters of Khaled Said at a protest in Alexandria, Egypt, last June after Mr. Said died in police custody.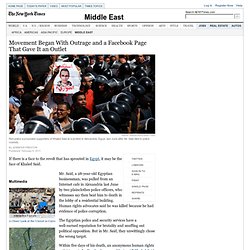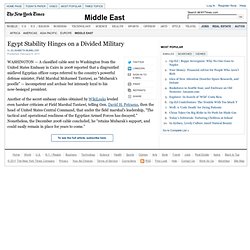 Stability of Egypt Hinges on a Divided Military
Another of the secret embassy cables obtained by leveled even harsher criticism at Field Marshal Tantawi, telling Gen. , then the head of United States Central Command, that under the field marshal's leadership, "The tactical and operational readiness of the Egyptian Armed Forces has decayed." Nonetheless, the December 2008 cable concluded, he "retains Mubarak's support, and could easily remain in place for years to come." As a 12-day-old revolution rocks the foundations of , the Obama administration is now embracing a transition process backed by Field Marshal Tantawi and other top military leaders that would ease their longtime benefactor, President , from power.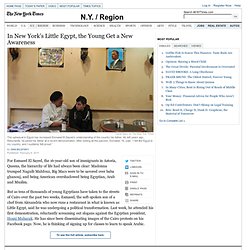 Daniel Barry for The New York Times The upheaval in Egypt has increased Esmaeel El Sayed's understanding of the country his father, Ali, left years ago.
In Astoria's Little Egypt, the Young Gain a New Awareness
2 Detained Reporters Saw Secret Police's Methods Firsthand
Andre Pain/European Pressphoto Agency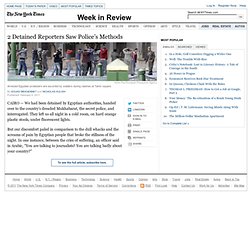 CNN Rises to the Top in Egypt Coverage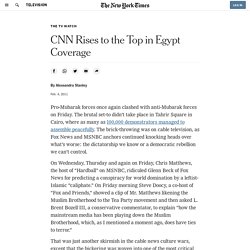 Pro-Mubarak forces once again clashed with anti-Mubarak forces on Friday.
Quiet Acts of Protest on a Noisy Day
Ed Ou for The New York Times
White House Scrambles as Mubarak Is Pushed to the Exit
Ed Ou for The New York Times An effigy of President Hosni Mubarak hung from a traffic light in Tahrir Square in Cairo on Tuesday.
Egypt Forces Expand Presence in Cairo
Peter Macdiarmid/Getty Images Mohamed ElBaradei, the Nobel laureate and opposition leader, joined the protesters in Liberation Square in Cairo.
Mubarak Orders Ministers to Resign but Backs Armed Response to Egypt Protests
Lefteris Pitarakis/Associated Press
Latest Updates on Day 6 of Egypt Protests
Egypt Officials Seek to Nudge Mubarak Out
Clinton Urges Egyptian Dialogue
U.S. Military Urges Egyptian Army to Use Restraint
Egypt Protests Continue as Government Resigns
Protests Continue in Egypt - Photographs
Equal Rights Takes to the Barricades