NYTimes
Egyptian Radicals' Turn to Democracy Alarms Some. Facebook Officials Keep Quiet on Its Role in Revolts. Tahrir Square: At the Center of Egypt's Revolution - Interactive Feature. Egypt's Military Leaders Face Test on Power Sharing. Egypt Erupts in Jubilation as Mubarak Steps Down. Mubarak's Fall Prompts Double Takes - The TV Watch. Latest Updates on Day 14 of Egypt Protests. Facebook and YouTube Fuel the Egyptian Protests. Stability of Egypt Hinges on a Divided Military. In Astoria's Little Egypt, the Young Gain a New Awareness. 2 Detained Reporters Saw Secret Police's Methods Firsthand.
Andre Pain/European Pressphoto Agency Arrested Egyptian protesters are escorted by soldiers during clashes at Tahrir square.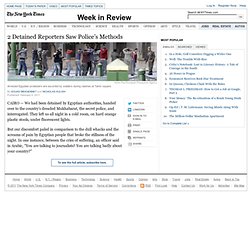 But our discomfort paled in comparison to the dull whacks and the screams of pain by Egyptian people that broke the stillness of the night. In one instance, between the cries of suffering, an officer said in Arabic, "You are talking to journalists? You are talking badly about your country?" CNN Rises to the Top in Egypt Coverage. Quiet Acts of Protest on a Noisy Day. White House Scrambles as Mubarak Is Pushed to the Exit.
Egypt Forces Expand Presence in Cairo. Mubarak Orders Ministers to Resign but Backs Armed Response to Egypt Protests. Latest Updates on Day 6 of Egypt Protests. Human Rights Watch has posted several first-hand accounts from its staff in Egypt on its Web site.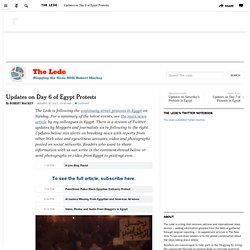 About 30 minutes ago, Heba Fatma Morayef, a researcher in Cairo, wrote: Several thousand people remain in Tahrir Square, many say they're planning to spend the night and stay till Mubarak resigns. There was a huge cheer when we heard Mohamed ElBaradei was coming but unfortunately most of us couldn't hear what he said – no loudspeakers, apparently. A crowd of about 800 and lots of journalists crowded around to hear him speak but everyone else just carried on chanting, "Mubarak you must leave."People were also very angry to hear that the Interior Ministry is ordering police back on to the streets – though the Army still has control in Tahrir Square. Yesterday they were calling for the minister's resignation, so they're very upset about that.
Egypt Officials Seek to Nudge Mubarak Out. Clinton Urges Egyptian Dialogue. U.S. Military Urges Egyptian Army to Use Restraint. The relationship between the Egyptian and American militaries is, in fact, so close that it was no surprise on Friday to find two dozen senior Egyptian military officials at the Pentagon, halfway through an annual week of meetings, lunches and dinners with their American counterparts.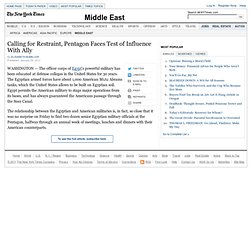 By the afternoon, the Egyptians had cut short the talks to return to Cairo, but not before a top Defense Department official, Alexander Vershbow, had urged them to exercise "restraint," the Pentagon said. It remained unclear on Saturday, as the Egyptian Army was deployed on the streets of Cairo for the first time in decades, to what degree the military would remain loyal to the embattled president, . The crisis has left the Obama administration to try to navigate a peaceful outcome and remain close to an important ally, and the military relationship could be crucial in that effort. Egypt Protests Continue as Government Resigns. Scott Nelson for The New York Times Egyptian protesters prayed Saturday in front of a military vehicles in Tahrir Square in downtown Cairo on Saturday.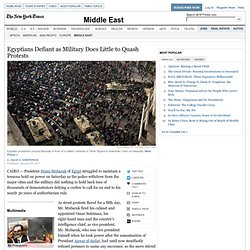 More Photos » As street protests flared for a fifth day, Mr. Protests Continue in Egypt - Photographs.
Interactive Map
Equal Rights Takes to the Barricades.
---