Cyber Revolt & Censorship - Tunisia
Students riot in Tunisia over jobs Social networking sites have become a major factor in protests in TunisiaThe government has made blocking and disrupting bloggers a top priorityThe protests have been driven by the high rate of youth unemployment (CNN) -- The protests that have gripped Tunisia in recent weeks are, to say the least, unusual.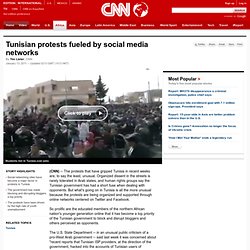 Tunisian protests fueled by social media networks
12.01.2011Par Théo RobinLe web joue un rôle incontournable dans le mouvement de révolte, et d'abord comme relais d'information. « D'habitude, on fait dans les 10 000 visites par jour sur notre site. Aujourd'hui, on est à plus de 80 000 » nous explique Malek Khadhraoui, directeur de publication de la plateforme communautaire Nawaat. « Nous sommes un site de contre-propagande, nous pointons la désinformation dont sont victimes les médias, nous montrons ce que les autres ne peuvent pas montrer ». Peu a peu, le régime semble céder face à ces « journalistes citoyens » qui mettent quotidiennement des preuves de la répression en ligne sur Nawaat. Lors des premiers affrontements entre les forces de l'ordre et les manifestants, le régime ne reconnaissait que trois morts.
Comment Internet propage la révolte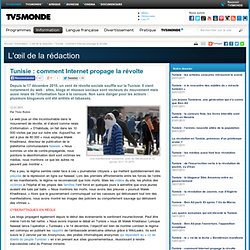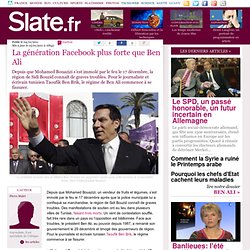 - Le président tunisien Zine el-Abidine Ben Ali salue ses supporters après avoir prêté serment, le 12 novembre 2009. (REUTERS/Zoubeir Souissi) - Depuis que Mohamed Bouazizi, un vendeur de fruits et légumes, s'est immolé par le feu le 17 décembre après que la police municipale lui a confisqué sa marchandise, la région de Sidi Bouzid connaît de graves troubles. Des manifestations de soutien ont eu lieu dans plusieurs villes de Tunisie, faisant trois morts. Un vent de contestation souffle, fait très rare dans un pays où l'opposition est bâillonnée. Face aux troubles, le président Ben Ali, au pouvoir depuis 1987, a remanié son gouvernement le 29 décembre et limogé des gouverneurs de région.
La génération Facebook plus forte que Ben Ali?
C'est la voix d'une blogueuse qui n'a pas froid aux yeux.
Le régime dépassé par la cyberrésistance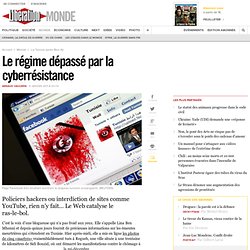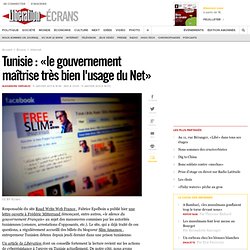 « le gouvernement maîtrise très bien l'usage du Net »
Responsable du site Read Write Web France , Fabrice Epelboin a publié hier une lettre ouverte à Frédéric Mitterrand dénonçant, entre autres, «le silence du gouvernement Français» au sujet des manœuvres commises par les autorités tunisiennes (censure, arrestations d'opposants, etc.). Le site, qui a déjà traité de ces questions, a régulièrement accueilli des billets du blogueur Slim Amamou , entrepreneur Tunisien détenu depuis jeudi dernier dans une prison tunisienne. Un article de Libération dont on conseille fortement la lecture revient sur les actions de cyberrésistance à l'œuvre en Tunisie actuellement.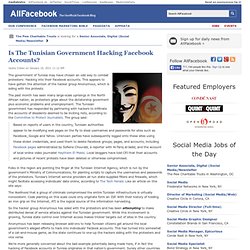 The government of Tunisia may have chosen an odd way to combat protesters: Hacking into their Facebook accounts. This appears to have gotten the attention of the hacker group Anonymous, which is siding with the protests. The past month has seen many large-scale uprisings in the North African nation, as protesters gripe about the dictatorship goverment plus economic problems and unemployment.
Is The Tunisian Government Hacking Facebook Accounts?
by Steve Ragan - Jan 4 2011, 20:08 The Tunisian Internet Agency (Agence tunisienne d'Internet or ATI) is being blamed for the presence of injected JavaScript that captures usernames and passwords. The code has been discovered on login pages for Gmail, Yahoo, and Facebook, and said to be the reason for the recent rash of account hijackings reported by Tunisian protesters. ATI is run by the Tunisian Ministry of Communications.
Tunisian government harvesting usernames and passwords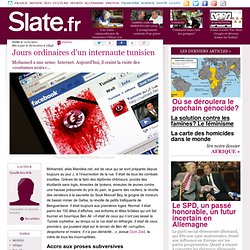 Mohamed, alias Mandela.net, est de ceux qui se sont préparés depuis toujours au jour J, à l'insurrection de la rue. Il était de tous les combats insolites. Grèves de la faim des diplômés chômeurs, procès des étudiants sans logis, émeutes de lycéens, émeutes de jeunes contre une hausse présumée du prix du pain, la guerre des routiers, la révolte des vendeurs à la sauvette du Souk Moncef Bey, la grogne de mineurs de bassin minier de Gafsa, la révolte de petits trafiquants de Benguerdene. Il était toujours aux premières loges.
Tunisie: Internet promu & filtré
It would seem that Tunisian netizens aren't the only ones resorting to the Internet to rant and let their situation be known .. or maybe not. Rumours spread like wildfire on the Internet over the previous few minutes after a post, allegedly written by Tunisian Minister of Foreign Affairs Kamel Morjane, was published on his own blog announcing his resignation. It now turns out that the resignation letter was indeed a hoax, and that the blog has indeed been hacked. After news of the resignation post spread, Twitter users called for caution in accepting the blog's content for real, particularly after news of a coup in Tunisia early Wednesday morning turned out to be false. In his alleged resignation, Morjane wrote: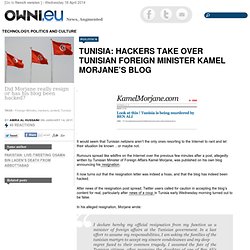 Tunisia: Hackers take over Tunisian Foreign Minister Kamel Morjane's Blog » Article » OWNI.eu, Digital Journalism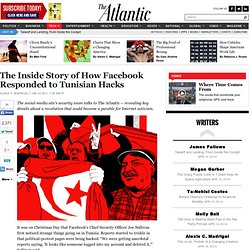 The social-media site's security team talks to The Atlantic -- revealing key details about a revolution that could become a parable for Internet activism. It was on Christmas Day that Facebook's Chief Security Officer Joe Sullivan first noticed strange things going on in Tunisia. Reports started to trickle in that political-protest pages were being hacked. "We were getting anecdotal reports saying, 'It looks like someone logged into my account and deleted it,'" Sullivan said.