Irlande
WikiLeaks cables: Sinn Féin leaders 'were aware of' Northern Bank heist plans | Politics. Gerry Adams and Martin McGuinness held lengthy negotiations with the former Irish prime minister Bertie Ahern to save the Northern Ireland peace process in the full knowledge that the IRA was planning to carry out the biggest bank robbery in its history, according to leaked US cables passed to WikiLeaks.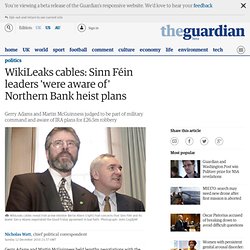 Ahern, who was instrumental in drawing up the 1998 Good Friday agreement, judged that the two Sinn Féin leaders were aware of plans for the £26.5m Northern Bank robbery in 2004 because they were members of the "IRA military command" with a deep knowledge of its operations. The US cables also reveal that: • The Irish government believed Britain had a "valuable source of information" at a senior level in the republican movement. • Adams argued that the IRA would have to be "taken out of the equation" during negotiations which led the organisation to declare a formal end to its armed campaign in July 2005.
WikiLeaks : le Vatican a refusé de coopérer sur la pédophilie. Pédophilie: refus du Vatican de coopérer à une enquête irlandaise (WikiLeaks) - dépêches AFP - la-Croix.com. US embassy cables: US and UN discuss asylum for controversial Baloch nationalist leader | World news. Friday, 18 December 2009, 11:04S E C R E T SECTION 01 OF 02 ISLAMABAD 003037 NOFORN SIPDIS EO 12958 DECL: 12/18/2034 TAGS PREL, PGOV, PREF, PK, AF SUBJECT: BALOCH REQUEST UNHCR FACILITATE MOVEMENT OF BRAHMDAGH BUGTI TO IRELANDClassified By: Ambassador Anne W.
Patterson, for reasons 1.4 (b)(d) Summary 1. (S/NF) Summary: XXXXXXXXXXXX, who has been designated by UN High Commissioner for Refugees Antonio Guterres as XXXXXXXXXXXX in Pakistan, met with the Ambassador and Deputy Chief of Mission on December 13 to discuss the U.S. Government's position on the possible movement of Baloch leader Brahmdagh Bugti from Afghanistan to a country of asylum. WikiLeaks: l'Irlande n'est pas prioritaire pour les Etats-Unis... L'affaire des révélations des correspondances privées de la diplomatie américaine continue de faire du bruit.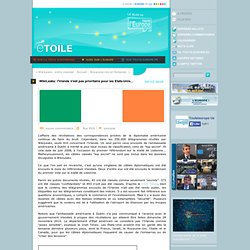 Cependant, dans les 250.000 télégrammes révélés par WikiLeaks, seuls 910 concernent l'Irlande. Un seul parmi ceux envoyés de l'ambassade américaine à Dublin a mérité le plus haut niveau de classification, celui de "top secret".
---