Restauração / restauradores / restoration
Photo Restoration and Picture Painting from Photo. Rappahannock Business Alliance - element. Farrow Al. Recoop - The Restoration and Conservation Coop Ltd. Ancient Art Conservation and Restoration. Our approach to restoration of antiquities is fundamentally conservational.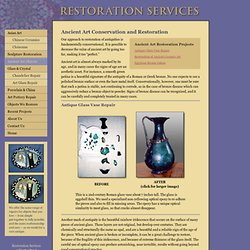 It is possible to decrease the value of ancient art by going too far, making it too "perfect." Ancient art is almost always marked by its age, and in many cases the signs of age are an aesthetic asset. For instance, a smooth green patina is a beautiful signature of the antiquity of a Roman or Greek bronze. No one expects to see a polished bronze surface or even the bare metal itself. Conservation, Restoration and Artistic Craftsmanship | Conrad Schmitt Studios Inc. Art Glass Repair. Art Glass Restoration. Art glass is a special form of art – it seems not entirely liquid, nor entirely solid, it is both -- as well as intricate and flowing.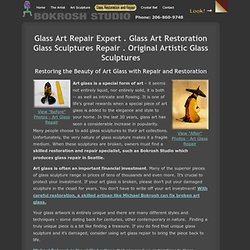 It is one of life's great rewards when a special piece of art glass is added to the elegance and style to your home. In the last 30 years, glass art has seen a considerable increase in popularity. Museum Conservation Institute Art Conservation Training. Training in the United States Advisory Council on Historic Preservation Old Post Office Building Room 809 1100 Pennsylvania Avenue, NW Washington, DC 20004 Certificate of attendance for seminars.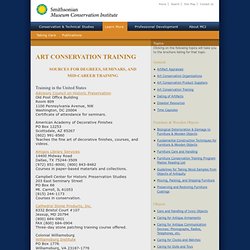 American Academy of Decorative Finishes PO Box 12253 Scottsdale, AZ 85267 (602) 991-8560 Teaches the fine art of decorative finishes, courses, and videos. Amigos Library Services 14400 Midway Road Dallas, TX 75244-3509 (972) 851-8000; (800) 843-8482 Courses in paper-based materials and collections. Campbell Center for Historic Preservation Studies 203 East Seminary Street PO Box 66 Mt. Restoration and Artistic Services. "Sometimes it is only in hindsight we realize memories are special to us.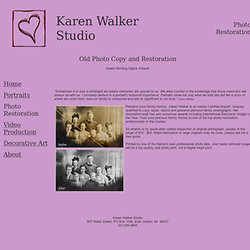 We draw comfort in the knowledge that those memories will always be with us. I sincerely believe in a portrait's historical importance. Portraits show not only what we look like but tell a story of where we came from, how our family is composed and who is significant in our lives. " Art Conservation and Restoration - FAQ's. Art Restoration & Antique Repair: Wiebold Studio. ULTIMATE CERAMIC RESTORATION - ARTISTIC TRAILER - Glass Art Repair Expert. Glass Restoration. Glass Sculptures Repair. Original Artistic Glass Sculptures. Stephans Furniture Restoration Artistic Works. POSTERFIX.COM. POSTERFIX.COM.
---