Ressources pour Fan Fiction
Revue de presse - Parlons fanfiction Forum
Raven Hawkeyes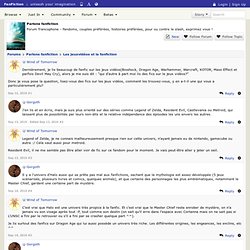 Les jeuxvidéos et la fanfiction - Parlons fanfiction Forum
FICHES sur les fandoms - Parlons fanfiction Forum
Aerandir Linaewen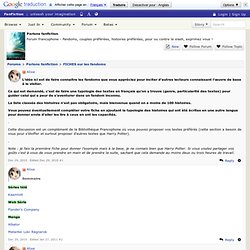 Bibliographie des étude sur la fanfiction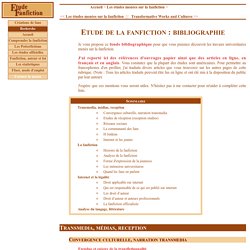 Je vous propose ce fonds bibliographique pour que vous puissiez découvrir les travaux universitaires menés sur la fanfiction. J'ai reporté ici des références d'ouvrages papier ainsi que des articles en ligne, en français et en anglais. Vous constatez que la plupart des études sont américaines. Pour permettre au francophones d'en profiter, j'ai traduits divers articles que vous trouverez sur les autres pages de cette rubrique. (Note : Tous les articles traduits peuvent être lus en ligne et ont été mis à la disposition du public par leur auteur)
Typologie des Potterfictions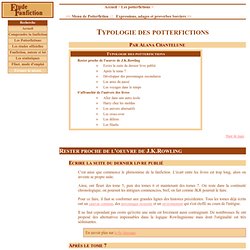 Par Alana Chantelune Haut de page Rester proche de l'oeuvre de J.K.Rowling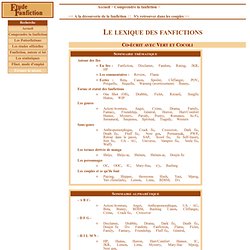 Co-écrit avec Vert et Cocoli Haut de page Autour des fics En lire Fanfiction Littéralement Fiction écrite par un fan.Histoire que l'on écrit en s'appuyant sur un univers appartenant à une œuvre de fiction (livre, film, série télé) inventé par un autre auteur..
Lexique des fanfictions
Accueil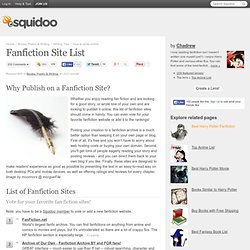 Why would you even write a fanfic? Some might say "it's not like you are getting paid for it". It's true that you won't make any money from your fanfiction (and if you do, that's probably illegal) but there are many other benefits, such as improving your writing skills, stimulating your fantasy and giving your favorite story a "better" ending or a spin-off you always wanted to see in the original work. Let's not forgot the social aspect, too. Internet lets you publish your story instantly, getting a lot of readers to post reviews and comments that will help you improve. Plus, it feels great to get positive reviews from people saying that they loved your work.
Fanfiction Site List
Vidéos FanFics et Figurines
Fanfics.org - Welcome to Fanfics.org!
Arts: Online Writing: Fiction: Fan Fiction
Votre ressource en ligne de fanfiction (fanfics et fanfictions) françaises - Fanfictions.fr