Ressources Archéologie 14
Histoire et archéologie : Les techniques scientifiques employées
Sparta: Management of Monuments: Archeology, Architecture and Ci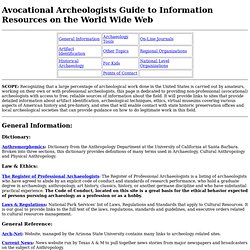 Guide to Archeology Resources
SCOPE: Recognizing that a large percentage of archeological work done in the United States is carried out by amateurs, working on their own or with professional archeologists, this page is dedicated to providing non-professional (avocational) archeologists with access to free, reliable sources of information about the field. It will provide links to sites that provide detailed information about artifact identification, archeological techniques, ethics, virtual museums covering various aspects of American history and pre-history, and sites that will enable contact with state historic preservation offices and local archeological societies that can provide guidance on how to do legitimate work in this field. General Information: Dictionary: Anthromorphemics: Dictionary from the Anthropology Department at the University of California at Santa Barbara.
Archeologie en Saône-et-Loire
Archeologie dans l'Yonne
Neolithic creolisation hypothesis - Wikipedia, the free encyclop
The Neolithic creolisation hypothesis, first put forward by Marek Zvelebil in 1995,[1] contributes to the Proto-Indo-European Urheimat issue and proposes a cultural melting pot in the Neolithic of Northern Europe of foreign Neolithic farmers and indigenous Mesolithic hunter-gatherer communities, that resulted into the genesis of the Indo-European language family. The hypothesis holds the linguistic and cultural influence of the Neolithic farmers far greater than the persistence of their foreign gene pool. While according to Zvelebil the linguistic influence of indigenous hunter-gatherers predominate, other archeologists such as Marek Nowak[2] favor a scenario compatible to Colin Renfrew's Anatolian hypothesis in attributing the leading linguistic role to the foreign farmers.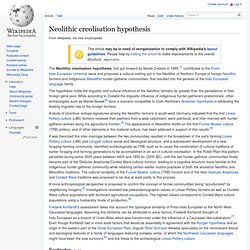 - Travaux en sémantique en diverses langues polynésiennes sur des sections de tablettes des Tohuka (répertoire Barthel) et sur des sections du baton de Santiago qui à mon sens était celui du Maori rongorongo, le maître suprême en linguistique. Toujours avec ma méthode, sous forme de tableau (cf Methode Lorena Bettocchi sur www.rongo-rongo.com) - Repérage des pictogrammes simples, des groupes nominaux et des groupes verbaux. - Participation au Ve Forum des langues Maori à Tahiti en 1998 et publication de « LA PAROLE PERDUE RONGO O'ONO » ISBN 2-9512940-0-X © Lorena Bettocchi, avec beaucoup de difficultés avec l'Imprimerie Polytram qui a très mal respecté son contrat, en qualité et en nombre d'exemplaires… Ouvrage bien accueilli par la presse, les linguistes et par Henri de Lumeley (Musée de l'Homme) - Livre rare à présent, classé au British Muséum, à la bibliothèque nationale (lister La parole perdue sur google).
archéologie, linguistique, tradition orale de l'ile de Pâques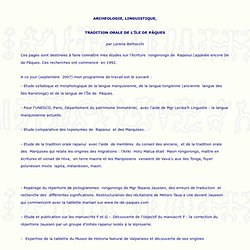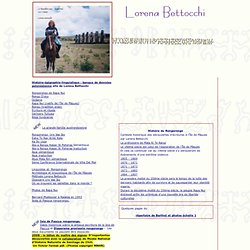 Lorena Bettocchi ... Citoyenne du monde née en Toscane, chercheur à Tahiti, philologue, professeur de l'Education Nationale en poste à Raiatea (Iles-sous-le-Vent - Polynésie Française) de 1992 à 1998, Lorena Bettocchi a eu la chance de rencontrer à l'Île de Pâques la veille de Noël 1992 une famille d'exception, celle de Santiago Pakarati "Katipare" qui fut en son temps l'homme le plus sage de l'île. Lorena fut intégrée à ce clan plusieurs années et conserve aujourd'hui des liens chaleureux avec les femmes et les jeunes de Rapa Nui. Recherche, philologie, amitié, respect et amour pour le peuple polynésien en général et rapa nui en particulier furent donc les moteurs de la publication d'un livre - "La parole perdue" Rongo O'ono - dont la base est la tradition orale - rongo - et la grande étude rapa nui - le rongorongo - COPYRIGHT recherches Lorena BETTOCCHI
Rongo rongorongo des Rapa Nui, Lorena Bettocchi, Île de Pâques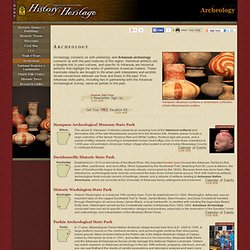 Hampson Museum contains a remarkable collection of late Mississippian pottery. Archeology connects us with prehistory, and Arkansas archeology connects us with the past nuances of this region. Historical artifacts are a tangible link to past cultures, and specific to Arkansas are historical artifacts that highlight the works of prehistoric American Indians. These inanimate objects are brought to life when park interpreters and exhibits reveal connections between our lives and those in the past. Five Arkansas state parks, including two in partnership with the Arkansas Archeological Survey, serve as portals to the past.
Native American artifacts - historical artifacts - Arkansas arch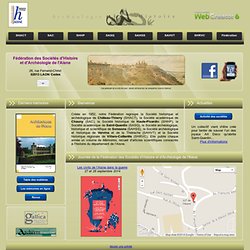 Fédération des Sociétés d'histoire et d'archéologie de l'Aisne
Créée en 1952, notre Fédération regroupe la Société historique et archéologique de Château-Thierry (SHACT), la Société académique de Chauny (SAC), la Société historique de Haute-Picardie (SHHP), la Société académique de Saint-Quentin (SASQ), la Société archéologique, historique et scientifique de Soissons (SAHSS), la Société archéologique et historique de Vervins et de la Thiérache (SAHVT) et la Société historique régionale de Villers-Cotterêts (SHRVC). Elle publie chaque année un volume de Mémoires, recueil d'articles scientifiques consacrés à l'histoire du département de l'Aisne.
Archéologie L'interdisciplinarité en question. Les choses, les mots et le passé des hommes Éditeur : L'Harmattan 316 pages
Les dessous de l'archéologie - Nonfiction.fr le portail des livr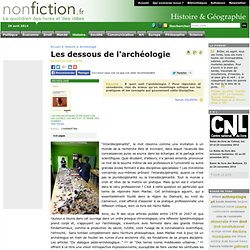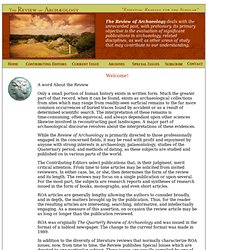 Welcome! A word About the Review Only a small portion of human history exists in written form. Much the greater part of that record, when it can be found, exists as archaeological collections from sites which may range from readily-seen surficial remains to the far more common occurrences of buried traces found by accident or as a result of determined scientific search.
The Review of Archaeology
Ötzi - South Tyrol Museum of Archaeology
Lancement par le Ministère de la culture du site internet dedié aux abris sculptés de la Préhistoire. Naviguez librement parmis ces trésors de l'art préhistorique pourtant si méconnus, les sculptures en abri sous roche datant d'il y a près de 15000 ans. La frise sculptée du Roc-aux-Sorciers est merveilleusement mise en avant... Consultez le dossier de presse Ouverture 2014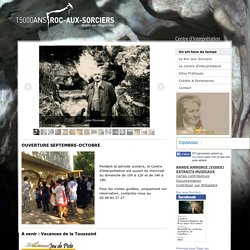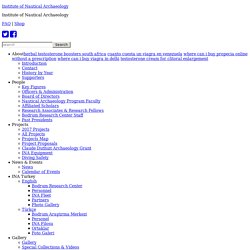 INA's Shelley Wachsmann is joint winner of the Nautical Archaeology Society's 2013 Keith Muckelroy Memorial Award for his latest book, The Gurob Ship-Cart Model and Its Mediterranean Context (Texas A&M University Press) with Professor Sir Barry Cunliffe's book, Britain Begins (Oxford University Press). The award ceremony took place on November 2nd, 2013 at Portsmouth. Shelley Wachsmann is the Meadows Professor of Biblical Archaeology in Texas A&M University's Nautical Archaeology Program, Anthropology Department.
Institute of Nautical Archaeology - Institute of Nautical Archae
La pintura mural prehispánica en México
Tulum :: The Mayan Kingdom
Encyclopédie sur la mort
Une vue du Cimetière de Notre-Dame-des-Neiges, Montréal, le 27 mai 2012 par Cephas © Creative Commons Attribution-Share Alike 3.0 Une réalité incontournable La mort existe, inévitable et irréversible ! Il y a la mort. Mort il y a.
Archeology of the Catacombs - CIC
Institute of Archaeology - Home
Archéologie | OFFICE DE TOURISME DE SAUMUR - VAL DE LOIRE
Irish Archaeology
L'archéologie dans le Calvados
Reclaiming Biblical Jerusalem
Archeology - China culture
Big aerial Panoramic zoomify Pictures of Tulum & Cancun by Artis