Ressources Archéologie 14
Histoire et archéologie : Les techniques scientifiques employées. Université de Franche-Comté - Page d'accueil. LUERN - Centre Universitaire d'Enseignement et de Recherche en a. Sparta: Management of Monuments: Archeology, Architecture and Ci. Guide to Archeology Resources. SCOPE: Recognizing that a large percentage of archeological work done in the United States is carried out by amateurs, working on their own or with professional archeologists, this page is dedicated to providing non-professional (avocational) archeologists with access to free, reliable sources of information about the field.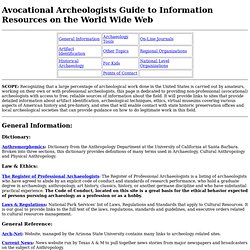 It will provide links to sites that provide detailed information about artifact identification, archeological techniques, ethics, virtual museums covering various aspects of American history and pre-history, and sites that will enable contact with state historic preservation offices and local archeological societies that can provide guidance on how to do legitimate work in this field.
General Information: Dictionary: Anthromorphemics: Dictionary from the Anthropology Department at the University of California at Santa Barbara. Archeologie en Saône-et-Loire. Archeologie dans l'Yonne. Neolithic creolisation hypothesis - Wikipedia, the free encyclop. The Neolithic creolisation hypothesis, first put forward by Marek Zvelebil in 1995,[1] contributes to the Proto-Indo-European Urheimat issue and proposes a cultural melting pot in the Neolithic of Northern Europe of foreign Neolithic farmers and indigenous Mesolithic hunter-gatherer communities, that resulted into the genesis of the Indo-European language family.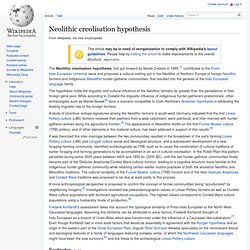 The hypothesis holds the linguistic and cultural influence of the Neolithic farmers far greater than the persistence of their foreign gene pool. While according to Zvelebil the linguistic influence of indigenous hunter-gatherers predominate, other archeologists such as Marek Nowak[2] favor a scenario compatible to Colin Renfrew's Anatolian hypothesis in attributing the leading linguistic role to the foreign farmers. Archéologie, linguistique, tradition orale de l'ile de Pâques. - Travaux en sémantique en diverses langues polynésiennes sur des sections de tablettes des Tohuka (répertoire Barthel) et sur des sections du baton de Santiago qui à mon sens était celui du Maori rongorongo, le maître suprême en linguistique.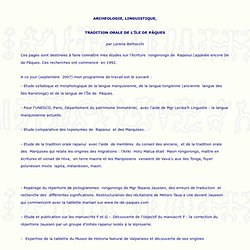 Toujours avec ma méthode, sous forme de tableau (cf Methode Lorena Bettocchi sur www.rongo-rongo.com) - Repérage des pictogrammes simples, des groupes nominaux et des groupes verbaux. - Participation au Ve Forum des langues Maori à Tahiti en 1998 et publication de « LA PAROLE PERDUE RONGO O'ONO » ISBN 2-9512940-0-X © Lorena Bettocchi, avec beaucoup de difficultés avec l'Imprimerie Polytram qui a très mal respecté son contrat, en qualité et en nombre d'exemplaires… Ouvrage bien accueilli par la presse, les linguistes et par Henri de Lumeley (Musée de l'Homme) - Livre rare à présent, classé au British Muséum, à la bibliothèque nationale (lister La parole perdue sur google). Rongo rongorongo des Rapa Nui, Lorena Bettocchi, Île de Pâques. Native American artifacts - historical artifacts - Arkansas arch. Hampson Museum contains a remarkable collection of late Mississippian pottery.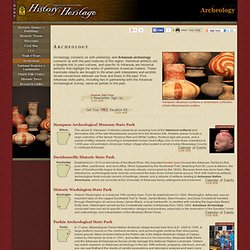 Archeology connects us with prehistory, and Arkansas archeology connects us with the past nuances of this region. Historical artifacts are a tangible link to past cultures, and specific to Arkansas are historical artifacts that highlight the works of prehistoric American Indians. These inanimate objects are brought to life when park interpreters and exhibits reveal connections between our lives and those in the past. Five Arkansas state parks, including two in partnership with the Arkansas Archeological Survey, serve as portals to the past.
Fédération des Sociétés d'histoire et d'archéologie de l'Aisne. Les dessous de l'archéologie - Nonfiction.fr le portail des livr. Archéologie L'interdisciplinarité en question.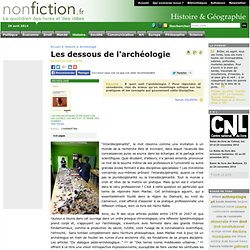 Les choses, les mots et le passé des hommes Éditeur : L'Harmattan 316 pages. The Review of Archaeology. Ötzi - South Tyrol Museum of Archaeology. Art pariétal sculpté - ROC-AUX-SORCIERS. Institute of Nautical Archaeology - Institute of Nautical Archae. La pintura mural prehispánica en México. Archaeological Institute of America - Archaeology - Site Preserv.
Tulum :: The Mayan Kingdom. Encyclopédie sur la mort. Une vue du Cimetière de Notre-Dame-des-Neiges, Montréal, le 27 mai 2012 par Cephas © Creative Commons Attribution-Share Alike 3.0 Une réalité incontournable La mort existe, inévitable et irréversible !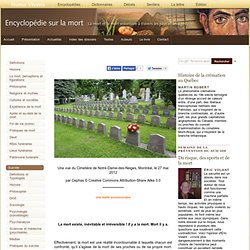 Il y a la mort. Mort il y a. Archeology of the Catacombs - CIC. | Ars Mar Film | Cinema Services | Ars Mar Video | Order Form | •Did you know that the majority of the catacombs were discovered in the mid-nineteenth century?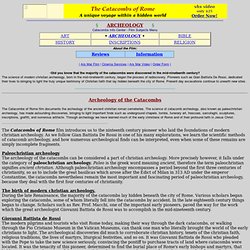 The science of modern christian archeology, born in the mid-nineteenth century, began the process of rediscovery. Pioneers such as Gian Battista De Rossi, dedicated their lives to bringing to light the truly unique testimony of Christian faith that lay hidden beneath the city of Rome. Present day excavations continue to unearth new sites. Institute of Archaeology - Home. Archéologie | OFFICE DE TOURISME DE SAUMUR - VAL DE LOIRE. Irish Archaeology. L'archéologie dans le Calvados. Reclaiming Biblical Jerusalem.
How Jewish is Jerusalem?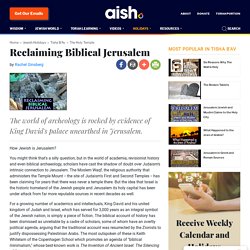 You might think that's a silly question, but in the world of academia, revisionist history and even biblical archaeology, scholars have cast the shadow of doubt over Judaism's intrinsic connection to Jerusalem. The Moslem Waqf, the religious authority that administers the Temple Mount -- the site of Judaism's First and Second Temples -- has been claiming for years that there was never a temple there.
Archeology. Site officiel de l'Université Paris-Sorbonne (Paris IV) Big aerial Panoramic zoomify Pictures of Tulum & Cancun by Artis. Cancun High Resolution Aerial Photos Cancun has one company that does helicopter tours located at the entrance to the hotel zone.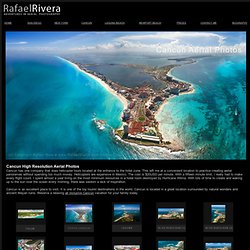 This left me at a convenient location to practice creating aerial panoramas without spending too much money. Helicopters are expensive in Mexico. The cost is $20USD per minute. With a fifteen minute limit, I really had to make every flight count. I spent almost a year living on the most minimum resources in a hotel room destroyed by Hurricane Wilma.
---