Ressources Archéologie 11
Pointe-à-Callière, Musée d'archéologie et d'histoire de Montréal
The Center for American Archeology: Kampsville Archeological Cen
ArchNet: Virtual Site Tours
Aerial archaeology J. Dassié Archéologie aérienne
Les actualités du Cths
This site contains information about the prehistoric archaeology of the Aegean. Through a series of lessons and illustrations, it traces the cultural evolution of humanity in the Aegean basin from the era of hunting and gathering (Palaeolithic-Mesolithic) through the early village farming stage (Neolithic) and the formative period of Aegean civilization into the age of the great palatial cultures of Minoan Crete and Mycenaean Greece. There are several ways to navigate through the materials. You can: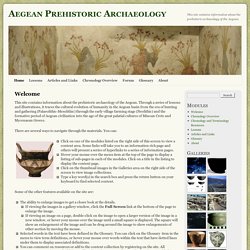 The Prehistoric Archaeology of the Aegean
Welcome to Simon Fraser University Museum of Archaeology and Eth
SOCIÉTÉ FRANÇAISE D'ARCHÉOLOGIE
Bienvenue
Asie centrale org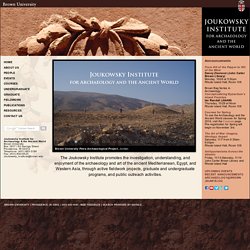 The Artemis A.W. and Martha Sharp Joukowsky Institute for Archaeology and the Ancient World promotes the investigation, understanding, and enjoyment of the archaeology and art of the ancient Mediterranean, Egypt, and Western Asia.
Joukowsky Institute for Archaeology
Bib Arch Seminary
FFESSM - Archéologie
Magazine mensuel : Dossiers d'Archéologie
Histoire et archéologie : Qu'est-ce que l'archéologie ? Le touri
Archaeology
Archéologia - Magazine, revue d'actualité d'archéologie
IKER Archéologie : Archéologie préventive et programmée, visites
Archéologie et Pédagogie de la préhistoire à nos jours : Valises
CULTURE : L'archéologie
Bienvenue sur Archeologia.be - L'abécédaire de l'archéologie
Archéologie | Dossier d'actualité
Accueil - Service archéologique de la Ville de Lyon
Antique-Archeology.com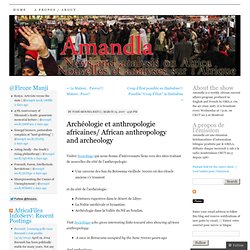 Archéologie et anthropologie africaines/ African anthropology an
Visiter Sociolingo qui nous donne d'intéressants liens vers des sites traitant de nouvelles du côté de l'anthropologie: Une caverne des San du Botswana vieillede 70000 où des rituels anciens s'y tenaient
Texas Archeological Society | TAS | Archeology | Anthropology |
Remote Sensing Archeology Research at NASA
"The stereotype has archaeologists just digging up spearheads and pottery and anthropologists just writing down the words of primitive tribes. But we're examining how people adapted to their environment throughout time, how they experienced environmental shift, why cultures come and go.