Base de données
Trouver une définition- Hypergéo.
Base de données régionales naturalistes
Base de donnée naturaliste. [EUMon] BioMAT - The EuMon integrated Biodiversity Monitoring & Assessment Tool. Trouver un programme LIFE. Site français. Source Fac. EBONE. SCALES. Human actions, motivated by social and economic driving forces, generate various pressures on biodiversity, such as habitat loss and fragmentation, climate change, land use related disturbance patterns, or species invasions that have an impact on biodiversity from the genetic to the ecosystem level.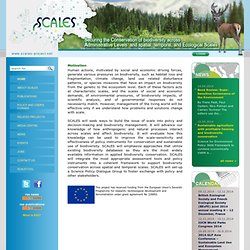 Each of these factors acts at characteristic scales, and the scales of social and economic demands, of environmental pressures, of biodiversity impacts, of scientific analysis, and of governmental responses do not necessarily match. However, management of the living world will be effective only if we understand how problems and solutions change with scale. Banque mondiale. Trouver l'état de conservation d'une espèce. Eionet European Topic Centre on Biological Diversity A Topic Centre of The European Environment Agency <div class="important-msg"><strong>WARNING:</strong> JavaScript is either disabled or not installed.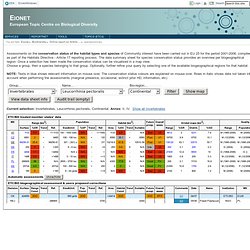 In order to use this application please enable or install it. Trouver une aire protégée 2. Trouver une aire protégée. Trouver le statut d'une espèce. Trouver une thèse.
---