Responsive Web Design
Responsible Considerations For Responsive Web Design. Advertisement Responsive Web design has been evolving rapidly ever since Ethan Marcotte coined the term two years ago.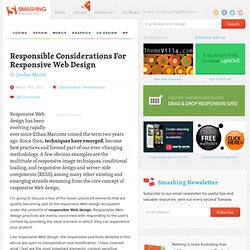 Since then, techniques have emerged, become best practices and formed part of our ever-changing methodology. Build a Responsive WordPress Theme Tutorial. A responsive design means a layout that responds well to different screen sizes.
Such as iPad, tablets, Smart Phones and Desktop. This tutorial explains what it takes to make your existing Wordpress theme responsive in a few simple steps. What you should already know: 1. jQuery Mobile. Skeleton: Beautiful Boilerplate for Responsive, Mobile-Friendly Development. 320 and up. Mobile Boilerplate. ★ Analytics, icons, and more A lean, mobile-friendly HTML template; optimized Google Analytics snippet; placeholder touch-device icons; and several mobile-focused tools and helpers. ★ Normalize.css and helpers.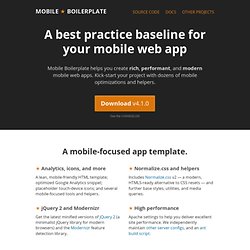 Mobile web content adaptation techniques. Introduction This article will help you pick from amongst the many techniques for building a mobile website.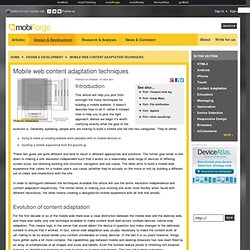 It doesn't describe how to do it, rather it instead tries to help you to pick the right approach. Before we begin it's worth clarifying exactly what the goal of the exercise is. Generally speaking, people who are looking to build a mobile site fall into two categories. They're either: 25 jQuery Plugins to help with Responsive Layouts. The most popular topic of discussion at the moment is undoubtedly responsive layouts in web design.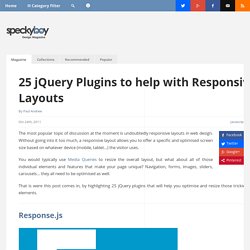 Without going into it too much, a responsive layout allows you to offer a specific and optimised screen size based on whatever device (mobile, tablet…) the visitor uses. You would typically use Media Queries to resize the overall layout, but what about all of those individual elements and features that make your page unique? Navigation, forms, images, sliders, carousels… they all need to be optimised as well.
Boagworld | A blog, podcast and community for all those who design, develop and run websites. Inspiration: Fluid & Responsive Design. Responsive design all started with this article by Ethan Marcotte.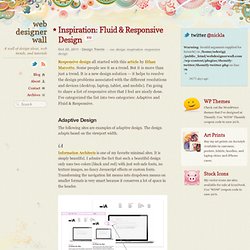 Some people see it as a trend. But it is more than just a trend. It is a new design solution — it helps to resolve the design problems associated with the different resolutions and devices (desktop, laptop, tablet, and mobile). I'm going to share a list of responsive sites that I feel are nicely done. Responsive Web Design: What It Is and How To Use It - Smashing Coding. Advertisement Almost every new client these days wants a mobile version of their website.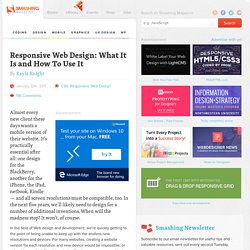 It's practically essential after all: one design for the BlackBerry, another for the iPhone, the iPad, netbook, Kindle — and all screen resolutions must be compatible, too. In the next five years, we'll likely need to design for a number of additional inventions. When will the madness stop? Thoughts On Developing A Responsive Design Workflow. Print design has the physical constraint of the canvas.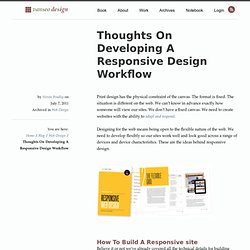 The format is fixed. The situation is different on the web. We can't know in advance exactly how someone will view our sites. We don't have a fixed canvas. 10 Excellent Tools for Responsive Web Design. So, you've decided to venture into the creation of responsive web designs.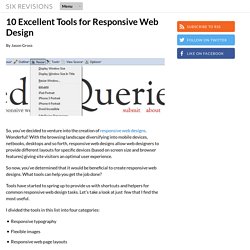 Wonderful! With the browsing landscape diversifying into mobile devices, netbooks, desktops and so forth, responsive web designs allow web designers to provide different layouts for specific devices (based on screen size and browser features) giving site visitors an optimal user experience. So now, you've determined that it would be beneficial to create responsive web designs. What tools can help you get the job done? The ultimate responsive web design roundup. Responsive design is the new darling of the web design world.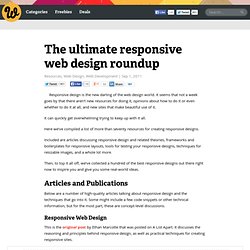 It seems that not a week goes by that there aren't new resources for doing it, opinions about how to do it or even whether to do it at all, and new sites that make beautiful use of it. It can quickly get overwhelming trying to keep up with it all. Here we've compiled a list of more than seventy resources for creating responsive designs. Responsive Web Design. The English architect Christopher Wren once quipped that his chosen field "aims for Eternity," and there's something appealing about that formula: Unlike the web, which often feels like aiming for next week, architecture is a discipline very much defined by its permanence.
A building's foundation defines its footprint, which defines its frame, which shapes the facade. Each phase of the architectural process is more immutable, more unchanging than the last. Creative decisions quite literally shape a physical space, defining the way in which people move through its confines for decades or even centuries. Responsive Web Design: 50 Examples and Best Practices. Responsive web design term is related to the concept of developing a website design in a manner that helps the lay out to get changed according to the user's computer screen resolution. More precisely, the concept allows for an advanced 4 column layout 1292 pixels wide, on a 1025 pixel width screen, that auto-simplifies into 2 columns.
Also, it suitably fixes on the smartphone and computer tablet screen. This particular designing technique we call "responsive web design". Responsive Web Design Demystified. Tutorial by Matt Doyle | Level: Intermediate | Published on 30 September 2011 Categories: What exactly is responsive design, and how do you create a responsive website? This tutorial explains the concepts, and walks you through the basic steps for creating a responsive website layout. Responsive web design is a hot topic these days, especially as websites need to adapt to the growing number of mobile devices with their relatively small screens.
---