Responsive Web Design
Responsible Considerations For Responsive Web Design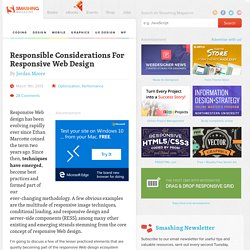 Advertisement Responsive Web design has been evolving rapidly ever since Ethan Marcotte coined the term two years ago. Since then, techniques have emerged, become best practices and formed part of our ever-changing methodology. A few obvious examples are the multitude of responsive image techniques, conditional loading, and responsive design and server-side components (RESS), among many other existing and emerging strands stemming from the core concept of responsive Web design. I'm going to discuss a few of the lesser practiced elements that are quietly becoming part of the responsive Web design ecosystem under the umbrella of responsible Web design.
A responsive design means a layout that responds well to different screen sizes. Such as iPad, tablets, Smart Phones and Desktop. This tutorial explains what it takes to make your existing Wordpress theme responsive in a few simple steps. What you should already know: 1.
Build a Responsive WordPress Theme Tutorial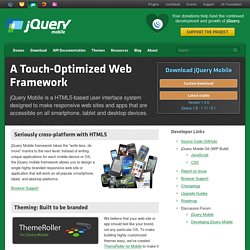 Seriously cross-platform with HTML5 jQuery Mobile framework takes the "write less, do more" mantra to the next level: Instead of writing unique applications for each mobile device or OS, the jQuery mobile framework allows you to design a single highly-branded responsive web site or application that will work on all popular smartphone, tablet, and desktop platforms. Graded Browser Support Theming: Built to be branded We believe that your web site or app should feel like your brand, not any particular OS.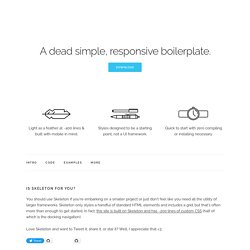 What Is It? Skeleton is a small collection of CSS files that can help you rapidly develop sites that look beautiful at any size, be it a 17" laptop screen or an iPhone. Skeleton is built on three core principles: Responsive Grid Down To Mobile Skeleton has a familiar, lightweight 960 grid as its base, but elegantly scales down to downsized browser windows, tablets, mobile phones (in landscape and portrait).
For this, the fiftieth episode of Unfinished Business, I'm joined by regular guest Laura Kalbag. We talk about ethical statements and whether we, and the companies that people work for, should set out what they will and won't work on our websites. I would like to say an enormous thank-you to Anna Debenham for helping me get started with this podcast. To all our guests and sponsors for making the show possible and to you, our listeners for being lovely people. I'd like to wish you all a very happy Christmas holiday.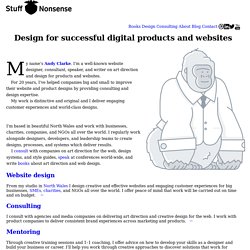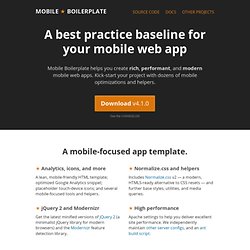 ★ Analytics, icons, and more A lean, mobile-friendly HTML template; optimized Google Analytics snippet; placeholder touch-device icons; and several mobile-focused tools and helpers. ★ Normalize.css and helpers
Introduction This article will help you pick from amongst the many techniques for building a mobile website. It doesn't describe how to do it, rather it instead tries to help you to pick the right approach. Before we begin it's worth clarifying exactly what the goal of the exercise is. Generally speaking, people who are looking to build a mobile site fall into two categories. They're either: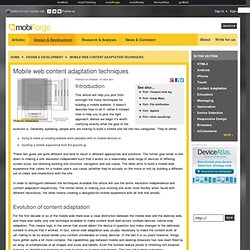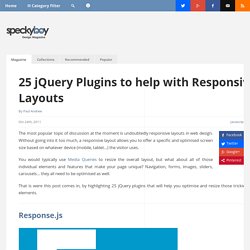 The most popular topic of discussion at the moment is undoubtedly responsive layouts in web design. Without going into it too much, a responsive layout allows you to offer a specific and optimised screen size based on whatever device (mobile, tablet…) the visitor uses. You would typically use Media Queries to resize the overall layout, but what about all of those individual elements and features that make your page unique? Navigation, forms, images, sliders, carousels… they all need to be optimised as well.
As in-house web teams we like to moan about our organisations not getting digital. Perhaps its time we did something. But what? Many web designers are briefed by their clients and then retreat to their studio to work on the project.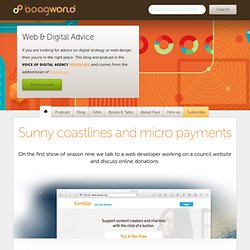 Inspiration: Fluid & Responsive Design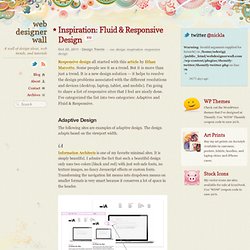 Responsive design all started with this article by Ethan Marcotte. Some people see it as a trend. But it is more than just a trend. It is a new design solution — it helps to resolve the design problems associated with the different resolutions and devices (desktop, laptop, tablet, and mobile). I'm going to share a list of responsive sites that I feel are nicely done.
Advertisement Almost every new client these days wants a mobile version of their website. It's practically essential after all: one design for the BlackBerry, another for the iPhone, the iPad, netbook, Kindle — and all screen resolutions must be compatible, too.
Thoughts On Developing A Responsive Design Workflow
Print design has the physical constraint of the canvas. The format is fixed. The situation is different on the web. We can't know in advance exactly how someone will view our sites. We don't have a fixed canvas.
So, you've decided to venture into the creation of responsive web designs. Wonderful! With the browsing landscape diversifying into mobile devices, netbooks, desktops and so forth, responsive web designs allow web designers to provide different layouts for specific devices (based on screen size and browser features) giving site visitors an optimal user experience. So now, you've determined that it would be beneficial to create responsive web designs. What tools can help you get the job done?
Responsive design is the new darling of the web design world. It seems that not a week goes by that there aren't new resources for doing it, opinions about how to do it or even whether to do it at all, and new sites that make beautiful use of it. It can quickly get overwhelming trying to keep up with it all. Here we've compiled a list of more than seventy resources for creating responsive designs.
The English architect Christopher Wren once quipped that his chosen field "aims for Eternity," and there's something appealing about that formula: Unlike the web, which often feels like aiming for next week, architecture is a discipline very much defined by its permanence. A building's foundation defines its footprint, which defines its frame, which shapes the facade. Each phase of the architectural process is more immutable, more unchanging than the last. Creative decisions quite literally shape a physical space, defining the way in which people move through its confines for decades or even centuries.