More Christian Resources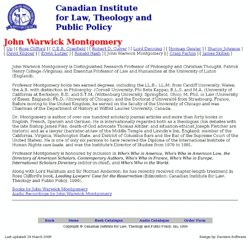 John Warwick Montgomery
John Warwick Montgomery is Distinguished Research Professor of Philosophy and Christian Thought, Patrick Henry College (Virginia); and Emeritus Professor of Law and Humanities at the University of Luton (England).
JWM home
Critique of John Warwick Montgomery's Arguments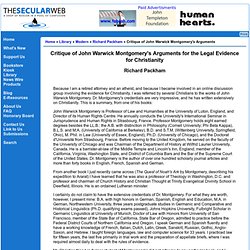 Because I am a retired attorney and an atheist, and because I became involved in an online discussion group involving the evidence for Christianity, I was referred by several Christians to the works of John Warwick Montgomery. Dr. Montgomery's credentials are very impressive, and he has written extensively on Christianity.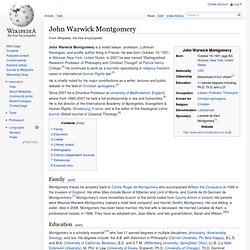 He is chiefly noted for his major contributions as a writer, lecturer and public debater in the field of Christian apologetics.[4]
John Warwick Montgomery
Bible Search - Search the Bible
Bible Software from Laridian
free Christian resources
One of the great things about technology is the access it gives you to a number of resources.
40 Best Web Resources for Bible Study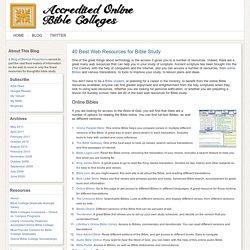 Life of Christ: Harmony of the Gospels - Matthew, Mark, Luke and John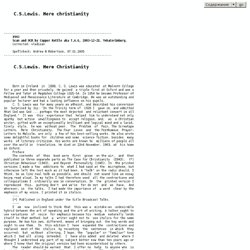 C.S.Lewis. Mere christianity
C.S.Lewis. Mere christianity
Matthew Henry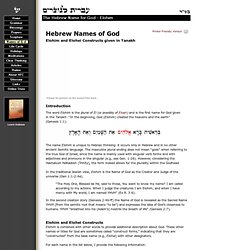 The name Elohim is unique to Hebraic thinking: it occurs only in Hebrew and in no other ancient Semitic language. The masculine plural ending does not mean "gods" when referring to the true God of Israel, since the name is mainly used with singular verb forms and with adjectives and pronouns in the singular (e.g., see Gen. 1:26).
Grace and sin have a complicated relationship.
Can I Do Anything I Want and Still be a Christian?