Twitter
Twitter is Sexist. The current trending topic: #howtopissawomanoff is sexist.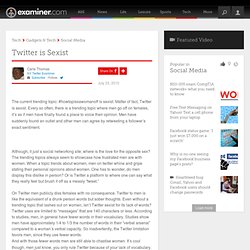 Matter of fact, Twitter is sexist. Every so often, there is a trending topic where men go off on females, it's as if men have finally found a place to voice their opinion. Men have suddenly found an outlet and other men can agree by retweeting a follower's exact sentiment. Although, it just a social networking site; where is the love for the opposite sex? 100 + Twitter Applications for Fun, Business and Social Sharing.
Editor's note: Due to the large amount of spammers this post series has attracted, we are closing comments.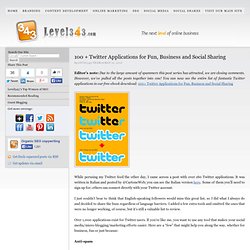 However, we've pulled all the posts together into one! You can now see the entire list of fantastic Twitter applications in our free ebook download: 100+ Twitter Applications for Fun, Business and Social Sharing While perusing my Twitter feed the other day, I came across a post with over 160 Twitter applications. 80 Ways To Use Twitter As A SMB Owner.
It's pretty common.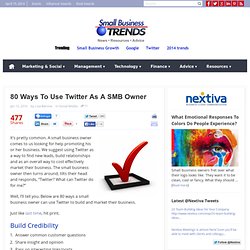 A small business owner comes to us looking for help promoting his or her business. We suggest using Twitter as a way to find new leads, build relationships and as an overall way to cost effectively market their business. « Twitter, se créer des opportunités en gazouillant avec tact et. 10 aspects ou astuces que vous ne connaissez peut-être pas sur T. Twitter et les centaines d'applications-tierces qui l'englobent sont dotés de ressources insoupçonnées pouvant pourtant être très utiles dans certains cas.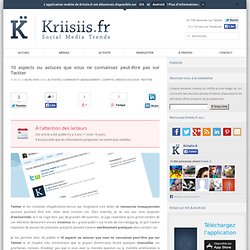 Bien entendu, je ne vais pas vous proposer d'exclusivités, et il ne s'agit donc pas de grandes découvertes ; je juge cependant qu'un grand nombre de ces éléments demeurent encore inconnus du « grand public » sur le site de microblogging, et qu'il s'avère important de pouvoir les présenter puisqu'ils peuvent s'avérer extrêmement pratiques dans certains cas. Je me permets donc de publier « 10 aspects ou astuces que vous ne connaissez peut-être pas sur Twitter », et j'espère très sincèrement que la plupart d'entre-vous feront quelques trouvailles ces prochaines minutes. N'oubliez pas que si vous avez la moindre question ou la moindre amélioration à apporter au contenu de cet article, vous pouvez me retrouver sur Twitter sous le pseudo @Kriisiis. 1.
5 Tips for Branding Your Business on Twitter. Twitter can drive leads and sales.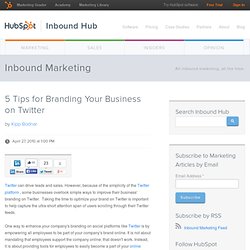 However, because of the simplicity of the Twitter platform , some businesses overlook simple ways to improve their business' branding on Twitter. Taking the time to optimize your brand on Twitter is important to help capture the ultra-short attention span of users scrolling through their Twitter feeds. Twitter, t'es plus mon copain ! « le BOG.
50 Ideas on Using Twitter for Business. We really can't deny the fact that businesses are testing out Twitter as part of their steps into the social media landscape.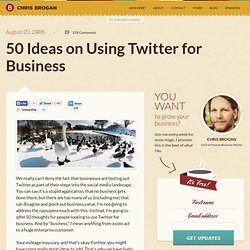 You can say it's a stupid application, that no business gets done there, but there are too many of us (including me) that can disagree and point out business value. I'm not going to address the naysayers much with this. 101 for Business — A Special Guide. Guide de survie Twitter : s'y retrouver dans les listes. Listes Twitter. Social Media Marketing: Top Twitter Tips for Business Bloggers. Médias sociaux > Les nouvelles ambitions de Twitter et Facebook. Le mois d'avril a été très riche et surtout très structurant pour les médias sociaux et notamment Twitter et Facebook.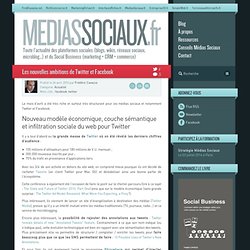 Nouveau modèle économique, couche sémantique et infiltration sociale du web pour Twitter Il y a tout d'abord eu la grande messe de Twitter où on été révélé les derniers chiffres d'audience : 105 millions d'utilisateurs pour 180 millions de V.U. mensuel ;300.000 nouveaux inscrits par jour ;75% du trafic en provenance d'applications tiers. 21 Tips for Using Twitter and Facebook for Business. InShare58 Following is an abbreviated excerpt from Engage, a new book that helps businesses build, cultivate, and measure success in social media.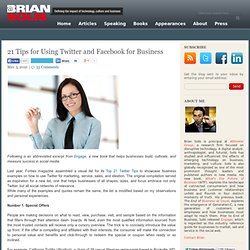 Last year, Forbes magazine assembled a visual list for its Top 21 Twitter Tips to showcase business examples on how to use Twitter for marketing, service, sales, and ideation.
---