Research
How do Majestic and LinkScape get their raw data? Does your built-in bullshit detector cry in agony when you read announcements of link analysis tools claiming to have crawled Web pages in the trillions?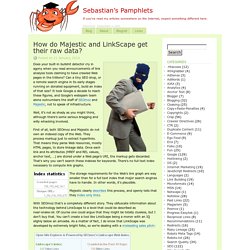 Can a tiny SEO shop, or a remote search engine in its early stages running on donated equipment, build an index of that size? It took Google a decade to reach these figures, and Google's webspam team alone outnumbers the staff of SEOmoz and Majestic , not to speak of infrastructure. Rankings of Best SEO, PPC, Web Design and Development, Local Search, Reputation Management Companies, Firms, Agencies, Firm, Company.
Keyword Eye : Visual Keyword Suggestion Tool PPC, SEO, Niche Finder.
Marketing
Keyword-tool. Huge list of profitable niches. Statistics. Ask MetaFilter | Community Weblog. Research - Articles - Journals | Find research fast at HighBeam Research.
---