Research Tools
Five Best Personal Project Management Tools
It's easy to find a project management tool for large groups, but finding one for personal use that doesn't overwhelm you with group-focused features is a challenge. Here's a look at five popular tools for personal project management. Photo by Brittany .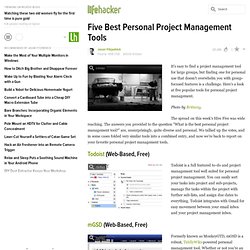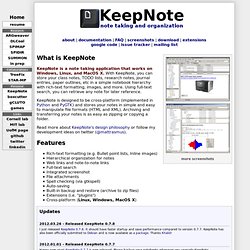 Note taking and organization
What is KeepNote KeepNote is a note taking application that works on Windows, Linux, and MacOS X. With KeepNote, you can store your class notes, TODO lists, research notes, journal entries, paper outlines, etc in a simple notebook hierarchy with rich-text formatting, images, and more. Using full-text search, you can retrieve any note for later reference. KeepNote is designed to be cross-platform (implemented in Python and PyGTK ) and stores your notes in simple and easy to manipulate file formats (HTML and XML). Archiving and transferring your notes is as easy as zipping or copying a folder.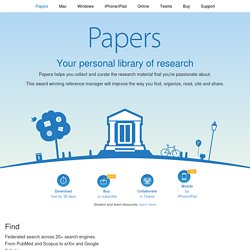 Read, Write, Cite. Your research will never be the same with Papers for Windows and Citations.
Zotero, Mendeley, and Papers | UCSF Library
Citation and Bibliography Tools
BetterLinks – Navigate the web better with personalized, relevant links
Google Instant: Just Plain Useful or Am I Just Plain Lazy? | Kikabink News - Internet Marketing News
www.lukas-renggli.ch/smalltalk/magritte/tutorial.pdf
Thursday 10th May, 2007 Research can be a time consuming and sometimes tedious task but if you're part of accredited programs, it is important to ensure that your research is sound. How can you make it easier for yourself?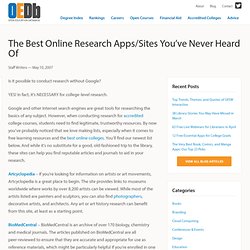 Get smart: Top 10 research tools
Zotero: A Serious Online Research Tool: Online Collaboration «
For years, I've been looking for a serious online research tool that would let me not just add to the ratnest of bookmarks and "favorites" I have, but really control, annotate, correlate, tag and source online material. Last week, as I was gearing up to join WWD , I found an awesomely deep, free, open source and innovative tool in the form of a super-stable FireFox 2.0 extension: Zotero . Zotero is a brainchild of the Center for History and New Media at George Mason University, well funded thanks to several grants, including $1.2 million from the Andrew W. Mellon Foundation. The money shows – Zotero is as slick as any commercial product, the documentation is deep and tasty with lots of nicely done screencasts and the developer info is some of the best Open Source project docs I've seen. Zotero has already gotten rave reviews in the academic community, with now 600,000 active users.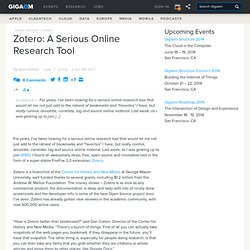 basic services free, advanced services for a fee by kiteflier98 Apr 18