Sociology of Religion
Theory of religious economy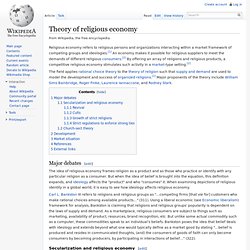 Religious economy refers to religious persons and organizations interacting within a market framework of competing groups and ideologies.[1] An economy makes it possible for religious suppliers to meet the demands of different religious consumers.[2] By offering an array of religions and religious products, a competitive religious economy stimulates such activity in a market-type setting.[2] The field applies rational choice theory to the theory of religion such that supply and demand are used to model the development and success of organized religions.[1] Major proponents of the theory include William Sims Bainbridge, Roger Finke, Laurence Iannaccone, and Rodney Stark. Major debates[edit] The idea of religious economy frames religion as a product and as those who practice or identify with any particular religion as a consumer. But when the idea of belief is brought into the equation, this definition expands, and ideology affects the "product" and who "consumes" it.
Books | "Evangelical vs. Liberal": The fight for the soul of the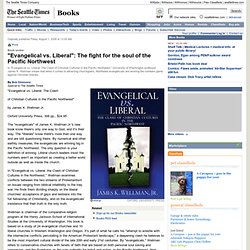 "Evangelical vs. Liberal: The Clash of Christian Cultures in the Pacific Northwest" by James K.
Vanishing boundaries: the religion ...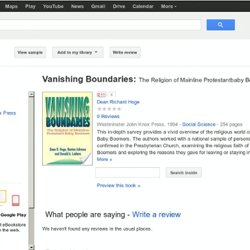 More Vanishing Boundaries: The Religion of Mainline Protestant Baby ... Read the complete book Vanishing Boundaries: The Religion of Mainline Protestant Baby Boomers by becoming a questia.com member. Choose a membership plan to ... www.questia.com/ library/ book/ vanishing-boundaries-the-religion-of-mainline-protestant-baby-boomers-by-dean-r-hoge-be...
Advance AccessBrowse the archive Sociology of Religion, the official journal of the Association for the Sociology of Religion, is published quarterly for the purpose of advancing scholarship in the sociological study of religion. The journal publishes original (not previously published) work of exceptional quality and interest without regard to substantive focus, theoretical orientation, or methodological approach. Although theoretically ambitious, empirically grounded articles are the core of what we publish, we also welcome agenda setting essays, comments on previously published works, critical reflections on the research act, and interventions into substantive areas or theoretical debates intended to push the field ahead. Sociology of Religion in the news Read Elaine Howard Ecklund and Elizabeth Long's paper Scientists and Spirituality by clicking through.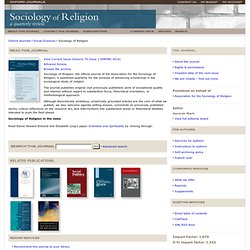 Oxford Journals | Social Sciences | Sociology of Religion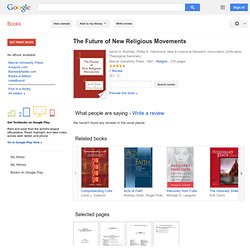 New Religious Movements Supplementary Bibliography"How New Religious Movements Succeed: A Theoretical Model," in David G. Bromley and Phillip E. Hammond, eds., The Future of New Religious Movements. ...darkwing.uoregon.edu/~sporter/nrmssupplementarybibliog.html More The Cultural Significance of New Religious Movements: The Case of ...In The future of new religious movements, edited by dg Bromley and pe Hammond, 11-29. Macon, GA: Mercer University Press. _____, 1996a. ...findarticles.com/p/articles/mi_m0SOR/is_3_62/ai_79353383/pg_25
The Future of new religious movements
Rational Choice and Religious Economies.pdf (application/pdf Obj
Journal for the Scientific Study of Religion - Journal Informati
Review of Religious Research - the journal of the RRA
Social Compass
Believing Without Belonging: Just How Secular Is Europe?