Religion
What is Hinduism's Holy book? The most ancient sacred texts of the Hindu religion are written in Sanskrit and called the Vedas. Hinduism does not just have one sacred book but several scriptures. The Vedas scriptures guide Hindus in their daily life. They also help to preserve the religious dimensions of family and society.
Information on Hinduism for Kids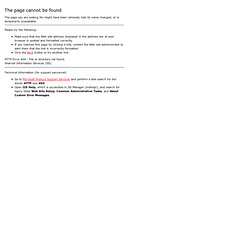 Igbo People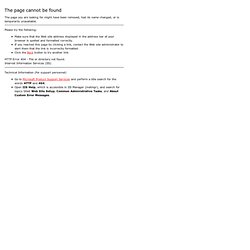 Islam (Muslim) for Kids
What are the main Muslim Festivals? The Muslim year is based on Lunar calendar. Ramadan (Ramadhan) Ramadan is the ninth month of the Islamic calendar, and a time when Muslims across the world will fast (do not eat) during the hours of daylight. The Muslim year is a lunar (moon) year, so Ramadan moves forward by ten or eleven days each year.
Question: "What is Hinduism and what do Hindus believe?" Answer: Hinduism is one of the oldest known organized religions—its sacred writings date as far back as 1400 to 1500 B.C. It is also one of the most diverse and complex, having millions of gods. Hindus have a wide variety of core beliefs and exist in many different sects. Although it is the third largest religion in the world, Hinduism exists primarily in India and Nepal.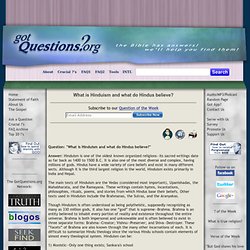 What is Hinduism and what do Hindus believe?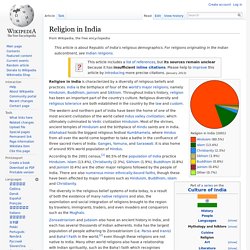 A Statue of Hindu deity Shiva . India is the birthplace of some of the world's major religious traditions ; namely Hinduism , Buddhism , Jainism and Sikhism . Throughout India's history, religion has been an important part of the country's culture.
Religion in India
From its beginning, Islam has been a central feature in Africa . Africa was the first continent into which Islam expanded, and it has become an integral part of many African cultures and histories. [ 1 ] There are conflicting statistics of religions in Africa and the world, from different sources. According to Britannica Online, the Muslim population of Africa in 2010, was 421,938,820 (40.84%), while Christians were 488,880,000 (47.32%), African traditional religions (ethnoreligionists) were 109,592,000 (10.6%), and all other remaining beliefs were 12,632.200 (1.22%), from the 1,033,043,000 total population of Africa (100%) in 2010. [ 2 ] According to both Encyclopædia Britannica (2003) and World Book Encyclopedia , Islam is the largest religion in Africa, followed by Christianity . [ 3 ] [ 4 ] Africa harbors the highest percentage of Muslims (52.39%). [ 5 ] [ unreliable source? ] A quarter of the world's Muslims live in Africa. [ 6 ] [ edit ] Population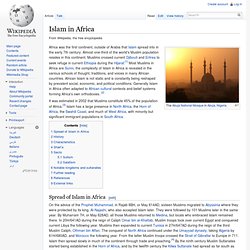 Islam in Africa
The Pew Forum on Religion & Public Life has released the results of an important survey, Tolerance and Tension: Islam and Christianity in Sub-Saharan Africa . The executive summary notes that "sub-Saharan Africa is clearly among the most religious places in the world. In many countries across the continent, roughly nine-in-ten people or more say religion is very important in their lives. By this key measure, even the least religiously inclined nations in the region score higher than the United States, which is among the most religious of the advanced industrial countries." Of special interest is the finding that "Despite the dominance of Christianity and Islam, traditional African religious beliefs and practices have not disappeared. Rather, they coexist with Islam and Christianity.
A Major New Survey on Religion in Africa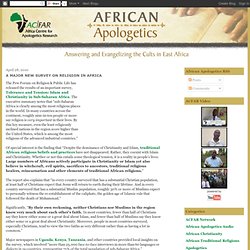 Religion in Nigeria
There exist several religions in Nigeria , helping to accentuate regional and ethnic distinctions. All religions represented in Nigeria were practiced in every major city in 1990. However, Islam dominated the north and had a number of supporters in the South Western, Yoruba part of the country. Protestantism and local syncretic Christianity are also in evidence in Yoruba areas, while Catholicism dominates the Igbo and closely related areas. Both Protestantism and Catholicism dominated in the Ibibio , Annang , and the Efik kiosa lands. The 1963 census indicated that 47 percent of Nigerians were Muslim, 35 percent Christian, and 18 percent members of local indigenous congregations.
Why/how is it that Islam is no longer Africa's main religion? It used to be for centuries, but not so muc
If you are reviewing my appeal, note that I also provided 5 additional answers to 7 related Qs by the Asker via PMs. Since there was nothing personal to these PMs, I provide them here as additional input to my appeal. They are numbered and pasted in in reverse order. -------------------------------------------------- ------------------------------------------ A5-Curious7777777-->Newby: I believe this is in the article.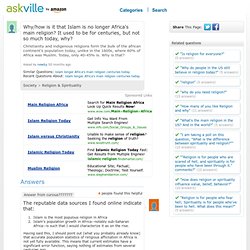 Nigeria Religion
Things Fall Apart Theme of Religion
The Igbo gods are mostly manifestations of nature and its elements, which makes sense because they are an agricultural society that depends on the regularity of seasons and natural phenomena to survive. They worship the goddess of the earth and are always careful to avoid committing sins against her for fear of vengeance that might wipe out an entire generation. The Igbo ancestors also take on a divine nature to some extent. Family plays such a central role in Igbo life that the spirits of their ancestors are consulted for almost every decision and even serve as judges in legal trials (in the form of masked elders).