Relationships
36 Ways To Be Irresistibly Attractive. Long Distance Relationship Quotes. When a couple, whether they are dating, married, or engaged-to-be-married, is in a long distance relationship, things can get a bit tough.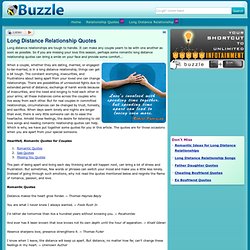 The constant worrying, insecurities, and frustrations about being apart from your loved one can change relationships. There are possibilities of unresolved fights due to extended period of distance, exchange of harsh words because of insecurities, and the need and longing to hold each other in your arms; all these instances come across the couples who live away from each other. Knowing When to Walk Away from Unrequited Love. "Love does not obey our expectations; it obeys our intentions."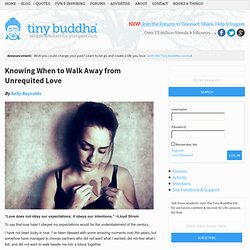 ~Lloyd Strom To say that love hasn't obeyed my expectations would be the understatement of the century. I have not been lucky in love. I've been blessed with some amazing moments over the years, but somehow have managed to choose partners who did not want what I wanted, did not feel what I felt, and did not want to walk beside me into a future together. I have really had to sit with this and try and figure out what part of this was my doing, and how to change it, because this year I once again chose a partner who was not walking with me. 50 Dating Rules for Smart Girls Who Don't Need Dating Rules | Relationships | Stylish Thought. Magazine - Is It True Love? Things My Girlfriend And I Have Argued About. 10 Traits Men Look for in a Girlfriend. 5.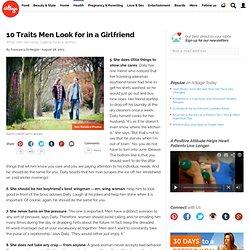 She does little things to show she cares. Daily has one friend who noticed that her traveling salesman boyfriend never had time to get his shirts washed, so he would just go out and buy new ones. Her friend started to drop off his laundry at the dry cleaners once a week. Daily herself cooks for her husband. True Love. 74 Simple Things You Can Do to Brighten Your Spouse's Day | Engaged Marriage. Enjoy More Quality Time Together!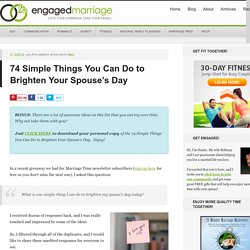 Enter your email below to join the Marriage Time newsletter & get the very best tips to help you live a married life you love. Plus, we'll send you these powerful tools: Love Everyday - an amazing e-book enjoyed by over 110,000 readers! Marriage Mojo: 7 Simple Steps to Romance for Insanely Busy Couples The EM Essentials - our very best tips & advice sent straight to you Join over 15,000 busy couples who enjoy our free newsletter and start taking your marriage to the next level today. Welcome to Adobe GoLive 6. From Los Angeles Times: It's not all about you Chances are, others aren't judging you as harshly as you think, if at all.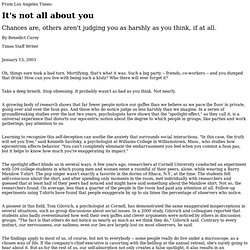 By Benedict Carey. 40 Healthy Relationship Signs. 10 Basic Truths About Keeping Your Relationship Healthy. I think it's easy to make things more complicated than they need to be.
Here are some basic rules of the relationship road that will keep you headed in the right direction. 1. Successful relationships take work. They don't happen in a vacuum. Relationship Rules. Human beings crave intimacy, need to love and be loved.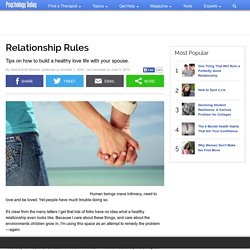 Yet people have much trouble doing so. It's clear from the many letters I get that lots of folks have no idea what a healthy relationship even looks like. Because I care about these things, and care about the environments children grow in, I'm using this space as an attempt to remedy the problem—again. From many sources and many experts, I have culled some basic rules of relationships. There are no words… | Funny Pictures, Really Very Funny Pics & Images. Cute animals videos too. A Thoughtful Look at Men and Women SHE DRIVES FOR A RELATIONSHIP.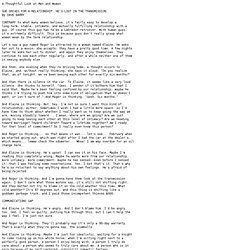 HE'S LOST IN THE TRANSMISSION By DAVE BARRY CONTRARY to what many women believe, it's fairly easy to develop a long-term, stable, intimate, and mutually fulfilling relationship with a guy. Of course this guy has to be a Labrador retriever. Www.menshealth.com/mhlists/how-to-answer-her-questions/printer.php. It's 7:30 p.m.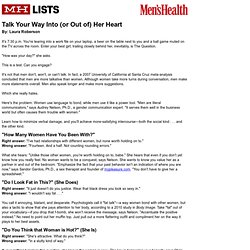 You're tearing into a work file on your laptop, a beer on the table next to you and a ball game muted on the TV across the room. Enter your best girl; trailing closely behind her, inevitably, is The Question. "How was your day? "
---