Paris Region Economic Development Agency
Appels d'offre
ADERLY : DE NOUVEAUX BUREAUX À PARIS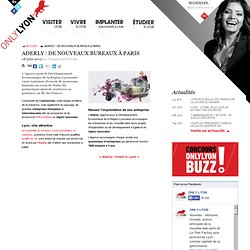 18 juin 2012 par Floryane ROUVEURE L'Agence pour le Développement Economique de la Région Lyonnaise vient tout juste d'ouvrir de nouveaux bureaux au cœur de Paris, lui permettant ainsi de renforcer sa présence en Île-de-France.
Paris Region Channel, la nouvelle Online TV de l'Agence Régionale de Développement
Forever 21 Opening in France -- The Cut
Marketing First is collaborating with the Paris Region Development Agency |
January 29 | Blog | admin Marketing First is collaborating with the Paris Region Development Agency and is supporting its marketing and business development efforts in the Israeli market.
Hubstart Paris
Hubstart Paris®, la démarche de valorisation internationale du Grand Roissy by babane27 Jan 26
Présentation du Séminaire International Sustainable Airport Area
Air France - Corporate : Air France inaugurates the Paris-Lima route
Since 21 June, Air France has been operating 5 weekly flights between Paris and Lima, the capital of Peru.
Carte OuVerte du plateau de Saclay
Hubstart Paris veut imposer sa marque dans le Grand Roissy
Un pas de plus vers la cohérence territoriale ?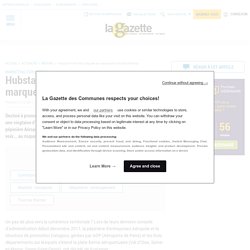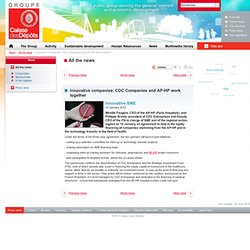 Innovative companies: CDC Companies and AP-HP work together
Mireille Faugère, CEO of the AP-HP (Paris Hospitals), and Philippe Braidy, president of CDC Entreprises and Deputy CEO of the FSI in charge of SME and of the regional action, signed on 19 January an agreement to help in the equity financing of companies stemming from the AP-HP and in the technology transfer in the field of health.
Kaufman & Broad S.A.: 2011 Annual Results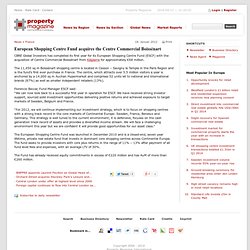 CBRE Global Investors has completed its first year for its European Shopping Centre Fund (ESCF) with the acquisition of Centre Commercial Boissénart from Klépierre for approximately €68 million. The 11,450 sq m Boissénart shopping centre is located in Cesson – Savigny le Temple in the Paris Region and is the fund's first ever purchase in France.
European Shopping Centre Fund acquires the Centre Commercial Boissénart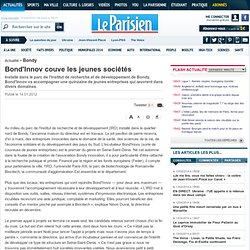 Au milieu du parc de l'Institut de recherche et de développement (IRD) installé dans le quartier nord de Bondy, l'ancienne maison du directeur est en travaux.
Bond'Innov couve les jeunes sociétés - 14/01
Happy New year 2012
liste_fichiergw
Weingarten – IXXAT has been represented in France since 1998 by its distributor I.S.I.T. to sell communicating embedded systems to the automotive and industrial markets.
IXXAT opens a subsidiary in Orsay
GE Healthcare to Help Bring Paris Hospitals into Digital Age
pr_accor_environmental_footprint_091211
To mark its tenth anniversary, the Renault Foundation has announced the launch of three new higher education programmes, developed with its national and international partners. A vocational degree in "Electro-mobility", in partnership with the University of Versailles Saint-Quentin and the IUT institute in Mantes-en-Yvelines outside Paris, A multidisciplinary chair in Road Safety Management for the North/East Africa region, in partnership with the University of Saint Joseph of Beirut in Lebanon, A Franco-Japanese doctoral programme "Zero Carbon Leaders", in association with the Supélec engineering school in France and the University of Waseda in Japan. The Renault Foundation is anticipating the skills of the future
For its tenth anniversary, the Renault Foundation is launching three new programmes - media.renault.com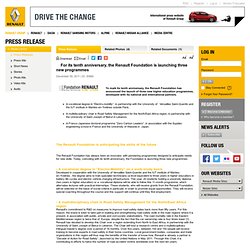 By Christina Passariello Courtesy of Banana Republic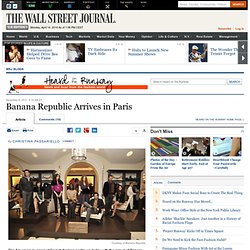 Banana Republic Arrives in Paris - Heard on the Runway
Interview of Hardouin DE PLACE - Development Director - SERACC
Presse
Vous êtes ici : Accueil > En direct > Presse
R-LINK, THE INTEGRATED, CONNECTED TABLET | 3D Car Shows
As a partner of the LeWeb'11 exhibition,Europe's number one showcase for digital entrepreneurs, Renault has launched R-LINK, the tactile, integrated, connected tablet that is poised to equip its forthcoming models R-LINK will provide future Renault vehicles with affordable, intuitive multimedia connectivity, both with the outside world and with its users R-LINK is a scalable tablet thanks to the input of application developers who will progressively upgrade its content Renault will seize the opportunity of LeWeb'11 to invite app developers to share in this adventure in a partnership To allow drivers to control its functions without taking their eyes off the road, R-LINK features a large 18cm tactile display, steering wheel-mounted controls and voice recognition.
Le Web conference: As it happens
Paris (CNN) – Le Web conference , the biggest tech conference in Europe, opens in Paris Wednesday. Since it was founded in 2008 by Seesmic creator Loic Le Meur, the conference has attracted the web's best and brightest in large numbers.
Welcome to UBIFRANCE - The French Trade Commission in India
Growth and innovation in the French smart card and identification industry
InnovPRIME Program
Simplify Access to Top Research Labs and Funding in the Paris Region PRIME and its research partners have implemented PRIME Innovation, a program designed to streamline access to the best research and development teams in the Paris Region, to create innovative research projects, and to provide access to available funding .
Appel à projets Chaufferies Biomasse - Ademe Ile de France
Batimat 2011 - Salon international de la construction
linkii
Romainville inspirée par la collecte des déchets par aspiration pneumatique
Toutes les brèves
Un nouveau directeur France chez Enertrag
The Austrian group CCC extending its growth into the Paris Region
Office Suites: LibreOffice or OpenOffice.org?
20111014_Accor_PR_Sale_and_Variable_Lease_Back_Suite_Novotel
Paris region to invest EUR 15 mln a year in fibre rollout
Investors love the Paris Region
Paris test drives first car-sharing scheme
Interview of Jaime L. FERRER - Founder/Maniging Director - TSS
Air France - Corporate : The world's largest network built around two hubs
Chaîne de ParisRegionChannel
Press
Press room - Bouygues Telecom press releases
liste_fichiergw
liste_fichiergw
Chaîne de ParisRegionChannel
Immobilier : les foncières françaises ont la cote chez Barclays
Home | Vogue Fashion Night
Implantations étrangères en France en 2010
Offre d'emploi :
Offre d'emploi :
Presse
Les Feux de Chantilly
L'activité économique du secteur énergie, eau, gestion des déchets en continu - Accueil - Recrutement et offres d
ECOTA s'implante à Antony (Hauts-de-Seine)
Ikea to invest €1.2 billion in France
ADVnewsletter122010
20100921_referents_dreal-1
Living in Paris: It's Where Brits Prefer to Live in France
Bonne et heureuse année 2011
Photovoltaïque : lancement de la concertation sur un nouveau cadre de régulation
Paris, world's 2nd most innovative and creative city
Labellisation des lieux d'accueil pour les entreprises internationales en Île-de-France
L'Ile-de-France lance son fonds régional de compensation carbone