Paris Region Economic Development Agency
Appels d'offre
la fonderie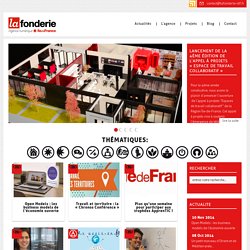 La Fonderie s'est engagée depuis quelques mois déjà dans les usages des objets connectés… Retour sur notre expérience à travers deux moments : notre usage collectif d'une balance connectée Withings et le vécu d'un des … Mercredi 2 avril, nous avions rendez-vous chez Cap Digital à l'occasion de l'évènement "Décodez le code!". Cette après-midi dédiée aux échanges sur les enjeux de l'éducation au numérique, nous a permis de présenter aux participants … Après plus de 2 ans d'échanges riches entre les partenaires de 9 régions européennes, le projet ONE (Observatory Network to Enhance ICT Structural Funds Absorption) se clôturera par une conférence sur la révolution numérique et … La Fonderie, avec le soutien de ses partenaires, organise avec l'Institut d'Aménagement et d'Urbanisme d'Île-de-France la finale du concours Cartoviz le 11 avril 2014 dès 18h.
ADERLY : DE NOUVEAUX BUREAUX À PARIS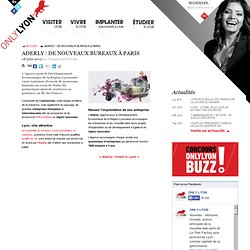 18 juin 2012 par Floryane ROUVEURE L'Agence pour le Développement Economique de la Région Lyonnaise vient tout juste d'ouvrir de nouveaux bureaux au cœur de Paris, lui permettant ainsi de renforcer sa présence en Île-de-France. Réussir l'implantation de son entreprise L'Aderly, Agence pour le Développement Economique de la Région Lyonnaise accompagne les entreprises et les conseille dans leurs projets d'implantation ou de développement à Lyon et en région lyonnaise. L'Agence accompagne chaque année une soixantaine d'entreprises qui génèreront environ 1800 emplois à 3 ans. L'Aderly / Invest in Lyon +
Forever 21 Opening in France -- The Cut
Marketing First is collaborating with the Paris Region Development Agency |
January 29 | Blog | admin Marketing First is collaborating with the Paris Region Development Agency and is supporting its marketing and business development efforts in the Israeli market. The Agency's main goal is to create value for the Paris Region by helping Parisian companies to create international partnerships and assisting international companies to establish a presence in the Paris region. The Agency has recently established an office in Tel Aviv to assist Israeli companies that would like: 1-Develop a technological partnership with a Parisian counterpart 2- Set up an activity or develop a presence in the Paris region and benefit from the numerous advantages the Region has to offer
Hubstart Paris
L'Alliance Hubstart Paris Region®, en charge de la promotion internationale du Grand Roissy et du Bourget, a le plaisir de vous convier à une rencontre sur le thème : Le 2 avril 2014 de 8h à 10h A l'Aéroport du Bourget (salle Alizé) suivie d'une visite optionnelle de l'Aéroport du Bourget, de 10h à 11h (dans la limite des places disponibles)
Présentation du Séminaire International Sustainable Airport Area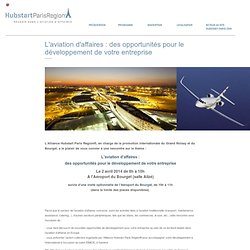 Air France - Corporate : Air France inaugurates the Paris-Lima route
Since 21 June, Air France has been operating 5 weekly flights between Paris and Lima, the capital of Peru. These flights are operated by Boeing 777-200ER, with a capacity of 309 passengers. The aircraft is configured with three cabin classes with 35 seats in the new Business class, featuring a lie-flat seat bed measuring over 2 m in length, 24 seats in the intermediate Premium Voyageur class and 250 in Voyageur economy class. View the video: Service To Lima
Marketing territorial
Carte OuVerte du plateau de Saclay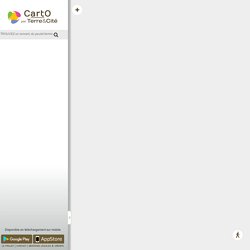 La Carte Ouverte du Plateau de Saclay est un outil d'aide à la mobilité et à la connaissance du territoire qui recense des centaines de points clés et d'itinéraire. Vous y trouverez les réseaux de transport en commun, les pistes cyclables et sentiers, un calcul d'itinéraires de marche ou vélo, ainsi que les lieux de culture ou de pratiques sportives, les circuits de balades, les évènements en cours, les points de vente à la ferme, les bons coins ou encore les services nocturnes. Cet outil est en évolution constante, votre participation est donc bienvenue si vous disposez d'informations à partager, que vous soyez une personne active, une association, une collectivité, une entreprise ou un media. Vous devenez ainsi l'un des acteurs de ce projet territorial, que vous pouvez partager, enrichir ou enchanter. Contactez-nous sur : carteouverte@terreetcite.org.
Hubstart Paris veut imposer sa marque dans le Grand Roissy
marketing territorial Publié le 21/12/2011 • Par Marion Kindermans • dans : Régions Un pas de plus vers la cohérence territoriale ?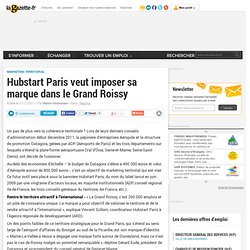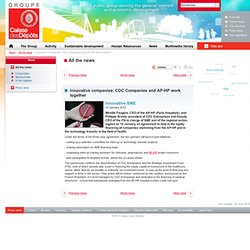 Innovative companies: CDC Companies and AP-HP work together
Mireille Faugère, CEO of the AP-HP (Paris Hospitals), and Philippe Braidy, president of CDC Entreprises and Deputy CEO of the FSI in charge of SME and of the regional action, signed on 19 January an agreement to help in the equity financing of companies stemming from the AP-HP and in the technology transfer in the field of health. Under the terms of the three-year agreement, the two partners will launch joint initiatives: - setting up a selection committee for start-up or technology transfer projects; - sharing information on SME financing tools; - organising start-up training seminars for clinicians, pharmacists and AP-HP project sponsors;
Kaufman & Broad S.A.: 2011 Annual Results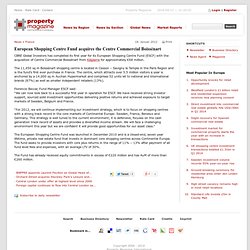 CBRE Global Investors has completed its first year for its European Shopping Centre Fund (ESCF) with the acquisition of Centre Commercial Boissénart from Klépierre for approximately €68 million. The 11,450 sq m Boissénart shopping centre is located in Cesson – Savigny le Temple in the Paris Region and is the fund's first ever purchase in France. The centre, which attracts over 5.5 million visitors a year is anchored by a 14,000 sq m Auchan Hypermarket and comprises 52 units let to national and international brands (87%) as well as smaller independent retailers (13%). Florencio Beccar, Fund Manager ESCF said: "We can now look back to a successful first year in operation for ESCF. We have received strong investor support, sourced solid investment opportunities delivering positive returns and achieved exposure to target markets of Sweden, Belgium and France.
European Shopping Centre Fund acquires the Centre Commercial Boissénart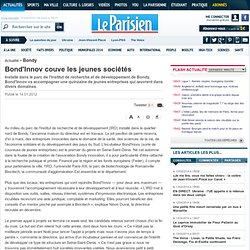 Au milieu du parc de l'Institut de recherche et de développement (IRD) installé dans le quartier nord de Bondy, l'ancienne maison du directeur est en travaux. Le joli pavillon de pierre recevra, d'ici à mars, des entreprises innovantes dans le domaine de la santé, des sciences de la vie, de l'économie solidaire et du développement des pays du Sud. L'incubateur Bond'Innov (sorte de couveuse de jeunes entreprises) est le premier du genre en Seine-Saint-Denis. Né cet automne dans la foulée de la création de l'association Bondy innovation, il a pour particularité d'être rattaché à la recherche publique et privée. Financé par la région et les fonds européens (Feder), il compte pour partenaires la ville, l'IRD, l'université Paris-XIII, le parc de biotechnologie de Romainville Biocitech, la communauté d'agglomération Est ensemble et le département.
Bond'Innov couve les jeunes sociétés - 14/01
liste_fichiergw
Weingarten – IXXAT has been represented in France since 1998 by its distributor I.S.I.T. to sell communicating embedded systems to the automotive and industrial markets. With the founding of the IXXAT SARL subsidiary in Orsay, Essonne, IXXAT will meet the growing demand for its products and services in France. IXXAT SARL will be focusing on the automotive industry, CAN network cards, OEM cards, developments in specific embedded solutions and the follow-up on major accounts, as well as providing support for distributor I.S.I.T. The sales department will be headed by Frédéric Astier.
IXXAT opens a subsidiary in Orsay
GE Healthcare to Help Bring Paris Hospitals into Digital Age
In France today, approximately half of small- and medium-sized hospitals are still using film for their imaging exams. In an effort to save costs by quickly increasing usage of digital technology, the Ministry of Health, through its state agency, has contracted with the Orange-GE Healthcare consortium to deliver digital, cloud-based PACS and archive services to the "Île de France", the country's most populous region. The "Région sans Film"— filmless region – project makes use of a uniquely flexible software solution, combining multiple GE Healthcare products and a highly resilient cloud infrastructure provided by Orange.
pr_accor_environmental_footprint_091211
To mark its tenth anniversary, the Renault Foundation has announced the launch of three new higher education programmes, developed with its national and international partners. A vocational degree in "Electro-mobility", in partnership with the University of Versailles Saint-Quentin and the IUT institute in Mantes-en-Yvelines outside Paris,A multidisciplinary chair in Road Safety Management for the North/East Africa region, in partnership with the University of Saint Joseph of Beirut in Lebanon, A Franco-Japanese doctoral programme "Zero Carbon Leaders", in association with the Supélec engineering school in France and the University of Waseda in Japan. The Renault Foundation is anticipating the skills of the future
For its tenth anniversary, the Renault Foundation is launching three new programmes - media.renault.com
Courtesy of Banana Republic The American invasion of French fashion continues today with the arrival of Banana Republic's first store in France. Gap Inc.'s high-end offering joins Parisian outposts of chains such as Abercrombie & Fitch, Tommy Hilfiger and Michael Kors, which have all opened flagships within the past year. Banana Republic is neighbors with Abercrombie and Tommy on the Champs Elysées shopping drag. British retailer Marks & Spencer just opened its first French store up the street from Banana two weeks ago. Banana Republic picked a corner of the Champs Elysées for its two-floor store.
Banana Republic Arrives in Paris - Heard on the Runway
Interview of Hardouin DE PLACE - Development Director - SERACC
Presse
R-LINK, THE INTEGRATED, CONNECTED TABLET | 3D Car Shows
Le Web conference: As it happens
Welcome to UBIFRANCE - The French Trade Commission in India
InnovPRIME Program
Batimat 2011 - Salon international de la construction
Romainville inspirée par la collecte des déchets par aspiration pneumatique
Toutes les brèves
Un nouveau directeur France chez Enertrag
The Austrian group CCC extending its growth into the Paris Region
Office Suites: LibreOffice or OpenOffice.org?
OpenOffice.org - The Free and Open Productivity Suite
20111014_Accor_PR_Sale_and_Variable_Lease_Back_Suite_Novotel
Paris region to invest EUR 15 mln a year in fibre rollout
Investors love the Paris Region
Paris test drives first car-sharing scheme
Interview of Jaime L. FERRER - Founder/Maniging Director - TSS
Air France - Corporate : The world's largest network built around two hubs
Chaîne de ParisRegionChannel
Press
liste_fichiergw
liste_fichiergw
Chaîne de ParisRegionChannel
Immobilier : les foncières françaises ont la cote chez Barclays
Home | Vogue Fashion Night
Implantations étrangères en France en 2010
Offre d'emploi :
Offre d'emploi :
Presse
Les Feux de Chantilly
L'activité économique du secteur énergie, eau, gestion des déchets en continu - Accueil - Recrutement et offres d
ECOTA s'implante à Antony (Hauts-de-Seine)
Ikea to invest €1.2 billion in France
ADVnewsletter122010
20100921_referents_dreal-1
Living in Paris: It's Where Brits Prefer to Live in France
Paris, world's 2nd most innovative and creative city
Labellisation des lieux d'accueil pour les entreprises internationales en Île-de-France
L'Ile-de-France lance son fonds régional de compensation carbone