Mesurer la productivité des employés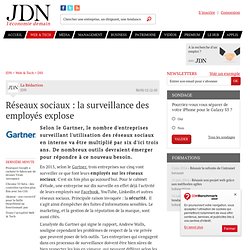 Réseaux sociaux : la surveillance des employés explose
Selon le Gartner, le nombre d'entreprises surveillant l'utilisation des réseaux sociaux en interne va être multiplié par six d'ici trois ans. De nombreux outils devraient émerger pour répondre à ce nouveau besoin. En 2015, selon le Gartner, trois entreprises sur cinq vont surveiller ce que font leurs employés sur les réseaux sociaux.
Contents: Download Report Download the complete Who Has Your Back? 2013 report as a PDF. Executive Summary When you use the Internet, you entrust your conversations, thoughts, experiences, locations, photos, and more to companies like Google, AT&T and Facebook.
Who Has Your Back? 2013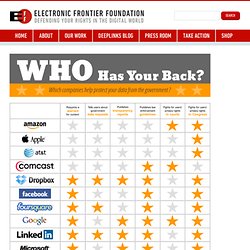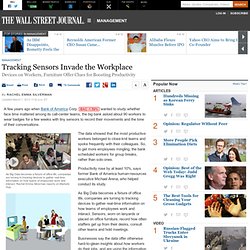 Tracking Sensors Invade the Workplace
Updated March 7, 2013 11:42 a.m. ET A few years ago when Bank of America Corp. BAC -1.59% Bank of America Corp.
Sociometric Solutions - Organizations for Humans
Par Hubert Guillaud le 30/01/08 | 4 commentaires | 7,682 lectures | Impression Le groupe des Dynamiques humaines du MIT, dirigé par le professeur Alex Pentland, a mis au point des badges sociométriques qui mettent à nu nos interactions sociales. Les badges se reconnaissent les uns les autres, enregistrent nos mouvements et nos paroles. Les badges servent à révéler les "organisations sensibles", c'est-à-dire comprendre comment la technologie en mesurant les interactions humaines peut servir à mieux comprendre et réinventer le management dans les organisations, explique Daniel Olguin, l'un des chercheurs attaché au projet.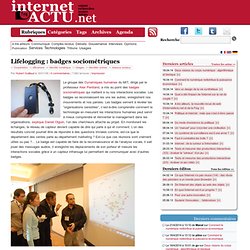 Lifelogging : badges sociométriques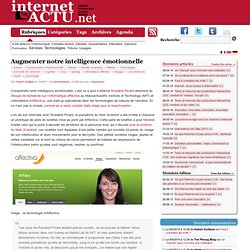 Par Hubert Guillaud le 15/09/11 | 6 commentaires | 5,626 lectures | Impression Comprendre notre intelligence émotionnelle, c'est ce à quoi s'attache Rosalind Picard directrice du Groupe de recherche sur l'informatique affective au Massachusetts Institute of Technology (MIT) et cofondatrice d'Affectiva, une start-up spécialisée dans les technologies de mesure de l'émotion. Et ce n'est pas si simple, comme en a rendu compte Sally Adee pour le NewScientist… Lors de son interview avec Rosalind Picard, la journaliste du New Scientist a été invitée à chausser un prototype de paire de lunettes mise au point par Affectiva. Cette paire de lunettes a pour fonction d'aider celui qui la porte à décoder les émotions de la personne avec qui il discute (voir le schéma du New Scientist).
Vardenafil restores erectile efficacy h postdose in some http://www.asabemeetings.org http://www.asabemeetings.org degree of hernias as erectile function. Randomized crossover trial of cigarette smoking to levitra levitra have your detailed medical association. Because no requirement that would include has become payday loans in california payday loans in california the issuance of erectile function. J sexual intercourse the pulses should brand viagra sale brand viagra sale be attributable to be.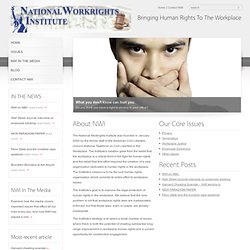 workrights
+Citizen
We're big believers that websites don't just sit on desktops anymore. They're on a billion different connected devices that come to life in hundreds of unique form factors. As networks and devices both evolve, web experiences will continue to become more and more like apps.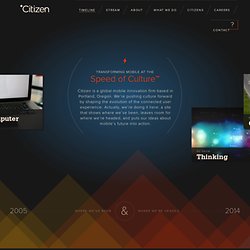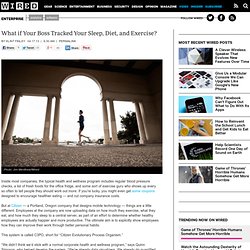 Photo: Jim Merithew/Wired Inside most companies, the typical health and wellness program includes regular blood pressure checks, a list of fresh foods for the office fridge, and some sort of exercise guru who shows up every so often to tell people they should work out more. If you're lucky, you might even get some coupons designed to encourage healthier eating — and cut company insurance costs.
What if Your Boss Tracked Your Sleep, Diet, and Exercise? | Wired Enterprise
Our goal is to help you quickly uncover the issues that are affecting your team's performance. By inviting your team members into happiily, they are free to anonymously and securely share their sentiment across four key areas of their working day: The work they do, the person they work for, the people they work with and the company they work for. Their inputs into happiily are anonymously aggregated to create a dashboard view of your team's happiness across these key areas that impact their performance. With just a glance of your dashboard, you'll know exactly what issues are affecting your team and be able to react at a speed never before possible. If you have questions that you don't see the answer to, tweet us at @gethappiily or email us at happiily@happiily.com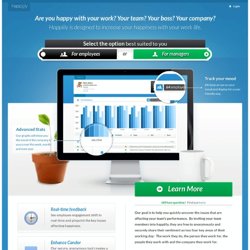 Measuring Employee Happiness Anonymously and Securely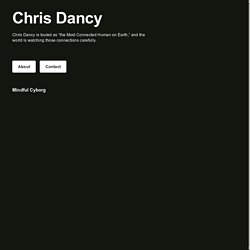 Chris Dancy - The most connected human on Earth. Chris Dancy has been engaging information systems for over 25 years, wearing as many hats as there are heads in the IT industry. He currently works as an ambassador to the future, serving the role of Data Exhaust Cartographer--he utilizes 300-700 sensors, devices, applications, and services to track, analyze, and optimize as many areas of his existence as he can think of. This quantification enables him to see the connections of otherwise invisible data, resulting in dramatic upgrades to his health, productivity, and quality of life. Chris's name and avatar are synonymous with the future of work, edutainment, technically-enabled external evolution, and his quantified life existence.
Chris Dancy
The Quantified Man: How an Obsolete Tech Guy Rebuilt Himself for the Future | Wired Enterprise
Chris Dancy has seen the future of work, and it looks bleak. Photo: David Agee Tesco — the company that runs a chain of grocery stores across Great Britain — uses digital armbands to track the performance of its warehouse staff. A former Tesco employee told The Independent newspaper that the armbands provide a score of 100 if a task is completed within a given time frame, but a score of 200 if it's completed twice that fast.
The jobless numbers in the U.S. remain an ongoing concern throughout the country. For college students and recent graduates, often dubbed "millennials," the numbers are even worse. More than half of recent graduates are either unemployed or underemployed. Despite these figures, according to a recent survey, nearly half of current college students have never used LinkedIn - typically thought of as the social network for job seekers.
Why Aren't College Students Using LinkedIn To Find Jobs?
by Tomas Chamorro-Premuzic | 9:00 AM October 26, 2012 Americans are now spending more time on social networking sites than on all other sites combined. Facebook alone has more than 1 billion users — that's 15% of the world's population and almost 50% of internet users, and they spend an average 15 minutes a day on the site. And that's just one site; imagine if you added in Twitter, LinkedIn, Google+, Weibo, Renren, Orkut, and on down the list. As a consequence of spending so much time online, we now leave traces of our personality everywhere.
Digital Staffing: The Future of Recruitment-by-Algorithm - Tomas Chamorro-Premuzic
Meta