Référencement
FREE Web Stats and Analytics, Page Rank, SEO Optimization, Website Tools and Search Engine Marketing - Are you GoingUp?
The Quick Start Guide to Using Google Webmaster Tools With WordPress - WPMU.org – WordPress, Multisite and BuddyPress news, tips and resources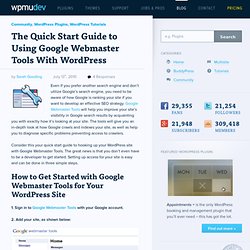 Even if you prefer another search engine and don't utilize Google's search engine, you need to be aware of how Google is ranking your site if you want to develop an effective SEO strategy. Google Webmaster Tools will help you improve your site's visibility in Google search results by acquainting you with exactly how it's looking at your site. The tools will give you an in-depth look at how Google crawls and indexes your site, as well as help you to diagnose specific problems preventing access to crawlers.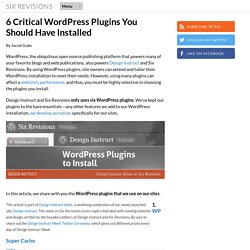 WordPress, the ubiquitous open source publishing platform that powers many of your favorite blogs and web publications, also powers Design Instruct and Six Revisions. By using WordPress plugins, site owners can extend and tailor their WordPress installation to meet their needs. However, using many plugins can affect a website's performance, and thus, you must be highly selective in choosing the plugins you install. Design Instruct and Six Revisions only uses six WordPress plugins. We've kept our plugins to the bare essentials—any other features we add to our WordPress installation, we develop ourselves specifically for our sites.
6 Critical WordPress Plugins You Should Have Installed
Référencer un blog. Conseils référencement de blogs | Blog de Référencement & Services Web
Vous, blogueurs, vous souhaitez un blog visible. Des articles positionnés dans les premières pages de Google. Est-ce qu'il y a un secret pour y arriver ?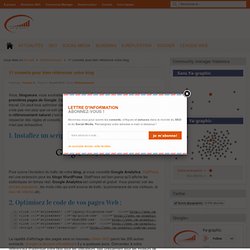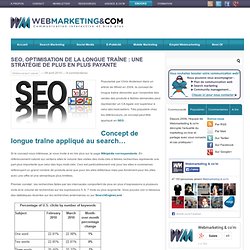 SEO, optimisation de la longue traîne : une stratégie de plus en plus payante | Webmarketing & co'm
Popularisé par Chris Anderson dans un article de Wired en 2004, le concept de longue traîne démontre que l'ensemble des ventes des produits à faibles demandes peut représenter un CA égale voir supérieur à celui des best-sellers. Très populaire chez les référenceurs, ce concept peut être appliqué en SEO… Concept de longue traîne appliqué au search…
9 Best SEO Plugins for wordpress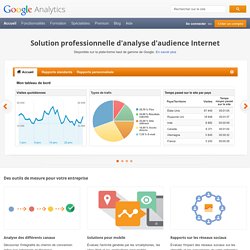 Surveillez l'activité de votre site au moment même où elle a lieu : identifiez immédiatement les éléments performants et ceux qui ne le sont pas. En savoir plus Vos investissements dans les médias sociaux méritent mieux que des tâtonnements. Procurez-vous des données et des informations directement exploitables. En savoir plus
Aujourd'hui, nous vous proposons une traduction du guide ultime du bon référencement pour votre blog sous WordPress que vous pouvez consulter en anglais sur Yoast.com. Télécharger le guide en version PDF (cliquez sur l'image) : 1. L'optimisation technique de base : les méthodes les plus simples pour de meilleurs résultats
Wordpress SEO : le guide ultime du bon référencement pour votre blog