GOOGLE ANALYTICS
Get flash to fully experience Pearltrees
Hier , nous avons vu comment un propriétaire de site a pu exclure le trafic provenant de sa dernière opération promotionnelle pour étudier les effets de cette promotion sur ses données. La ligne bleue représente toutes les visites sur une période de 2 semaines. Le pic au milieu est dû à une offre promotionnelle de 50% proposée par un site partenaire. Ce qui est interessant, c'est la ligne orange.
Malgré la récente déferlante de critiques à l'égard d'Adobe, il faut bien admettre que les applications utilisant Adobe Air sont particulièrement esthétiques. Je pense notamment à , mais aussi à , le widget dédié à que je vous propose de découvrir. Il est certes assez ancien puisque lancé il y a tout pile un an, mais cet outil n'en demeure pas moins très pratique et constitue une des rares solutions permettant de consulter ses statistiques de fréquentation, sans devoir passer par son compte Google depuis un navigateur Web.
Mixpanel , an analytics-focused startup whose backers include Y Combinator, Michael Birch , and Max Levchin , has hit a big milestone: it's now processing over 1 billion actions per month. To put that in perspective, a year ago the company had recorded 80 million actions cumulatively . Mixpanel was built by former Slide employees, who took their experience with that company's extensive analytics tracking and built tools that other developers can integrate into their own applications. These datapoints can include pretty much anything a developer wants to track, from the number of pages a user has viewed to how many virtual cows they've thrown in a Facebook app. Cofounder Suhail Doshi says that the volume of data the site tracks grew 185% last month alone (you can see the growth chart below).
Voici pourquoi vous choisirez notre formation ! Gros succès des formations, très bon bouche à oreilles Avec plus de 4000 entreprises participantes, Ranking Metrics est aujourd'hui le leader des organismes de formation sur le référencement !
Tweet Le web analytique, c'est typiquement le terme marketing que tout le monde aime bien ressortir car il faut l'avouer, ça en jette mais c'est quoi réellement ? Et pourquoi plus de la moitié des sites qui se vantent de faire du web analytique n'en font pas réellement ? Différents sondages existent sur les motivations qui poussent les sites Internet à pratiquer le web analytique et la plupart des sites affirment que leur motivation première c'est avant tout de pouvoir analyser les chiffres clés de leur site afin de pouvoir les améliorer. Et il est vrai, plus de 90% des sites possèdent un outil de web analytique mais peu sont ceux qui prennent réellement le temps de traiter les informations obtenues.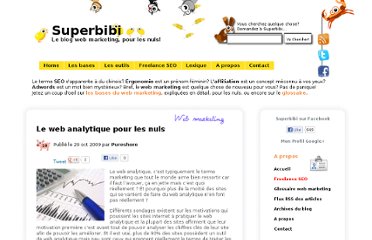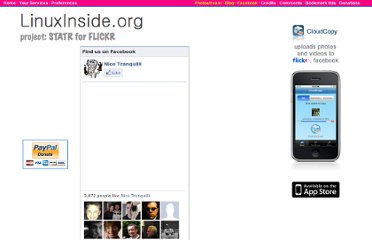 Using Statr for free? Join this page on Facebook! tracking page views for your Flickr account...