Reference Sites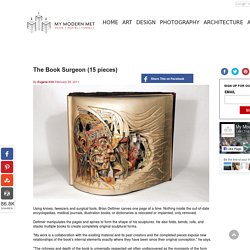 Using knives, tweezers and surgical tools, Brian Dettmer carves one page at a time. Nothing inside the out-of-date encyclopedias, medical journals, illustration books, or dictionaries is relocated or implanted, only removed. Dettmer manipulates the pages and spines to form the shape of his sculptures. He also folds, bends, rolls, and stacks multiple books to create completely original sculptural forms. "My work is a collaboration with the existing material and its past creators and the completed pieces expose new relationships of the book's internal elements exactly where they have been since their original conception," he says. "The richness and depth of the book is universally respected yet often undiscovered as the monopoly of the form and relevance of the information fades over time.
sconsin Information Network for Successful Schools - WINSS home page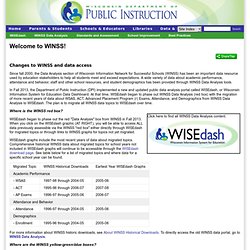 Since fall 2000, the Data Analysis section of Wisconsin Information Network for Successful Schools (WINSS) has been an important data resource used by education stakeholders to help all students meet and exceed expectations. A wide variety of data about academic performance, attendance and behavior, staff and other school resources, and student demographics has been provided through WINSS Data Analysis tools. In Fall 2013, the Department of Public Instruction (DPI) implemented a new and updated public data analysis portal called WISEdash, or Wisconsin Information System for Education Data Dashboard. At that time, WISEdash began to phase out WINSS Data Analysis (red box) with the migration of more recent years of data about WSAS, ACT, Advanced Placement Program (r) Exams, Attendance, and Demographics from WINSS Data Analysis to WISEdash. The plan is to migrate all WINSS data topics to WISEdash over time. Where is the WINSS red box?
Literacy Coaching Clearinghouse
Welcome to the Literacy Coaching Clearinghouse ARCHIVE website ! This site offers an array of policy and practice briefs and coaching tools for literacy coaches, teachers, administrators, and researchers. These archived materials provide ideas for practice and research.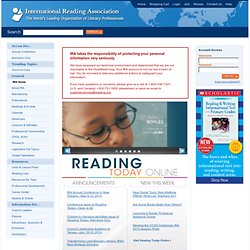 IRA takes the responsibility of protecting your personal information very seriously. We have assessed our technical environment and determined that we are not vulnerable to the Heartbleed bug. Your IRA account is not nor has it been at risk.
International Reading Association home page
As of July 1, 2013 ThinkQuest has been discontinued. We would like to thank everyone for being a part of the ThinkQuest global community: Students - For your limitless creativity and innovation, which inspires us all. Teachers - For your passion in guiding students on their quest. Partners - For your unwavering support and evangelism. Parents - For supporting the use of technology not only as an instrument of learning, but as a means of creating knowledge.
Write on Reader - Forms of Writing - Descriptive Writing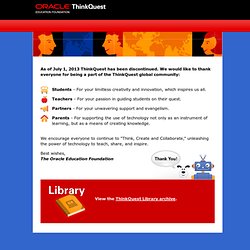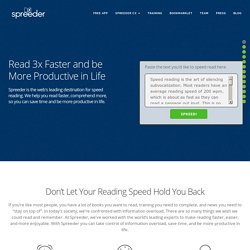 Spreeder is a free service provided by 7-Speed-ReadingTM. If you like this site, please have a look at our powerful 7 Speed Reading Software. Spreeder.com is a free online speed reading software designed to improve your reading speed and comprehension. Spreeding 1 word @ 300 wpm
Free Printable Flash Card Maker