Bolos e Tartes Doces
Massa básica para tartes doces – passo a passo | Anasbageri. By ana Esta receita é suficiente para forrar uma forma grande com 26/30 centímetros de diâmetro.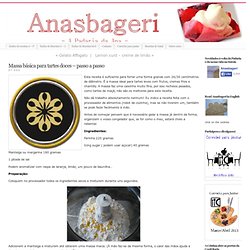 É a massa ideal para tartes leves com frutos, cremes frios e chantilly. Shortbread Lemon Tart Recipe. Easy, Elegant Tarts, Tartlets & Tassies. Key Lime Tart Celebrate sunny weather with this ultra-fresh dessert that gets its sweet-tart inspiration from lime juice, lime zest, and sweetened condensed milk.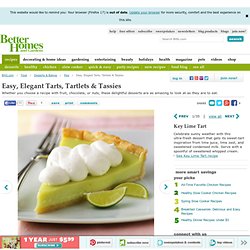 Serve with a spoonful of sweetened whipped cream. See Key Lime Tart recipe Honey Pistachio Tart Toasted pistachio nuts, dried fruit, and honey create a beautifully sweet filling to go inside a tender egg pastry. Sprinkle a bit of sugar over the lattice top before baking to add sparkle. See Honey Pistachio Tart recipe Bittersweet Chocolate-Caramel Tart Layers of homemade caramel filling and bittersweet chocolate ganache top a chocolate shortbread crust to create this stunning dessert. Receita de bolo de fécula da avó leonor. Receita de bolo de fécula da avó leonor Hoje é o dia do meu aniversário e sinto que o sol nasceu só para mim.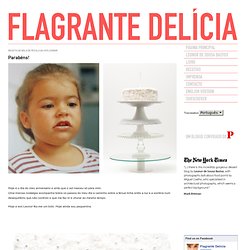 Uma imensa nostalgia acompanha todos os passos do meu dia e caminho sobre a ténue linha entre a luz e a sombra num desequilíbrio que não controlo e que me faz rir e chorar ao mesmo tempo. Hoje a avó Leonor fez-me um bolo. Bolo de fécula de batata, mais uma opção para os celíacos | Na medida. Por Marcia Cavalieri postado em 07/12/2012 às 17h00 Comentários (0) Um bolo fofo para acompanhar salada de fruta ou sorvete, excelente opção para sua festa | Foto: Marcia Cavalieri.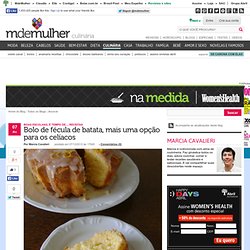 Yogi Cake | Ascension Kitchen. July 27, 2013 A raw chai cake with creamy lacuma, citrus and coconut.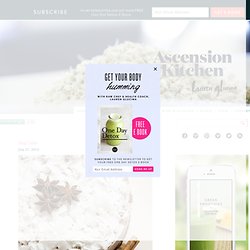 Oh yes. This cake is quite delicious. Deep dish chocolate peanut butter ice cream cake. Holy mega chocolate-peanut butter-gasms.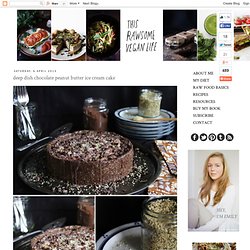 This is THE Ultimate Epic Healthy Cake (notice the official-looking capitalization there). I set out to make one cake to rule them all, and I think I succeeded. But you should be the judge. Make the recipe and tell me what you think. I would apologize for all the ice cream cakes I've been making lately... but that sentence just wouldn't make any sense: "I am sorry I have been making so many ice cream cake recipes. " Bolo de Maçã e Raspa de Limão | Umbigo Magazine. Para adoçar a semana, vamos preparar um bolo de maçã fresco e saboroso, tal como pedem estes dias de sol.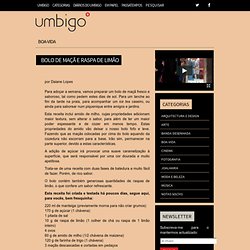 Para um lanche ao fim da tarde na praia, para acompanhar um ice tea caseiro, ou ainda para saborear num piquenique entre amigos e jardins. Esta receita inclui amido de milho, cujas propriedades adicionam maior textura, sem alterar o sabor, para além de ter um maior poder espessante e de cozer em menos tempo. Estas propriedades do amido vão deixar o nosso bolo fofo e leve. Fazendo que as maçãs colocadas por cima do bolo aquando da cozedura não escorram para a base. Skinny Raspberry Tart with Cinnamon Crust - Not Enough Cinnamon. Layered ice cream cake with chocolate, vanilla & peppermint. First of all - please listen to this exquisite album by Edward Sharpe and the Magnetic Zeros, it's incredibly beautiful and makes me cry.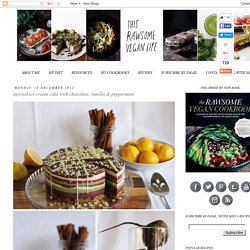 Secondly - this turned out fabulously, if I do say so myself (and I just did - so there.) I had a dream about this cake a few days ago and have been itching to make it ever since. When it comes down to it - this ice cream cake is mostly bananas. Coconut, ginger + mint tart with kiwi. This is delightful, refreshing and sweet like the summer sun.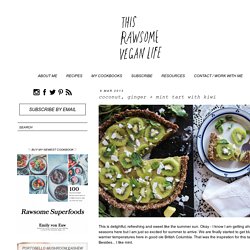 Okay - I know I am getting ahead of the seasons here but I am just so excited for summer to arrive. We are finally started to get blue sky and warmer temperatures here in good ole British Columbia. That was the inspiration for this tart. Lemon, lime & coconut cheesecake. You know how much i love cheesecake!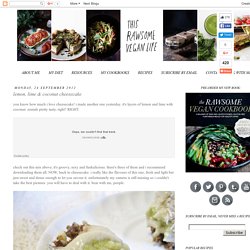 I made another one yesterday. it's layers of lemon and lime with coconut. sounds pretty tasty, right? RIGHT. check out this mix above; it's groovy, sexy and funkalicious. there's three of them and i recommend downloading them all. Strawberry banana cream cake with mint. You can feel GREAT about eating this cake because it's super healthy and has only simple, wholesome ingredients: fruit and nuts. Plus, it makes a cheerful, stunning dessert for any kind of party. Unless you are hosting a black-themed death metal get-together. Then you may want to consider making something else. The pink filling is strawberries and bananas and the creamy outside is a blend of cashews, dates and orange. I suppose you could say this was made in anticipation of the eminent summer, because it IS sunny today. Raw coconut lime tart. Spring is here! Although I'm not sure if the Northwest got the message. Yesterday was one of the rainiest days I've seen all year, interrupted only by a wild hail storm that left the earth dusted in white.
Oh wait…that's exactly what spring looks like in the Northwest. But I actually LOVE the spring in Oregon. Review: Sweet Carrot Pie with Chocolate Sauce (vegan) What a delicious treat this was! It is one of the many recipes we've cooked and enjoyed from Joahua Ploeg's adventure cookbook called 'In search of The Lost Taste'. I had never heard of sweet carrot pie before, and have been looking forward to making it for a long time. Bolo sem leite, sem glúten e sem ovo. Bolo sem leite, sem glúten e sem ovo Ingredientes: 1 copo cheio (200 ml) de sumo de tangirina (eu usei laranja); 1/2 copo (100 ml) de óleo; 1 copo cheio (200 ml) de açúcar;1 pitada de flor de sal;2 copos e 1/2 (500 ml) de farinha de arroz;1 colher de sopa bem cheia de fermento em pó;1 colher de café de farinha de linhaça (ela substitui o ovo).
Modo de Preparo:Bata todos os ingredientes no liquidificador;Coloque em uma forma untada com óleo;Leve ao forno médio, pré-aquecido, por cerca de 40 minutos, ou até dourar. Decorei com abacate batido com alfarroba e morangos. Key Lime Pie Recipe. Key Lime Pie is my favorite dessert so this is one of my favorite recipes. My family and I were in sunny Florida around the time of hurricane Irene and even she couldn't dampen the wonder of Disney. We were at the resort because my wife was attending a business conference and wanted us to join her for some rest and relaxation. We had a blast, especially my daughter Nell whose eyes were wide open from the moment we stepped off the plane.
Pumpkin Layer Cake.