Recyclage fibre de carbone
Www.cours.polymtl.ca/mec6306/Fibre de carbone.pdf. Recycling Technologies - Adherent Technologies. Adherent Technologies, Inc. has developed two distinct technologies for recycling: Vacuum cracking to process polymer-containing waste into raw materials Wet chemical breakdown of composite matrix resins to recover fibrous reinforcements.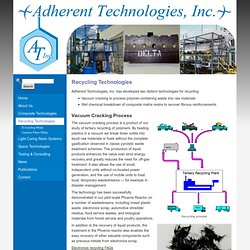 Vacuum Cracking Process. Docs/genie_mecanique/Mat%E9riaux/Plastiques%20et%20composites/Composites/Charges%20et%20fibres%20de%20renforcement/Fibres%20de%20carbone.pdf. Aircraft Fleet Recycling Association. The membership has a common goal and mission, which is the sustainable management of end-of-life airframes and engines.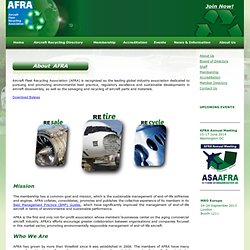 AFRA collates, consolidates, promotes and publishes the collective experience of its members in its Best Management Practice (BMP) Guides, which have significantly improved the management of end-of-life aircraft in terms of environmental and sustainable performance. AFRA is the first and only not-for-profit association whose members' businesses center on the aging commercial aircraft industry. AFRA's efforts encourage greater collaboration between organisations and companies focused in this market sector, promoting environmentally responsible management of end-of-life aircraft. AFRA has grown by more than threefold since it was established in 2006.
Boeing funds strategic collaboration for carbon fibre recycling - myScience / science wire. In desert 'aircraft graveyards', where retired planes often go when flight service ends, good parts are removed and sold and many materials are recycled.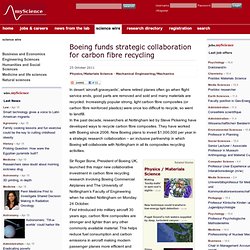 Increasingly popular strong, light carbon fibre composites (or carbon fibre reinforced plastics) were once too difficult to recycle, so went to landfill. In the past decade, researchers at Nottingham led by Steve Pickering have developed ways to recycle carbon fibre composites. They have worked with Boeing since 2006. Now Boeing plans to invest $1,000,000 per year in a strategic research collaboration – an inclusive partnership in which Boeing will collaborate with Nottingham in all its composites recycling activities. Sir Roger Bone, President of Boeing UK, launched this major new collaborative investment in carbon fibre recycling research involving Boeing Commercial Airplanes and The University of Nottingham's Faculty of Engineering when he visited Nottingham on Monday 24 October.
Www.boeing.com/commercial/aeromagazine/articles/qtr_4_08/pdfs/AERO_Q408_article02.pdf. Fibrecycle Publications. Www.fibrecycleproject.org.uk/LinkClick.aspx?fileticket=OYaFWL%2bmj7A%3d&tabid=72&mid=467. Trek Bicycle begins carbon fiber recycling program. Products such as the frame of this Trek Madone could find new life, as Trek Bicycle begins a carbon fiber recycling program Carbon fiber may boast an impressive strength-to-weight ratio, and it looks cool, but it does have at least one shortcoming when compared to other building materials – it's difficult to recycle.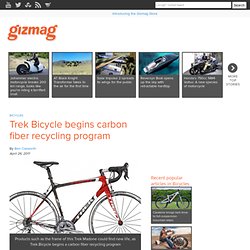 Nonetheless, Trek Bicycle has begun a program that will see much of the company's waste carbon fiber being sent to a specialized recycling facility, where it will be processed for use in other products. According to the Cyclingnews website, the initiative should keep up to 54,000 pounds (24,500 kg) of the material out of landfills and in use, every year. Trek initially entered into a three-month pilot project with South Carolina's Materials Innovation Technologies and its subsidiary, MIT-RCF. About Us : :: MIT-RCF :: MIT-RCF is a wholly owned subsidiary of Materials Innovation Technologies, a leading advanced materials company focused on developing innovative technical solutions for the manufacture of complex-shaped, performance composite parts.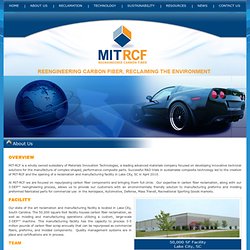 Successful R&D trials in sustainable composite technology led to the creation of MIT-RCF and the opening of a reclamation and manufacturing facility in Lake City, SC in April 2010. At MIT-RCF we are focused on repurposing carbon fiber components and bringing them full circle. Our expertise in carbon fiber reclamation, along with our 3-DEP™ reengineering process, allows us to provide our customers with an environmentally friendly solution to manufacturing preforms and molding preformed fabricated parts for commercial use in the Aerospace, Automotive, Defense, Mass Transit, Recreational Sporting Goods markets.
Recycled carbon fibre ltd. Elg.e2.compan.net/PDF/ELG-CF-waste-CFRP-packaging-and-delivery-guidelines-Jan12.pdf. A lifeline for waste carbon fibres. Scroll over image for caption Last month, Materials World carried a feature on the mechanisms being explored for recycling carbon fibre reinforced polymer composites.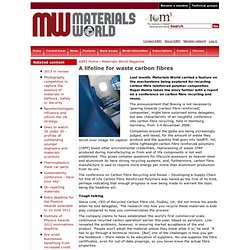 Rupal Mehta takes the story further with a report on a conference on carbon fibre recycling and reuse. The announcement that Boeing is not necessarily 'gearing towards [carbon fibre reinforced] composites', might have surprised some delegates, but was characteristic of an insightful conference into carbon fibre recycling, held in Hamburg, Germany, from 3-4 November 2009. Companies around the globe are being increasingly judged, and taxed, for the amount of waste they produce and the quantity that goes into landfill.
Yet, while lightweight carbon fibre reinforced polymers (CRFP) boast other environmental credentials, reprocessing of waste CFRP produced during manufacturing or from end of life components is not well established. Www.parliament.uk/documents/lords-committees/science-technology/st1milledcarbon.pdf. Dr Steven Pickering. Rcf Hamburg. Recylced Carbon FIber Analysis 2009. Chemical recycling of carbon fibre composites using alcohols under subcritical and supercritical conditions. Abstract Chemical recycling of carbon fibre reinforced composites (CFRCs) has been investigated using subcritical and supercritical alcohols as reactive-extraction media.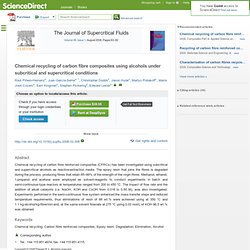 The epoxy resin that joins the fibres is degraded during the process, producing fibres that retain 85–99% of the strength of the virgin fibres. Methanol, ethanol, 1-propanol and acetone were employed as solvent-reagents to conduct experiments in batch and semi-continuous-type reactors at temperatures ranged from 200 to 450 °C.
High Value Composite Materials from Recycled CarbonFibre. Reinforced Plastics - Launching the carbon fibre recycling industry. 29 March 2010Vicki P.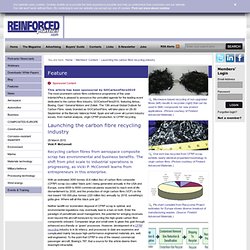 McConnell With an estimated 3000 tonnes (6.6 million lbs) of carbon fibre composite (CFRP) scrap (so-called 'black junk') being generated annually in the USA and Europe, some 6000 to 8000 commercial planes expected to reach end-of-life dismantlement by 2030, and the production of virgin carbon fibre (VCF) on the rise toward 100 000-plus tonnes (220 million lbs) annually by 2018, something's gotta give. Where will all this black junk go? Reinforced Plastics - Carbon fibre recycling and reuse. Thomas Hunter of Firebird Advanced Materials, a Raleigh, North Carolina, USA, research company, discussed the significant challenges facing recyclers and the need for collaboration and input from the supply chain in order to minimise costs.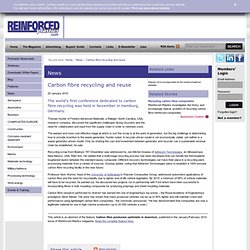 The easiest and most cost effective stage at which to sort the scrap is at the point of generation, but the big challenge is determining how to provide incentive to the waste generator, Hunter noted. A recycler-driven model is not economically viable, yet neither is a waste generator-driven model. Only by sharing the cost and investment between generator and recycler can a sustainable revenue chain be established, he said. Recycling scrap from Boeing's 787 Dreamliner was addressed by Jan-Michel Goseau of Adherent Technologies, an Albuquerque, New Mexico, USA, R&D firm. Reinforced Plastics - Carbon fibre producers optimistic in downturn.
Several of the largest carbon fibre producers reported sharp drops in sales in 2009 but remain optimistic for an upturn in 2010 and beyond.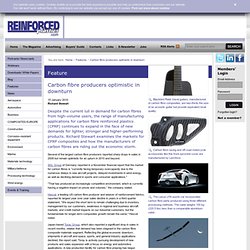 SGL Group of Germany reported in a November financial report that the market for carbon fibres is "currently facing temporary overcapacity due to the numerous delays in new aircraft projects, delayed investments in wind energy, as well as declining demand in sports and consumer applications. " "That has produced an increasingly competitive environment, which is currently having a negative impact on prices and volumes," the company stated.
Hexcel, a leading US carbon fibre producer and weaver of reinforcement fabrics, reported its largest year over year sales decline in years in a third quarter statement.
---
biomateriaux Sep 24 2010

Informations et documents sur les filières de recyclage des fibres de carbone