Pasta
How to cook the perfect spaghetti carbonara. A dish whose principal ingredients are eggs and bacon was always going to be a shoo-in for the British palate: certainly spaghetti carbonara was a regular in my dad's repertoire when pesto was only a glint in a supermarket buyer's eye.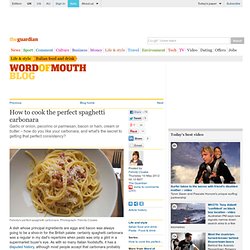 As with so many Italian foodstuffs, it has a disputed history, although most people accept that carbonara probably originated in, or near Rome. It's apparently named after the carbonai, or charcoal burners, allegedly because it was a favourite of these grimy men who spent months deep in the Apennines, relying on foodstuffs that could be easily transported, stored and then prepared over a fire.
Sophia Loren claims to have happened upon a group of these lucky fellows while filming Two Women in the mountains in the late fifties – who obligingly cooked her a slap-up carbonara lunch. Essential Weeknight Recipe: Quick Tomato Sauce with Pasta. Speaking of spices, I really like the flavor of smoked paprika in this dish.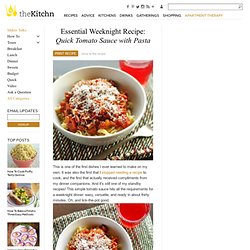 But that's me. I've also been known to throw in a teaspoon of chili powder for a Southwestern spin. Which is maybe a little weird, but I think it's tasty all the same. Pasta recipes | Hugh Fearnley-Whittingstall | Food and drink. Let's face it, you might as well be in the kitchen.
The biting cold and flint grey skies are not good for much – except maybe a 10-minute constitutional to bring on a raging appetite for something savoury and comforting. Or perhaps motivate you to teach yourself a new skill from which you can reap the heartiest of rewards. If you've never made your own pasta before, perhaps now's the time to start. I realise there are quite enough noisy chefs out there waving the Italian flag, and you really don't need me to join the olive oil-gargling, bunched fingertip-kissing, mamma mia-shouting throng.
But I do make my own pasta once in a while. Lunch. The vibrant and hustling streets of Tel Aviv are flooded with falafel stands.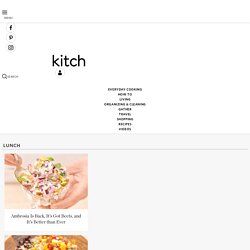 They usually open up shop around noon for the on-the-go lunch crowd and stay open late, catering to the energetic night owls looking for cheap grub. My father was born and raised in Tel Aviv and remembers going to the neighborhood cart and ordering the only thing they had: basic fried chickpea fritters, served in a white flour pita and topped with tahini, and maybe some chopped salad — if you were lucky.
Today's falafel options are endless. Storefronts offer organic varieties, whole wheat pita options, different flavors, colors, and extensive all-you-can-eat salad bars. Recipage. Recipage.
---