Lunch
Spinach Frittata Recipe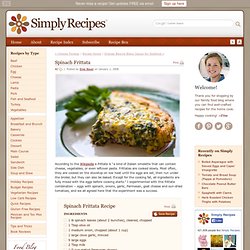 According to the Wikipedia a frittata is "a kind of Italian omelette that can contain cheese, vegetables, or even leftover pasta. Frittatas are cooked slowly. Most often, they are cooked on the stovetop on low heat until the eggs are set, then run under the broiler, but they can also be baked. Except for the cooking fat, all ingredients are fully mixed with the eggs before cooking starts." I experimented with this frittata combination – eggs with spinach, onions, garlic, Parmesan, goat cheese and sun-dried tomatoes, and we all agreed here that the experiment was a success. Ingredients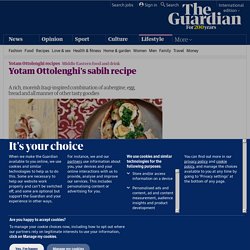 Yotam Ottolenghi's sabih: Eggy bread, but with a difference. Photograph: Aliki & Ania Iraqi immigrants to Israel in the early 1950s brought with them the fascinating combination of fried aubergine and hard-boiled egg stuffed into fresh pitta (along with plenty of other big-flavoured ingredients). It sounds weird, but it's one of the most exciting street foods you could wish to come across. This is a plated version. Zhoug is a wonderful Yemenite green chilli sauce, but to save time, a good commercial savoury chilli sauce will do.
Sabih | Yotam Ottolenghi | Life and style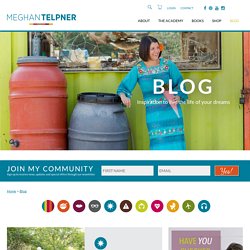 Treat your sweet tooth well this February – join us for Gluten + Dairy Free Treats on February 13th! What fun I had when Wilder Weir from Oh So Cosmo! (airing on Cosmo TV) came back to the kitchen for a visit. Remember the last time he was here ?
Making Love in the Kitchen » Must Watch! I Talk Detox and Poo Juice On TV. » Making Love in the Kitchen