Breads
Mexico in my Kitchen: How To Make Flour Tortillas Recipe/Receta de Comó Hacer Tortillas de Harina|Authentic Traditional Mexican Recipes Blog. Share on your social Networks, it only takes 5 seconds.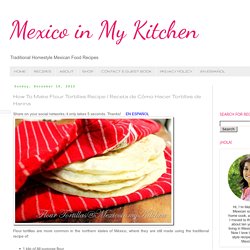 Thanks! Flour tortillas are more common in the northern states of México, where they are still made using the traditional recipe of:1 kilo of All purpose flour1/4 of a kilo shortening Hot water as needed A dash of baking powder A pinch of salt. Some cooks will omit the baking power. Panera Asiago Cheese Bagels Recipe. Ever have one of those days?
Surely everyone does at one point or another. It's a Monday morning, you're suffering on 5 or fewer hours of sleep, and new weekday expectations of productivity are bearing down on you. You forgot to eat breakfast because, well, you were too tired and out of it to consider grabbing a granola bar. A familiar throbbing feeling affects your foggy mind…ah yes, a headache. Eggnog Mini Loaves. More eggnog, I know.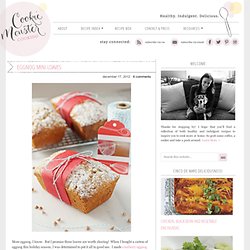 But I promise these loaves are worth sharing! When I bought a carton of eggnog this holiday season, I was determined to put it all to good use. I made cranberry eggnog coffee cake and eggnog waffles. Buttery Soft Pretzels Recipe. How To Make Croissants [Chocolate Croissants, Pumpkin Spice Croissants, and Cinnamon Sugar Croissants] I hope you're ready to see a billion underexposed photos of the same exact dough over and over and over again.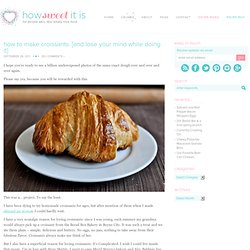 Please say yes, because you will be rewarded with this. This was a… project. To say the least. I have been dying to try homemade croissants for ages, but after mention of them when I made almond joy scones, I could hardly wait. クマちゃんパン :: 簡単レシピ検索 ヤプ!キッチン. The icing on the cake: Cake with mascarpone and matcha. Pare che la primavera sia arrivata due giorni fa, voi l'avete vista?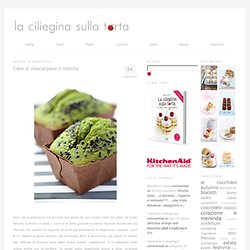 Gli alberi da frutto faticano a fiorire, il caldo, i colori e le belle giornate si stanno facendo desiderare più che mai. Per quanto mi riguarda ne avrei già abbastanza di maglioncini, cappotti, calze & co. Eppure si sente nell'aria, sta arrivando. Olive Garden style Bread sticks. Panda Bread Recipe. Garlic Rosemary Bread. The smell of homemade bread, dear goodness, there's almost nothing better.
Except maybe the smell of butter baking, maaayyyybe that's better. Try adding flavors, like rosemary and garlic. Oh shoot, that's some good stuff! After making fresh bread, you feel lame ever buying it again. Not just because homemade tastes FAR superior, but because it's THAT easy. Recipes for Authentic Cooking - SAVEUR.com. Crusty Bread. I must begin by saying where the recipe originated, if in fact it originated anywhere...really.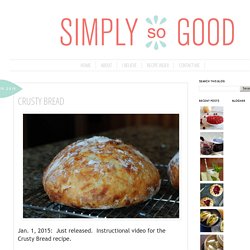 I think bread has been baked for centuries using flour, salt, water, and yeast or other form of leavening. As far as I know the recipe for "No-Knead" bread dough was printed in the New York times. Onion & Cheese Bread - StumbleUpon. This bread is simply delicious.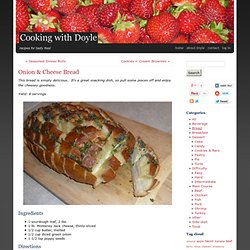 It's a great snacking dish, so pull some pieces off and enjoy the cheesey goodness. Yield: 8 servings Ingredients 1 sourdough loaf, 2 lbs.1 lb. Monterey Jack cheese, thinly sliced1/2 cup butter, melted1/2 cup diced green onion1 1/2 tsp poppy seeds. Homemade Bread Animals. » Tangy Lemon Curd The Endless Meal. As I write this post today I sit here with my wooliest sweater on, a steaming mug of hot lemon ginger tea by my side, and my faux fur lined aviator style toque on my head.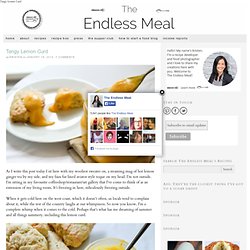 I'm not outside. I'm sitting in my favourite coffeeshop/restaurant/art gallery that I've come to think of as an extension of my living room. It's freezing in here, ridiculously freezing outside. When it gets cold here on the west coast, which it doesn't often, us locals tend to complain about it, while the rest of the country laughs at our whimpiness. Thompson Family Dinner Rolls. Many families have their own coveted recipes that have been passed down through the generations.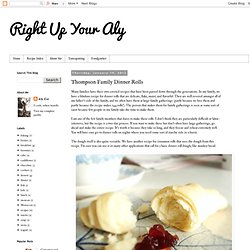 In my family, we have a fabulous recipe for dinner rolls that are delicate, flaky, moist, and flavorful. They are well revered amongst all of my father's side of the family, and we often have them at large family gatherings (partly because we love them and partly because the recipe makes 144 rolls!). The person that makes them for family gatherings is seen as some sort of saint because few people in my family take the time to make them. I am one of the few family members that dares to make these rolls. I don't think they are particularly difficult or labor-intensive, but the recipe is a two-day process. Rosemary and Black Pepper Dinner Rolls. Homemade bread is second only to ice cream on my list of "Things I'm so Glad I Can Make at Home." Seriously, there's not much that beats the smell of homemade bread. Because we're moving soon (by the way, we bought a house!) Amazing Artisan Bread for 40 Cents a Loaf - No Kneading, No Fussing, No Kidding.
What if I told you that instead of buying bakery bread for four or five dollars a loaf, you could make delicious handmade bread whenever you wanted, at a fraction of the cost and it is so easy a kid could do it? Well, read on because this method of making artisan bread at home will change your life. You can make incredible bread without having to do all the usual time consuming tasks of breadmaking : no need to make a new batch of dough every time you want breadno need to proof yeastno need to make starters or prefermented doughno kneading! Daily Bread. To make all of these Instructables, download this collection of How To's as an ebook. Download » Daily Bread gives you full step-by-step instructions for baking 26 amazing breads, dark to light, from around the world.
The Pastry Affair - Home - Cranberry Chocolate Chip Cupcakes. Today I learned the real difference between cupcakes and muffins. I can certainly tell the difference between cupcakes and muffins once I have one in my mouth (if there is any question to begin with), but I never took the time to actually define them individually. This is what I've learned. Cupcakes are typically frosted and decorated, though this is not necessary. The Pastry Affair - Home - Honey Rolls. The Pastry Affair - Home - Garlic Parmesan Pull-Apart Bread. Best Ever Blueberry Muffins.
Rosemary and Garlic Butter Rolls. For Easter: Italian Easter Pie, "Torta Pasqualina" Cilantro and Coriander Seed Naan. Blini – Traditional Russian Pancakes | Atebites. Hobo Eclairs | Newlyweds and Nesting: Elizabeth Anne Designs Living: A Food,... Homemade Soft Pretzel Bites. 28 Muffin Recipes You&ll Want to Try. Cinnamon Sugar Pull-Apart Bread.
Garlic Knots. Rainy day gal & bacon cinnamon rolls. Perfect Pandas » Blog Archive » Panda Bread. Quick crusty bread. Parmesan Garlic Biscuits | Coffee Break with Liz and Kate.
---