Recherche/Découverte Musicale
MusicBox - Search Less, Discover More. Recordlective. Selekter - Service de recommandation musicale humaine. Please Login - Solayo. Musiques de pub | Les musiques des pubs qui nous font lever la tête vers la télé. Muzi.ch - Découvrez et partagez la musique ! The License Lab : Search. Navegas: Music. AllMusic : Music Search, Recommendations, Videos and Reviews. Inflooenz, a path to musical influences discovery. Soundytics. Discover – Last. Tags.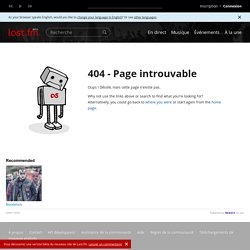 Click on a style of music you want to explore, or use the search box to find specific tags. When you've found a tag you like, press play. Artists. Once you start listening you'll see the field fill with tracks in that musical style. 300 millions de musiques à écouter gratuitement - Musique illimitée - Soundzit.com. Just hear it - Any song. Legal. Free. The strokes - someday. Fizy.com Sorry, we're not available in your country yet.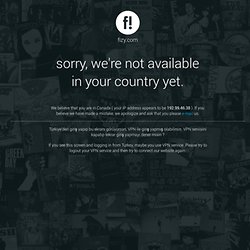 We believe that you are in Canada ( your IP address appears to be 192.99.46.38 ). Online radio | Listen to free music at AUPEO! Search music. iHipHop - Exclusive Hip Hop News, Audio, Videos, Free Mixtapes, and More! Discogs - Database and Marketplace for Music on Vinyl, CD, Cassette, MP3 and More. Msearch | Find your stream. 8tracks | Handcrafted internet radio.
I Want A DJ Mix Now ! PureVolume™ | We're Listening To You. How Much Do You Know About Your Favourite Music? | The Beardscratchers Compendium of Music. Latest Songs From MP3 & Music Blogs / The Hype Machine. World Music Site | Search | Playlist. Noiset.com | Music Search Engine: Download albums and songs from. Discuss. discover. listen. / blaster.fm. Hitlantis. Who's next? Track In The Box. About Track In The Box is a daily music newsletter… …that helps you cut through the multitude of music blogs and aggregators out there to help you discover (and sometimes rediscover) great bands; it's an effortless way of finding music without having to trawl through the multitudes of blogs.
YAY! Mixest. SoundReady.fm - Name a band, get a playlist for their next show. Boom, it's that easy. Inflooenz, a path to musical influences discovery. ViddyJam. Musikki beta. TuneGlue° | Relationship Explorer. iSound.com/
---