Recent SynBio papers
Foundations for the design and implementation of synthetic genetic circuits : Abstract : Nature Reviews Genetics
Efficient and sequence-independent ... [Proc Natl Acad Sci U S A. 2012
Foundations for the design and implementation of synthetic genetic circuits : Abstract : Nature Reviews Genetics
Natural strategies for the spatial optimizatio... [Nat Chem Biol. 2012
Natural strategies for the spatial optimizatio... [Nat Chem Biol. 2012
Rapid and orthogonal logic gating with a gibbe... [Nat Chem Biol. 2012
Rapid and orthogonal logic gating with a gibbe... [Nat Chem Biol. 2012
A Programmable Dual-RNA–Guided DNA Endonuclease in Adaptive Bacterial Immunity
Clustered regularly interspaced short palindromic repeats (CRISPR)/CRISPR-associated (Cas) systems provide bacteria and archaea with adaptive immunity against viruses and plasmids by using CRISPR RNAs (crRNAs) to guide the silencing of invading nucleic acids. We show here that in a subset of these systems, the mature crRNA that is base-paired to trans-activating crRNA (tracrRNA) forms a two-RNA structure that directs the CRISPR-associated protein Cas9 to introduce double-stranded (ds) breaks in target DNA. At sites complementary to the crRNA-guide sequence, the Cas9 HNH nuclease domain cleaves the complementary strand, whereas the Cas9 RuvC-like domain cleaves the noncomplementary strand. The dual-tracrRNA:crRNA, when engineered as a single RNA chimera, also directs sequence-specific Cas9 dsDNA cleavage.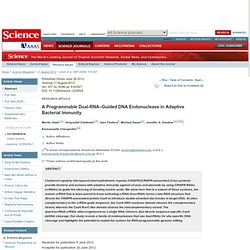 Reprogramming the Genetic Code
Synthetic Biology: Mapping the Scientific Landscape
Results The Rise of Synthetic Biology As of January 2012 a total of 1,255 publications were listed in Web of Science for synthetic biology and synthetic genomics in the period to the end of December 2011 ( Figure 1 ).
Genetic information storage and processing rely on just two polymers, DNA and RNA, yet whether their role reflects evolutionary history or fundamental functional constraints is currently unknown. With the use of polymerase evolution and design, we show that genetic information can be stored in and recovered from six alternative genetic polymers based on simple nucleic acid architectures not found in nature [xeno-nucleic acids (XNAs)]. We also select XNA aptamers, which bind their targets with high affinity and specificity, demonstrating that beyond heredity, specific XNAs have the capacity for Darwinian evolution and folding into defined structures. Thus, heredity and evolution, two hallmarks of life, are not limited to DNA and RNA but are likely to be emergent properties of polymers capable of information storage.
Synthetic Genetic Polymers Capable of Heredity and Evolution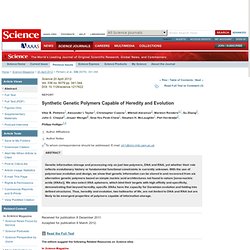 Synthetic Genetic Polymers Capable of Heredity and Evolution
Q&A: Circuit capacity : Nature
Abstract Gene expression actualizes the organismal phenotypes encoded within the genome in an environment-dependent manner. Among all encoded phenotypes, cell population growth rate (fitness) is perhaps the most important, since it determines how well-adapted a genotype is in various environments. Traditional biological measurement techniques have revealed the connection between the environment and fitness based on the gene expression mean. Yet, recently it became clear that cells with identical genomes exposed to the same environment can differ dramatically from the population average in their gene expression and division rate (individual fitness).
Mapping the Environmental Fitness Landscape of a Synthetic Gene Circuit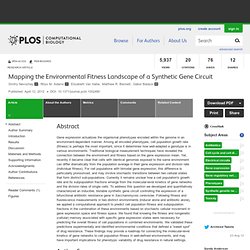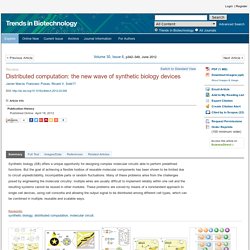 Trends in Biotechnology - Distributed computation: the new wave of synthetic biology devices
Distributed computation: the new wave of synthetic biology devices Volume 30, Issue 6 , Pages 342-349, Publication Date 18 April 2012 Copyright © 2012 Elsevier Ltd All rights reserved. DOI: 10.1016/j.tibtech.2012.03.006 Javier Macía
Rationally designed families of orthogonal RNA... [Nat Chem Biol. 2012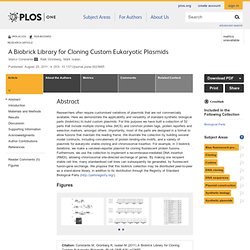 Researchers often require customised variations of plasmids that are not commercially available. Here we demonstrate the applicability and versatility of standard synthetic biological parts (biobricks) to build custom plasmids. For this purpose we have built a collection of 52 parts that include multiple cloning sites (MCS) and common protein tags, protein reporters and selection markers, amongst others. Importantly, most of the parts are designed in a format to allow fusions that maintain the reading frame.
A Biobrick Library for Cloning Custom Eukaryotic Plasmids
MIT-CSAIL-TR-2012-008
Abstract Cellular efficiency in protein translation is an important fitness determinant in rapidly growing organisms. It is widely believed that synonymous codons are translated with unequal speeds and that translational efficiency is maximized by the exclusive use of rapidly translated codons. Here we estimate the in vivo translational speeds of all sense codons from the budding yeast Saccharomyces cerevisiae . Surprisingly, preferentially used codons are not translated faster than unpreferred ones. We hypothesize that this phenomenon is a result of codon usage in proportion to cognate tRNA concentrations, the optimal strategy in enhancing translational efficiency under tRNA shortage.
Balanced Codon Usage Optimizes Eukaryotic Translational Efficiency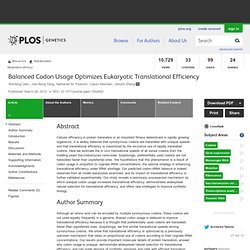 Current Opinion in Biotechnology - A retrosynthetic biology approach to therapeutics: from conception to delivery
Engineering Molecular Circuits Usin... [Annu Rev Chem Biomol Eng. 2012
Integrated Electromicrobial Conversion of CO2 to Higher Alcohols
1203808109.full
Rationally designed families of orthogonal RNA... [Nat Chem Biol. 2012
† School of Biological and Health Systems Engineering, Arizona State University , Tempe, Arizona 85287, United States ‡ Laboratory of Cellular and Molecular Engineering, University of Bologna , I-47521 Cesena, Italy § Department of Systems Biology, Harvard Medical School , Boston, Massachusetts 02115, United States
A Sensitive Switch for Visualizing Natural Gene Silencing in Single Cells - ACS Synthetic Biology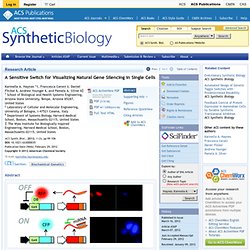 Signaling-mediated bacterial persister formation. [Nat Chem Biol. 2012
Signaling-mediated bacterial persister formation. [Nat Chem Biol. 2012
Generation of a Synthetic Memory Trace
The Imaginary Mind of a Mouse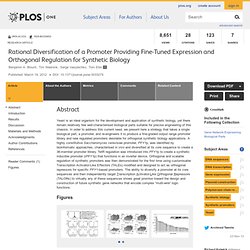 Yeast is an ideal organism for the development and application of synthetic biology, yet there remain relatively few well-characterised biological parts suitable for precise engineering of this chassis. In order to address this current need, we present here a strategy that takes a single biological part, a promoter, and re-engineers it to produce a fine-graded output range promoter library and new regulated promoters desirable for orthogonal synthetic biology applications. A highly constitutive Saccharomyces cerevisiae promoter, PFY1 p, was identified by bioinformatic approaches, characterised in vivo and diversified at its core sequence to create a 36-member promoter library.
Rational Diversification of a Promoter Providing Fine-Tuned Expression and Orthogonal Regulation for Synthetic Biology
1108.3752
Phase transitions in the assembly of multivalent sign... [Nature. 2012
Synthetic Biology: Bits and pieces come to life : Nature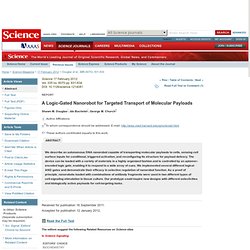 We describe an autonomous DNA nanorobot capable of transporting molecular payloads to cells, sensing cell surface inputs for conditional, triggered activation, and reconfiguring its structure for payload delivery. The device can be loaded with a variety of materials in a highly organized fashion and is controlled by an aptamer-encoded logic gate, enabling it to respond to a wide array of cues. We implemented several different logical AND gates and demonstrate their efficacy in selective regulation of nanorobot function. As a proof of principle, nanorobots loaded with combinations of antibody fragments were used in two different types of cell-signaling stimulation in tissue culture. Our prototype could inspire new designs with different selectivities and biologically active payloads for cell-targeting tasks.
A Logic-Gated Nanorobot for Targeted Transport of Molecular Payloads
An Engineered Microbial Platform for Direct Biofuel Production from Brown Macroalgae
Synthetic biology: Simplifying design. [Nat Rev Genet. 2012
A sensing array of radically coupled genetic 'biopixels' [Nature. 2011
Microfluidic biofilm engineering circuit The microfluidic biofilm engineering (μBE) signalling circuit was constructed in E. coli using two engineered biofilm-dispersing proteins, Hha13D6 (ref. 15 ) and BdcAE50Q 16 , along with the P. aeruginosa LasI/LasR QS system ( Fig. 1a ) for use in the novel microfluidic device ( Fig. 1b ) . E. coli hha 31 was used as the host as deletion of hha increases biofilm formation 14 and provides a background in which there is no wild-type Hha. Lactococcal promoter CP25 32 was used as the strong constitutive promoter for two of the three proteins on each plasmid.
Synthetic quorum-sensing circuit to control consortial biofilm formation and dispersal in a microfluidic device : Nature Communications
Model-Driven Engineering of RNA Devices to Quantitatively Program Gene Expression
Model-Driven Engineering of RNA Devices to Quantitatively Program Gene Expression
Emerging biomedical applications of synthetic biology : Abstract : Nature Reviews Genetics
In silico feedback for in vivo regulation of a gene expression circuit : Nature Biotechnology
Science Translational Medicine stm.sciencemag.org Sci Transl Med 26 October 2011: Vol. 3, Issue 106, p. 106ps42 Sci. Transl. Med. DOI: 10.1126/scitranslmed.3002944 Perspective Bioengineering
From DNA to Targeted Therapeutics: Bringing Synthetic Biology to the Clinic
Author Affiliations Edited by Peter J. Bickel, University of California, Berkeley, CA, and approved July 27, 2011 (received for review December 1, 2010) Abstract Here we introduce a new design framework for synthetic biology that exploits the advantages of Bayesian model selection. We will argue that the difference between inference and design is that in the former we try to reconstruct the system that has given rise to the data that we observe, whereas in the latter, we seek to construct the system that produces the data that we would like to observe, i.e., the desired behavior.
Bayesian design of synthetic biological systems
Biomimetic self-templating supramolecular structures : Nature
Affiliations Department of Bioengineering, University of California, Berkeley, California 94720, USA Woo-Jae Chung, Jin-Woo Oh, Kyungwon Kwak, Byung Yang Lee, Eddie Wang & Seung-Wuk Lee Physical Biosciences Division, Lawrence Berkeley National Laboratory, Berkeley, California 94720, USA Woo-Jae Chung, Jin-Woo Oh, Kyungwon Kwak, Byung Yang Lee, Joel Meyer, Eddie Wang & Seung-Wuk Lee Advanced Light Source, Lawrence Berkeley National Laboratory, Berkeley, California 94720, USA Alexander Hexemer Contributions W.J.C. and S.W.L. designed the project. W.J.C. developed and optimized the phage assembly method. W.J.C., J.W.O., K.K., B.Y.L., J.M., A.H. and S.W.L. performed optical characterization and analysis.
Engineering modular and orthogonal genetic logic gates for robust digital-like synthetic biology : Nature Communications
Circuit design and control components characterization The AND gate ( Fig. 1 ; Supplementary Fig. S1 ) comprises two co-activating genes hrpR and hrpS and one σ 54 -dependent hrpL promoter, and can integrate two interchangeable environmental signal inputs to generate one interchangeable output.
Cascades of multisite phosphorylation control Sic1 destruction at the onset of S phase : Nature
Arming yeast for synthetic biology : Nature Biotechnology
Sequential Establishment of Stripe Patterns in an Expanding Cell Population
110118_imaginenano
nanoBioMed2011_Douglas_Shawn_shawn.douglas
Synthetic biology: Minimal cell mimicry : Nature Chemistry
Synthetic chromosome arms function in yeast and generate phenotypic diversity by design : Nature
Synthetic biology: A yeast for all reasons : Nature
Genetics: More options for gene editing : Nature Methods
Diffraction-unlimited all-optical imaging and writing with a photochromic GFP : Nature
Yeast thrives with partially synthetic genome : Nature News
Access : Synthetic chromosome arms function in yeast and generate phenotypic diversity by design : Nature
Access : Synthetic biology: Licensing bacteria to kill : Nature Reviews Microbiology
Entrainment of a Population of Synthetic Genetic Oscillators
Multi-Input RNAi-Based Logic Circuit for Identification of Specific Cancer Cells
Chemical and Genetic Engineering of Selective Ion Channel–Ligand Interactions
A Grand Challenge in Biology
Science Magazine: Sign In
Science Magazine: Sign In
Science Magazine: Sign In
Science Magazine: Sign In
Science Magazine: Sign In
Science Magazine: Sign In
Science Magazine: Sign In
Science Magazine: Sign In
The Allure of Synthetic Biology
Synthetic biology: Bacteria engineered to kill : Nature
Expanding the Genetic Code of Escherichia coli with Phosphoserine
Automatic Compilation from High-Level Biologically-Oriented Programming Language to Genetic Regulatory Networks
Synergies between synthetic biology and metabolic engineering : Nature Biotechnology
DNA-based programming of quantum dot valency, self-assembly and luminescence : Nature Nanotechnology
Bringing It Together with RNA
Organization of Intracellular Reactions with Rationally Designed RNA Assemblies
Methods in Enzymology : Multiplexed Genome Engineering and Genotyping Methods : : Applications for Synthetic Biology and Metabolic Engineering
Chip chips away at the cost of a genome : Nature News
Neural network computation with DNA strand displacement cascades : Nature
Precise Manipulation of Chromosomes in Vivo Enables Genome-Wide Codon Replacement
Microfluidic technologies for synthetic biology. [Int J Mol Sci. 2011] - PubMed result
GoldenBraid: An Iterative Cloning System for Standardized Assembly of Reusable Genetic Modules
SCRM paper - revision draft 13 - Powered by Google Docs
Organization of Intracellular Reactions with Rationally Designed RNA Assemblies
Synthetic Physiology
A Synthetic Optogenetic Transcription Device Enhances Blood-Glucose Homeostasis in Mice
Structure-based design of non-natural amino-acid inhibitors of amyloid fibril formation : Nature
Scaling Up Digital Circuit Computation with DNA Strand Displacement Cascades
Synthetic Biology | Mendeley Group
Amit_2010
Boston University: Applied BioDynamics Laboratory
Engineering microbial biofuel tolerance
tunable_signal
Informing Biological Design by Integration of Systems and Synthetic Biology
In silico feedback for in vivo regulation of a gene expression circuit : Nature Biotechnology
In silico feedback for in vivo regulation of a gene expression circuit : Nature Biotechnology
In silico feedback for in vivo regulation of a gene expression circuit : Nature Biotechnology