Recent EU-based VC fundraising & invt
Fidelity collects £100m for first fund dedicated to Europe. Fidelity Growth Partners Europe has picked up £100m (€111.8m) for its first fund dedicated exclusively to investments on the continent, reflecting what the firm sees as the maturity of the European venture capital market in the territory.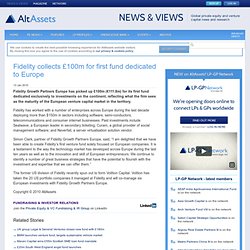 Fidelity has worked with a number of enterprises across Europe during the last decade deploying more than $150m in sectors including software, semi-conductors, telecommunications and consumer internet businesses. Past investments include Seatwave, a European leader in secondary ticketing; Curam, a global provider of social management software; and Neverfail, a server virtualisation solution vendor. Simon Clark, partner of Fidelity Growth Partners Europe, said, "I am delighted that we have been able to create Fidelity's first venture fund solely focused on European companies. Highland Capital closes $400M Fund. Highland Capital has closed its eighth fund, worth $400 million.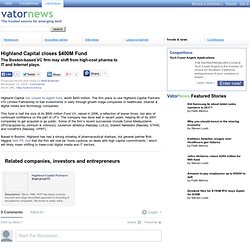 The firm plans to use Highland Capital Partners VIII Limited Partnership to fuel investments in early through growth stage companies in healthcare, internet & digital media and technology companies. This fund is half the size of its $800 million Fund VII, raised in 2006, a reflection of leaner times, but also of continued confidence on the part of LP's. The company has done well in recent years, helping 90 of its 200+ companies to get acquired or go public. Some of the firm's recent successes include Conor Medsystems (IPO/acquired by Johnson & Johnson), lululemon athletica (Nasdaq: LULU), Starent Networks (Nasdaq: STAR) and VistaPrint (Nasdaq: VPRT). Technology - Skype founders raise $165m for new fund. Niklas Zennström and Janus Friis, the founders of Skype, have raised a new venture capital fund for investing in so-called "disruptive" early-stage European technology.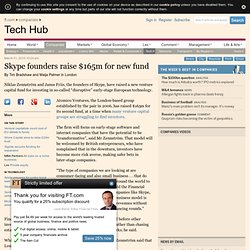 Atomico Ventures, the London-based group established by the pair in 2006, has raised $165m for its second fund, at a time when many venture capital groups are struggling to find investors. The firm will focus on early-stage software and internet companies that have the potential to be "transformative", said Mr Zennström. That model will be welcomed by British entrepreneurs, who have complained that in the downturn, investors have become more risk averse, making safer bets in later-stage companies.
Index Ventures returns to roots with seed investment initiative. European firm Index Ventures is to return its sights to early stage investing as falling costs increase the profitability of seed technology investment.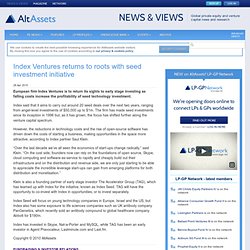 Index said that it aims to carry out around 20 seed deals over the next two years, ranging from angel-level investments of $50,000 up to $1m. The firm has made seed investments since its inception in 1996 but, as it has grown, the focus has shifted further along the venture capital spectrum. However, the reductions in technology costs and the rise of open-source software has driven down the costs of starting a business, making opportunities in the space more attractive, according to Index partner Saul Klein. Nordic investor Conor reaches €46.5m first close of early stage. Finland early stage investor Conor Venture Partners has reached the first close of its second fund targeting technology investments in the Nordic and Baltic regions.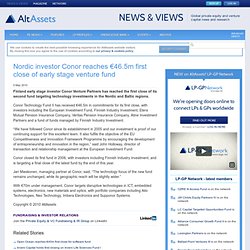 Conor Technology Fund II has received €46.5m in commitments for its first close, with investors including the European Investment Fund, Finnish Industry Investment, Etera Mutual Pension Insurance Company, Veritas Pension Insurance Company, Atine Investment Partners and a fund of funds managed by Finnish Industry Investment. "We have followed Conor since its establishment in 2005 and our investment is proof of our continuing support for this excellent team. It also fulfils the objective of the EU Competitiveness and Innovation Framework Programme by encouraging the development of entrepreneurship and innovation in the region," said John Holloway, director of transaction and relationship management at the European Investment Fund. Atlas are leaving, but there is money in Europe | The Equity Kic. Many of you will have seen yesterday's news that Atlas Ventures is, in the words of Techcrunch, 'upping sticks and moving to Boston'.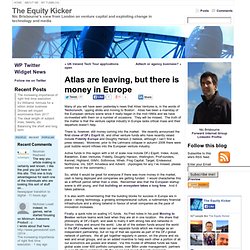 Atlas has been a mainstay of the European venture scene since it really began in the mid-1990s and we have co-invested with them on a number of occasions. They will be missed. The truth of the matter is that the venture capital industry in Europe lacks critical mass and their departure doesn't help. There is, however, still money coming into the market. Le bilan du capital risque français en 2009 - Journal du Net e-B. Late 2009, Early 2010 Venture Capital deals in Europe | TheStart. Recent VC deals in Continental Europe. AppsFire Draws In Some French Angels To Bankroll Mobile App Reco. With more than 140,000 apps on the iPhone alone, there is a real need for services which help you find the best apps.
Apple's iTunes ratings and genius recommendations only go so far. One startup attacking this problem is French-Israeli AppsFire, which just raised its first angel round. AppsFire was co-founded by former TechCrunch France editor Ouriel Ohayon and Yann Lechelle. The investors are a group of successful French entrepreneurs (yes, they exist), including Marc Simoncini (CEO of dating site meetic.com), Jacques-Antoine Granjon (CEO of Vente-Privee.com), Xavier Niel (CEO of French ISP Free), and entrepreneur and angel investor Jean-David Blanc (who also recently invested in Square). Marc Simoncini et Xavier Niel investissent dans Tokup.fr - Journ. Labotec Raises Funding For Crowd-Sourced Mobile App Development. Miami, Florida-based Labotec has landed a round of funding from Kima Ventures, a European early-stage investment fund founded by entrepreneurs and angel investors Jeremie Berrebi (Zlio, Net2One) and Square backer Xavier Niel (Free, Iliad).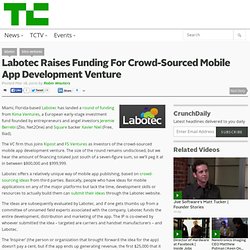 The VC firm thus joins Kipost and FS Ventures as investors of the crowd-sourced mobile app development venture. The size of the round remains undisclosed, but we hear the amount of financing totaled just south of a seven-figure sum, so we'll peg it at in between $800,000 and $999,999. Labotec offers a relatively unique way of mobile app publishing, based on crowd-sourcing ideas from third parties. Kima Ventures investit dans iAdvize - Journal du Net > e-Busines. Kima Venture investit dans iAdvize, une start-up nantaise fondée par deux anciens de Zlio, qui propose un service de chat commercial.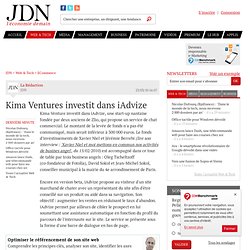 Le montant de la levée de fonds n'a pas été communiqué, mais serait inférieur à 300 000 euros. Le fonds d'investissements de Xavier Niel et Jérémie Berrebi (lire son interview : 'Xavier Niel et moi mettons en commun nos activités de busines angel', du 15/02/2010) est accompagné dans ce tour de table par trois business angels : Oleg Tscheltzoff (co-fondateur de Fotolia), David Sokol et Jean-Michel Sokol, conseiller municipal à la mairie du 4e arrondissement de Paris. Encore en version beta, iAdvize propose au visiteur d'un site marchand de chater avec un représentant du site afin d'être conseillé sur un produit ou aidé dans sa navigation. Index Ventures creates seed fund with Kleins at the helm. In the wake of today's news that Index Ventures is to launch a new seed fund on Monday focusing on early stage with The Accelerator Group, TAG founder Robin Klein spoke exclusively to TechCrunch Europe about how the new vehicle will operate.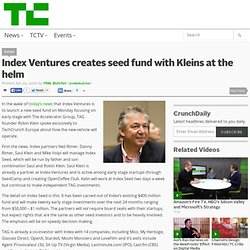 First the news. Index partners Neil Rimer, Danny Rimer, Saul Klein and Mike Volpi will manage Index Seed, which will be run by father and son combination Saul and Robin Klein. Saul Klein is already a partner at Index Ventures and is active among early stage startups through SeedCamp and creating OpenCoffee Club. Kelin will work at Index Seed two days a week but continue to make independent TAG investments. Criteo lève 5 millions d'euros pour percer aux Etats-Unis - Jour. Index Ventures Blog – Groupspaces funding.
---