Realtime & crowdsourced maps
Active Fire Data | EOSDIS - Earth Data Website. Download shape files of MODIS active fire data for the last 24 and 48 hours, and 7 days.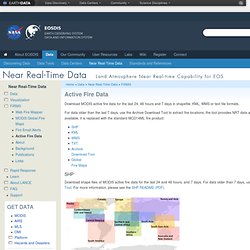 For data older than 7 days, use the Archive Download Tool. For more information, please see the SHP README (PDF). Download Keyhole Markup Language files of MODIS active fire data for the last 24 hours and 48 hours. An auto-updating KML is available for visualization of the active fire/hotspot detections for most parts of the world for the last 24 hours. Current Situation. OpenStreetMap. OpenSignalMaps. FixMyStreet. CITYSOURCED. Tech Speeds Humanitarian Response.
RIO DE JANEIRO -- Amid discussions Tuesday of ways social media can be used to ensure a sustainable future for the planet, one Rio+Social conversation emphasized how technology is accelerating and improving humanitarian relief.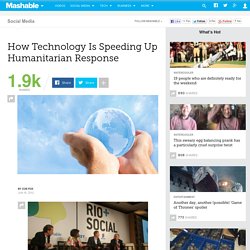 Antonia Guterres, U.N. high commissioner for refugees, Hans Vestberg, CEO of Ericsson, and Ertharin Cousin, executive director of the World Food Programme discussed how their respective organizations use technology to address the world's challenges, in a panel moderated by Robb Skinner, associate director of the U.N.
Foundation. Ushahidi :: Home. Crisis Commons. Crisis Mappers Net. Crowdmap. What Exactly Is Crowdmap?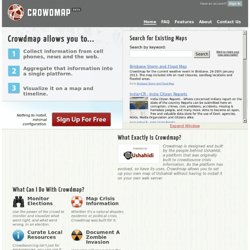 Crowdmap is designed and built by the people behind Ushahidi, a platform that was originally built to crowdsource crisis information. As the platform has evolved, so have its uses. Crowdmap allows you to set up your own map of Ushahidi without having to install it on your own web server. Crowd sourced stats. Everybody knows the crowd sourced open street map.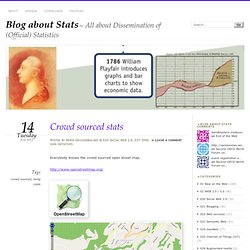 There are also a crowd sourced stats: numbeo. Self declaration of is as follows: 'Numbeo is the biggest free database of user contributed data about cities and countries worldwide, especially living conditions: cost of living, housing indicators, health care systems, traffic, crime and pollution.' ICT in Conflict & Disaster Response and Peacebuilding. iRevolution BLOG.
DeadUshahidi: Neither Dead Right Nor Dead Wrong. There's a new Crowdmap in town called DeadUshahidi.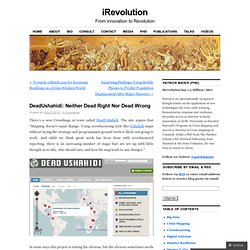 The site argues that "Mapping doesn't equal change. Using crowdsourcing tech like Ushahidi maps without laying the strategic and programmatic ground work is likely not going to work. And while we think great work has been done with crowdsourced reporting, there is an increasing number of maps that are set up with little thought as to why, who should care, and how the map leads to any changes." In some ways this project is stating the obvious, but the obvious sometimes needs repeating. Surprising Findings: Using Mobile Phones to Predict Population Displacement After Major Disasters. Rising concerns over the consequences of mass refugee flows during several crises in the late 1970′s is what prompted the United Nations (UN) to call for the establishment of early warning systems for the first time.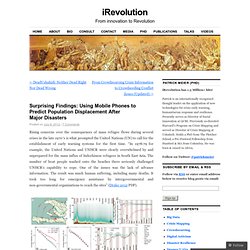 "In 1978-79 for example, the United Nations and UNHCR were clearly overwhelmed by and unprepared for the mass influx of Indochinese refugees in South East Asia. The number of boat people washed onto the beaches there seriously challenged UNHCR's capability to cope. One of the issues was the lack of advance information. The result was much human suffering, including many deaths. It took too long for emergency assistance by intergovernmental and non-governmental organizations to reach the sites" (Druke 2012 PDF). Evolution in Live Mapping: The 2012 Egyptian Presidential Elections. My doctoral dissertation compared the use of live mapping technology in Egypt and the Sudan during 2010.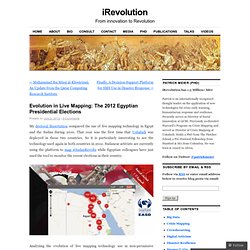 That year was the first time that Ushahidi was deployed in those two countries. So it is particularly interesting to see the technology used again in both countries in 2012. Sudanese activists are currently using the platform to map #SudanRevolts while Egyptian colleagues have just used the tool to monitor the recent elections in their country. CrisisTracker: Collaborative Social Media Analysis For Disaster Response. I just had the pleasure of speaking with my new colleague Jakob Rogstadius from Madeira Interactive Technologies Institute (Madeira-TTI).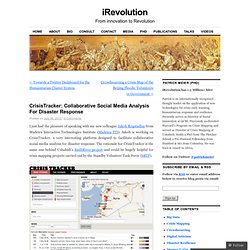 Jakob is working on CrisisTracker, a very interesting platform designed to facilitate collaborative social media analysis for disaster response. The rationale for CrisisTracker is the same one behind Ushahidi's SwiftRiver project and could be hugely helpful for crisis mapping projects carried out by the Standby Volunteer Task Force (SBTF). From the CrisisTracker website: Crowdsourcing, citizen sensing and Sensor Web technologies for public and environmental health surveillance and crisis management: trends, OGC standards and application examples. 1 Faculty of Health, University of Plymouth, Drake Circus, Plymouth, Devon PL4 8AA, UK 2 International Society for Photogrammetry and Remote Sensing, Commission IV - Geodatabases and Digital Mapping, WG IV/4 - Virtual Globes and Context-Aware Visualisation/Analysis, ISPRS Headquarters (2008-2012), National Geomatics Centre of China, Beijing 100048, PR China 3 SENSEable City Lab, Massachusetts Institute of Technology (MIT), Cambridge, MA 02139, USA 4 Institute for Geoinformatics and Remote Sensing, University of Osnabrueck, 49076 Osnabrueck, Germany 5 School of Engineering and Informatics, National University of Ireland Galway, Ireland.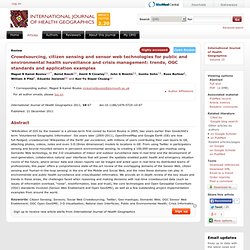 UNITAR - UNOSAT. 10-12 May 2011, Bergen, Norway.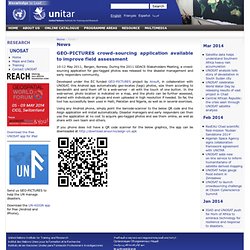 During the 2011 GDACS Stakeholders Meeting, a crowd-sourcing application for geo-tagged photos was released to the disaster management and early responders community. Developed under the EC funded GEO-PICTURES project by AnsuR, in collaboration with UNOSAT, this Android app automatically geo-locates (tags) photos, size them according to bandwidth and send them off to a web-server - all with the touch of one button. In the web-server, photo location is indicated on a map, and the photo can be further assessed, shared with individuals or groups and even uploaded in high resolution if needed. So far, the tool has successfully been used in Haiti, Pakistan and Nigeria, as well as in several exercises. Living Maps. Geofeedia : Search & Monitor Social Media by Location. Crisis Tweets: Natural Language Processing to the Rescue? My colleagues at the University of Colorado, Boulder, have been doing some very interesting applied research on automatically extracting "situational awareness" from tweets generated during crises.
As is increasingly recognized by many in the humanitarian space, Twitter can at times be an important source of relevant information. The challenge is to make sense of a potentially massive number of crisis tweets in near real-time to turn this information into situational awareness. Using Natural Language Processing (NLP) and Machine Learning (ML), Colorado colleagues have developed a "suite of classifiers to differentiate tweets across several dimensions: subjectivity, personal or impersonal style, and linguistic register (formal or informal style)." Natural Language Processing to the Rescue? Extracting "Situational Awareness" Tweets During Mass Emergency. Real-Time Data: You're Doing It Wrong. When it comes to predicting the future, Chartbeat's CEO Tony Haile thinks you're awful. At the Mashable Media Summit, Haile spoke about the importance of real-time data and what your business should be doing with that information.
"The more we think we know, the more expert we believe ourselves to be," says Haile, "and the more likely we are to trust our judgment when we shouldn't and get things wrong. " SEE ALSO: The Return of Real-Time Social Environments. MapTube. Transportation Is All About Real-Time Data. The Global Innovation Series is supported by BMW i, a new concept dedicated to providing mobility solutions for the urban environment. It delivers more than purpose-built electric vehicles — it delivers smart mobility services. Visit bmw-i.com or follow @BMWi on Twitter.
In order to tackle urban transportation challenges in cities around the world, the Massachusetts Institute of Technology (MIT) and the National Research Foundation of Singapore launched a five-year cooperative project in 2009 — Future Urban Mobility (FM) — to look at new models and technology tools aimed at sustainability. The FM team is one of four interdisciplinary research groups that are part of the Singapore-MIT Alliance for Research and Technology Centre, or SMART Centre. FM is developing SimMobility, a simulation platform where researchers explore transportation, environmental impacts, energy and land use and the activities of individual travelers in the mix. Live Ships Map - AIS - Vessel Traffic and Positions.
FIRMS | Fire Info Resource Mgmt System. Flightradar24.com - Live flight tracker! Real-time Air Traffic in 3D. Die angeforderte Seite konnte nicht gefunden werden. Die Seite wurde ev. gelöscht, umbenannt oder ist zur Zeit nicht verfügbar. Versuchen Sie folgendes: Falls Sie die Adresse der Seite manuell in der Adressleiste eingegeben haben stellen Sie sicher, dass die Adresse keine Tippfehler enthält. Falls Sie über einen externen Link oder Ihre Favoriten/Bookmarks auf diese Seite zugreifen. Nokia Maps 3D: Nav and Sharing. Nokia's web based 3D map service, Nokia Maps 3D, has been updated with navigation, sharing, new search options and more, the company announced on its blog.
Located at maps.nokia.com, Nokia Maps 3D now offer 3D imagery of 25 cities around the world, including Barcelona, Berlin, Chicago, London, Los Angeles, Milan, New York, Rome and San Francisco. To be able to see the 3D version of the map, you'll have to install a browser extension and restart your browser first. It's worth it, though. Nokia's 3D imagery, especially the transitions seen when zooming and unzooming into an image, is quite spectacular. Search function lets you enter addresses as well as names of businesses and points of interests.
---