Blogs
Worshipping Your Wife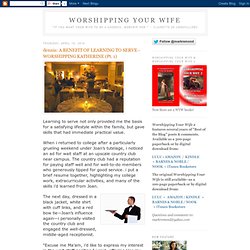 The weekend before Christmas my boyfriend mentioned at breakfast that Geneviève and her husband, Marc, were having a difficult time with their Christmas arrangements. The couple planned to join the rest of their family in Italy for the week, but were having a very difficult time completing their Christmas shopping because of their new baby, seven-month-old Angelique. Geneviève is a flautist in an orchestra, and I thought this odd because the government hires something of a "mother's helper" (as I think they call them in the U.S.) for the first year.
Female Led Relationship: 9. Zusammenfassung
Two weeks ago, my gentle and loving boyfriend of three months held me down and forced me to have sex with him against my will, and then told me I had asked for it. And technically, he was right. Jacob and I had only been dating about a month and a half when I intimated that I had a rape fantasy. Over the years, I'd had my share of experience with role-playing and rough sex. I vividly recall a male friend of mine in college telling me that I had a distinct air of "sexual prey" about me, and me thinking that this was a huge compliment.
Girl Talk: When (Rape) Fantasy Becomes Reality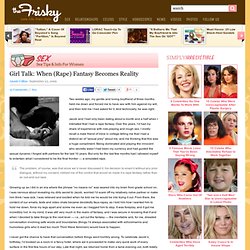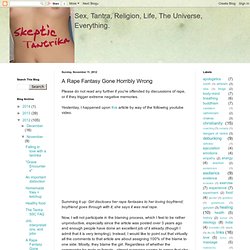 Please do not read any further if you're offended by discussions of rape, or if they trigger extreme negative memories. Yesterday, I happened upon this article by way of the following youtube video. Summing it up: Girl discloses her rape fantasies to her loving boyfriend; boyfriend goes through with it; she says it was real rape. Now, I will not participate in the blaming process, which I feel to be rather unproductive, especially since the article was posted over 3 years ago and enough people have done an excellent job of it already (though I admit that it is very tempting). Instead, I would like to point out that virtually all the comments to that article are about assigning 100% of the blame to one side.
Skeptic Tantrika: A Rape Fantasy Gone Horribly Wrong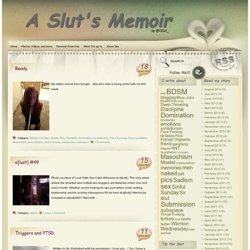 A Slut's Memoir
My date's choice from tonight. See who else is being sinful with me this week. Category: BDSM , bondage , Breath-Play , Disclipine , Domination , exhibitionism , Face-Fucking , Fear , humiliation , Masochism , pics , Sadism , Sinful Sunday , Submission , subspace Photo courtesy of Love Hate Sex Cake Welcome to e[lust] - The only place where the smartest and hottest sex bloggers are featured under one roof every month. Whether you're looking for sex journalism, erotic writing, relationship advice or kinky discussions it'll be here at e[lust].
My current mood: Creative (I've been busy making real art lately. But below are some photos of some creative BDSM art I made at a past party. My female friend and I took one of our other female friends and made her look sort of like a kinky superhero by making her an outfit using various colored duct tape, plastic wrap, string, fake boobs, and a black sharpie marker.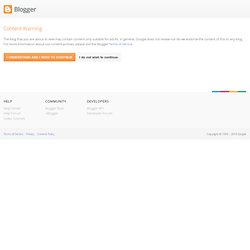 Mistress160's Abode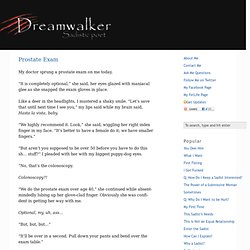 My doc­tor sprung a prostate exam on me today. "It is com­pletely optional," she said, her eyes glazed with mani­a­cal glee as she snapped the exam gloves in place. Like a deer in the head­lights, I mus­tered a shaky smile.
Dreamwalker Sadistic Poet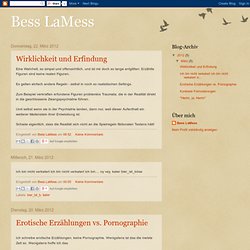 Ich schreibe erotische Erzählungen, keine Pornographie. Wenigstens ist das die meiste Zeit so. Wenigstens hoffe ich das. Ist das eine nicht nur eine etwas noblere, euphemistische Ausdrucksweise für das zweite?
Bess LaMess